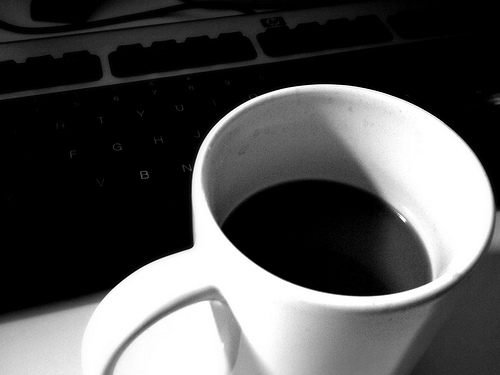 It's time to sit back, relax and enjoy a little joe …
Welcome to another rousing edition of Black Coffee, your off-beat weekly round-up of what's been going on in the world of money and personal finance.
Okay, away we go …
"Let the American people go into their debt-funding schemes and banking systems, and from that hour their boasted independence will be a mere phantom."
— William Pitt, upon the launch of America's first central bank in 1791.
"The American people have a love-hate relationship with inflation. They hate inflation but love everything that causes it."
— William E. Simon
Credits and Debits
Credit: At Friday's closing bell, the Dow and S&P both finished in the green for a sixth consecutive day, while the Nasdaq — although down for the day — still had its best week since 2011. And to think, earlier this month Wall Street snowflakes were worried that the markets were on the verge of a total meltdown. Pshaw!
Credit: Hey … I don't mean to rain on the bulls' parade, but if history is any indication, then current market conditions are flashing a giant warning sign. According to Bill Holter (link: subscription required), "The market panics of 1929, 1987, 2000, 2008 all had one thing in common: volatility picked up, and the crashes all came from drastically oversold conditions." Er … that's two things, Bill — but your point is well taken.
Credit: For his part, Paul Craig Roberts says the only reason why markets haven't already burrowed into the Earth's molten core can be summed up in three little words: Plunge Protection Team. That's right; Paul says there is blatant government intervention with the free market. Hmm. By the way, Mr. Roberts is not your typical tin-foil hatter — he used to be the Assistant Secretary of the US Treasury for Economic Policy.
Debit: Of course, the stock market isn't the only thing that's inflated — consumer prices are climbing so fast that they're only now actually beginning to show up in the government's highly-tempered inflation figures, which say inflation is rising 6% on an annualized basis. Suuure it is. I guess the wonky bureaucrats who came up with that number don't shop for gas or groceries. Or have kids in college. Or visit the doctor.
Debit: How serious is the current rate of inflation? Well … it's so bad that even the Fed is openly admitting it.
Debit: Then again, the US inflation rate is nothing compared to what's going on in the People's Socialist Paradise of Venezuela, where hyperinflation has rendered its national currency, the bolivar, utterly worthless. As a result, the Venezuelan economy has collapsed and its social fabric is now tearing apart at the seams, as violent highway robberies of produce and other food trucks have become commonplace. Sad.
Debit: Venezuela's economy isn't the only thing that has collapsed — so has interbank lending. In fact, it has dropped dramatically since the start of the new year; more than 80%. There is now so little lending between banks that the practice has almost come to a complete stop. No, really. See for yourself:
Credit: Strange, isn't it? If I didn't know any better I'd say the banks no longer have faith in the solvency of their fellow institutions. But that's just me.
Debit: Speaking of solvency — or, more appropriately, "insolvency" — Americans' debt burden increased for the 14th straight quarter to a new record high of more than $13 trillion. In case you're wondering, the IOUs covered almost every form of debt imaginable — but the biggest hitters were mortgage, auto, student and credit card debt. Imagine that.
Debit: Not to be outdone, America's politicians did their part to increase the National Debt by voting to put $1.2 trillion on the US Treasury's credit card next year. Apparently, those same pols don't care that the companies issuing that plastic — that is, other nations who buy US Treasury bonds — are becoming increasingly reluctant to raise our existing credit limit. Eventually, there will be no more credit. Then what?
Debit: According to the Nikkei Asian Review, China's oil-for-yuan exchange "is welcoming all parties wanting to break with US dominance." The message can't be any clearer. And yet, the news, which will further erode America's credit worthiness — not to mention the US dollar's purchasing power — in the coming years, is all but overlooked by America's mainstream media. Ignorance is bliss, I guess.
Debit: However, according to Reuters, a spokesman for the China Securities Regulatory Commission says the actual start date will be March 26th. Either way, it's not good news for the petrodollar or Americans' artificially-inflated standard of living — both of which are entirely dependent on the continued availability of willing creditors, foreign and domestic.
Last Week's Poll Result
Is the nine-year stock market bull run finally over?
Yes (49%)
I'm not sure. (33%)
No (19%)
More than 1300 people answered this week's survey question and essentially half of all Len Penzo dot Com readers believe stocks have entered a bear market. Another 1 in 3 aren't sure. One thing is certain: If interest rates continue rising, then the bull market in stocks is definitely living on borrowed time.
The Question of the Week
 Loading ...
(The Best of) By the Numbers
It's no coincidence that America's decline really accelerated after it began sending the bulk of its high-paying manufacturing jobs overseas:
20% US GDP that was attributable to its manufacturing sector in 1980.
12% US GDP that is attributable to its manufacturing sector today.
1994 Year that the North American Free Trade Agreement took effect.
2,000,000 US manufacturing jobs lost since 2007.
12 Cents on the dollar that the average Chinese worker gets compared to his American counterpart.
67% Displaced manufacturing workers in 2012 who found a new job, but at a lower wage.
20% The typical wage reduction for displaced US manufacturing workers.
1975 The last year that the US registered a trade surplus with the rest of the world.
Sources: CNBC; Huffington Post
Other Useless News
Here are the top — and bottom — five Canadian provinces and territories in terms of the average number of pages viewed per visit here at Len Penzo dot Com over the past 30 days:
1. Alberta (2.25 pages/visit)
2. Saskatchewan (2.12)
3. British Columbia (2.08)
4. Northwest Territories (2.00)
5. Newfoundland and Labrador (1.88)
9. Ontario (1.59)
10. Manitoba (1.36)
11. Nova Scotia (1.21)
12. New Brunswick (1.07)
13. Prince Edward Island (1.00)
Whether you happen to enjoy what you're reading (like those crazy canucks in Alberta, eh) — or not (ahem, you hosers living on the frozen Prince Edward Island tundra) — please don't forget to:
1. Click on that Like button in the sidebar to your right and become a fan of Len Penzo dot Com on Facebook!
2. Make sure you follow me on Twitter!
3. Subscribe via email too!
And last, but not least …
4. Consider becoming a Len Penzo dot Com Insider! Thank you.
Letters, I Get Letters
Every week I feature the most interesting question or comment — assuming I get one, that is. And folks who are lucky enough to have the only question in the mailbag get their letter highlighted here whether it's interesting or not! You can reach me at: Len@LenPenzo.com
JustaGuy didn't agree with my article explaining why private schools are a rip off. Here's just one of several reasons:
"Instead of learning how to do math and science, public school students (learn) how to deal with kids who don't feel like they belong to their gender."
Okay. Score one for the private schools.
I'm Len Penzo and I approved this message.
Photo Credit: (coffee) brendan-c