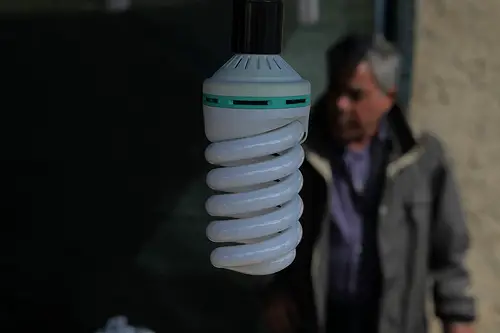 The other day my home's incandescent 60-watt porch light bulb finally gave up the ghost, so I ran down to my favorite hardware store to pick up a new one. Upon arriving, the choice I had to make was whether to buy a new incandescent bulb, or an energy-saving compact fluorescent light (CFL) bulb. Of course, the big question is: Are CFL bulbs worth paying more for?
In 2009, 13-Watt CFLs were running in the neighborhood of $8 each; but over time the price tag has dropped significantly. In fact, the price has fallen so far since then that the same CFLs today are now roughly $3 each.
Even so, that's still three times more expensive than the inefficient 60-Watt incandescent equivalents selling for a buck. So it's not too hard to see why some people are still loathe to make the conversion to CFLs.
How to Determine the Payback Period of Energy Efficient Bulbs

In order to figure out if the CFL bulb was worth paying more for, I first had to calculate the "simple payback period." For CFLs, that is defined as:
Simple Payback = (CFL Cost) / (Annual Electricity Savings)
The simple payback calculation easily determines how long it will take to show a return on your investment. And although it doesn't consider inflation rates, compounded savings, or replacement costs, it's more than adequate for this purpose.
For the simple payback equation, all one needs is the cost of the CFL and the annual electricity savings. I found the former by simply looking at the price tag. But to get the latter I needed two numbers: 1) the hours per day the light was in use; and 2) the watts saved by going from an incandescent bulb to a CFL.
For the first point, I conservatively assumed my porch light was on two hours per day. To determine the second point, I simply looked at the labeled wattage ratings of the two bulbs. In my case, the incandescent and CFL bulbs are 60 and 13 Watts, respectively. That results in a total power savings of 47 Watts.
Calculating Your Annual Energy Savings
With that information in hand, I could then calculate my annual energy savings using this formula:
Annual Electricity Savings = ((Daily Hours Used x 365 days/year) x (Watts Saved))/1000 x (Cost of Electricity)
In my case, the numbers looked like this:
Annual Electricity Savings = ((2 hrs x 365 days/yr) x (47 Watts))/1000 x ($0.25/kWh)
… for an annual savings of $8.58.
Calculating the Payback Period
With our annual energy savings figured out, we can now calculate the payback. If the energy efficient product costs $3, and the annual electricity savings is $8.58 as shown above, then the simple payback is:
$3/$8.58 = 0.35 years

Ironically, if you intend on replacing every bulb in your home with CFLs, the additional bulbs don't shorten the payback period (assuming there are no economies of scale for buying additional bulbs). However, it will increase your annual energy savings.
Evaluating the Payback Period
As a financial rule of thumb, payback periods of five years or less are often generally worth implementing. At the same time, projects with payback periods greater than ten years are generally not cost effective. In my case, the 0.35 year payback period made the decision to buy the CFL porch light an easy one.
And For the Mathematically Challenged…
By the way, if you don't feel like taking the time do the calculations yourself, you're in luck. It turns out there are handy web-based savings calculators you can use to determine the payback periods and annual savings from using CFLs instead of incandescent bulbs too.
Don't worry. I won't tell.
Photo Credit: Paul Keller