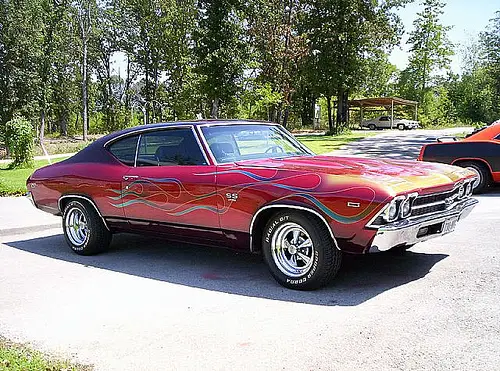 My teenage son, Matthew, turned 14-years-old last month, so I probably shouldn't have been surprised when he recently broached the topic of getting a driver's license on his 16th birthday while I was driving us to the golf course to play a round with his Grandpa and Uncle Ben.
"Even if I allow you to get your driver's license when you turn 16, son, you're still going to need a car."
"But Grandma says she's going to give me the Chevelle after me and Grandpa are done fixing it up."
"Oh really?" I said in that indignant parental tone that makes every teenager cringe.
"Really!" my son countered.
Of course, I immediately took Matthew's reply as a golden opportunity to try and make him understand that many things he's taken for granted in life up to now — including something as mundane as using a car to get from point A to point B — costs money. I figured if I played my cards right, my impulsive-spending son who has never been able to save anything would suddenly be inspired to start putting a little of his chore cash away for the future and, dare I say it, maybe even think about getting a summer job. "Okay, Mr. Moneybags, tell me again how you plan on paying for that car?"
"I'm not paying anything for it, Dad. I'm getting the car for free."
"And you're going to pay for it how?"
"Dad, you aren't listening to me. It's free. F-R-E-E. Free."
"Yes, but what about when you start driving it around town?"
"What about it?"
"How are you going to pay for that?"
"Huh?"
I know. It's all too obvious: What we've got here is a failure to communicate. Some teens you just can't reach. Then again, I'm not one to give up quite so easily. "Don't cars need a little something called gasoline?" I asked.
That's when I swear I saw one of those energy efficient CFL bulbs above Matthew's precious little head finally light up. "Oh. That."
"Yes, that," I said. "Gas isn't cheap, you know."
"It's not that expensive, Dad. It's like $3 per gallon."
Heh. Not that expensive. That's my son, God love him. I mean, this is a kid whose current income is somewhere in the neighborhood of ten dollars — per month. Never mind that Matthew could make more doing additional chores and odd jobs around the house, but for now he chooses not to. Undaunted, I continued. "Not that expensive, huh? I'm betting the Chevelle will be lucky to get ten miles to the gallon."
"So."
"So, in other words, for every ten miles you drive that 'free' car you plan on getting from Grandma it's going to cost you at least three bucks."
"Okay."
"Okay? At that price, do you want to guess how much one little trip to the beach and back will cost you?"
"Not really."
"Well, I'll tell you anyway: $20."
"Twenty bucks?!"
"Yes, twenty bucks — and that's assuming you don't stop along the way to get a bite to eat."
"Then I just won't drive so much."
"Good luck with that. But even if you do manage to limit your driving, there are other costs too, son."
"Like what?"
"Like car insurance, registration fees, and maintenance costs."
"How much does that stuff cost?"
"It depends, but you should plan on those expenses costing you at least $1200 per year. Probably more though."
"No matter how much I drive the car?"
"Pretty much."
Several seconds passed while, I can only assume, my son pondered the expensive implications I deftly placed before him. "That's a lot of money, Dad."
"That it is, son."
We didn't say anything more to each other until we got to the golf course. To tell you the truth, that didn't bother me at all.
***
(This is an encore presentation of an article that was originally published on 20 June 2011.)
Photo Credit: Collector Car Ads