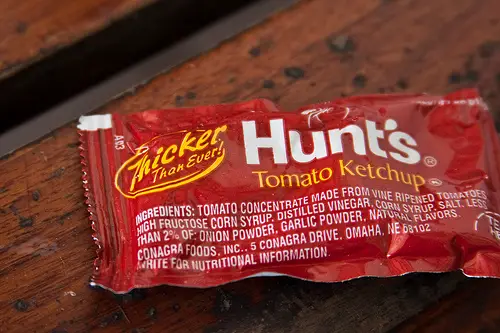 For many people, sticking to a tight budget often requires moving out of their traditional comfort zone.
Studies have shown that thinking "outside the box" can provide many creative ideas for keeping a household budget on track — usually in ways that you might not otherwise consider.
Here are ten out-of-the-box ideas that I'm implementing — or at least strongly considering — in order to ensure my household finances remain on track. If you're smart, you should too:
1. Two words: Restaurant condiments. Why buy condiments when all of the fast food restaurants give away ketchup, mustard, mayo, salt, pepper and three kinds of salsa for free? Psst. Take two big handfuls of extra napkins to save even more. (Just don't let the help see you.)
2. Make your own toothpaste. Here's an easy-peasy recipe I like: Take one teaspoon of baking soda and mix it with two cups of Skippy peanut butter. Why peanut butter? Because on a per-unit cost basis, peanut butter is one-third the cost of regular toothpaste. And the kids love it. (Caution: To prevent chipped teeth and costly trips to the dentist, always use the smooth variety.)
3. Stop paying for Internet service. Why pay for Internet service when you can "borrow" it from your neighbor? I do. It takes me forever to load a page now, but the good news is I haven't had to make an Internet service payment since last December.
4. Quit wasting money on stamps. I used to spend hundreds of dollars a year on postage. Not any more. When I mail letters now, I swap the return address with the destination address; my intended recipient then gets stuck paying the "return postage." Heh. It's like taking candy from a baby.
5. Golf at night. Hey, green fees aren't cheap. That's why smart duffers like me take wait until sundown to take advantage of those unguarded golf courses and play for free. True, the conditions are less-than-optimal, but night golf has its benefits. For example, it makes cheating easier. It's also perfect for the visually impaired.
6. Ditch the mortgage. The average mortgage payment in America was $865 in 2013. Over 30 years, that amounts to $311,400. For what it's worth, a six-person cabin style tent starts at $219.97. That's a savings of $311,180.03 over the same period — not counting the property taxes!
7. Three words: Dine and dash. Frugal teenagers and community scofflaws have been using this tactic to save money for generations. Just remember: The slowest runner in your party must be faster than the dining establishment's fastest waiter or waitress. You're welcome.
8. Forget Santa Claus. This is the gift that keeps on giving. Parents will save thousands of dollars by simply denying Santa's existence. For parents who have already carelessly sold the Santa Claus myth to their kids, there is always Plan B: Tell the kids that Santa died.
9. Consider adoption. It now takes approximately a quarter-million dollars to raise one child. Unfortunately, I didn't realize this until it was too late. I recently put my teenagers up for adoption on Craig's List, but there were no takers. And please, folks — no letters. I'm adopted and, as far as I'm concerned, the trade worked out great. Well … at least it did for me.
10. Don't stop at the kids. If you live in a non-community property state, or if you were smart enough to get a prenuptial agreement, you might as well divorce your spouse too. Or not.
Photo Credit: andrew malone