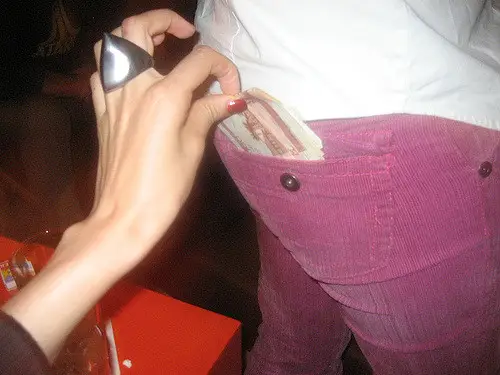 Imagine you're on vacation — in a foreign country, no less — and you've been the victim of a pickpocket. Cash, credit cards, passport — all gone. What do you do? It's a nightmare scenario nobody wants to go through. Thankfully, you can lessen the risk of becoming a pickpocket victim by implementing one or more preventative measures. Here are six of the most effective ones:
Sharpen your situational awareness
In laymen's terms, keep a keen eye on what's happening while you're traveling.
"Criminals work in groups, and a typical way for criminals to pickpocket tourists is by distracting their attention while their accomplice takes what they can," says safety expert Carrie Pasquarello, executive director of Global Secure Resources. "Victims often don't even know their valuables have been taken until they stop to purchase something. You can sharpen your situational awareness skills by knowing who is around you and by paying attention to what's happening around you."
One popular scam common in Europe, according to Justin Lavelle, chief communications office at BeenVerified.com, is when a criminal "accidentally" spills something on you, or bumps you from behind.
"This is a mere distraction to keep your focus on the spill and not on personal belongings," he explains. "While helping clean up the mess, the culprit will pick purses or pockets. You can avoid this scam by declining help; instead, go to the nearest bathroom and clean the stain yourself."
Wear a money belt
According to Pasquarello, "Back pockets, backpacks, purses are easy to pickpocket. So keep your wallet in your front pocket — but skilled pickpockets have been known to take wallets from the front pocket too."
A money belt offers better protection. She recommends StashBandz, which stores everything from makeup and medication to passports and smartphones — all of which are hidden in pockets within the secure belt underneath your clothing.
Sure, a money belt probably isn't the most fashionable statement you want to make on vacation, but is it more important to look good or not be robbed blind?
Beware of fake police officers
Lavelle details another scam to which tourists often fall prey, and it's a pretty good one: fake cops.
"In this scenario, a person will approach a tourist and request illicit substances like drugs," he says. "During the discourse, a person dressed in uniform will approach and flash a fake police badge. This ploy is designed to get tourists to turn over their IDs and passports. To avoid this scam, request the officer show his ID and call the police department to confirm their identity. Refuse to hand over your passports citing they're locked in the hotel room. If they refuse, simply walk away."
Leave your jewelry at home
If you're traveling with all your flashy baubles hanging from your body, you're basically asking for someone to snatch 'em up. It sucks … but that's reality. Leave the bling at home if you know what's good for you.
Stay vigilant on public transportation
As a visitor to a new city, you're likely to be distracted on a bus or subway because you don't want to miss your stop. On top of that, they may be jam-packed depending on where and what time of day you're traveling. This is how thieves work their way toward you; using the crowd to blend in and move quickly but subtly.
"At this point, they'll use any distraction they can to steal your wallet or anything else in your pockets," says personal finance blogger J.R. Duren." All it takes is one bump on the track or a flood of people trying to get off at one stop."
Adds Lavelle, "Metro lines that terminate at an airport are pretty much the worst because there are huge crowds trying to jam into the cars and, when you've got dozens of people trying to cram through a single door, all of that body-to-body contact is like Christmas for pickpockets. Be insanely aware when you're boarding the metro at the airport. Keep your things close to you and never set anything down, even for a second."
Keep your hands in your pockets
Thieves can't pick your pockets if your hands are inside them. Keep everything important in your front pockets while you're out in public, and keep your hands in them as your travel to your destination. It's a simple solution — and perhaps the most effective one of them all.
Photo Credit: matiasjajaja