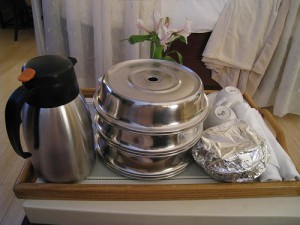 As I mentioned here the other day, I recently spent a fun weekend at one of those fancy pancy resort hotels in Scottsdale, Arizona.
You know the kind. This place has every amenity a Kardashian girl could ever want including a spa, the obligatory trendy bar, gourmet restaurants, a beautiful swimming pool, and, of course, spacious multi-room suites that are almost as big as my home's entire second floor. It also boasted a championship golf course, and bike and hiking trails.
The suites also had a very expensive hotel mini-bar that offered lots of overpriced beverages and snacks for sale like a liter of bottled water for $8, a mini-can of Pringles potato chips (with about 20 chips in it) for $5, and 6-ounce packages of cashews for $14.
Oh yeah, this place had it all — including room service. Which brings me to this month's 5th grade economics test.
Here is a breakfast room service bill from the aforementioned resort:
Bowl of corn flakes with milk
Banana (1)
Wheat toast (2 slices)
Orange juice (1 large glass)
Coffee (3 cups)
Now here's your challenge: tell me how much the final bill came to. Be sure to include any service charges and/or other room service fees you think the hotel might be so inclined to include, if any. Also assume an Arizona state sales tax of 6.6%.
Leave your answer in the comments section — and no cheating! I posted the actual room service total cost here, in my weekly Black Coffee column.
Good luck!
Photo Credit: danperry.com