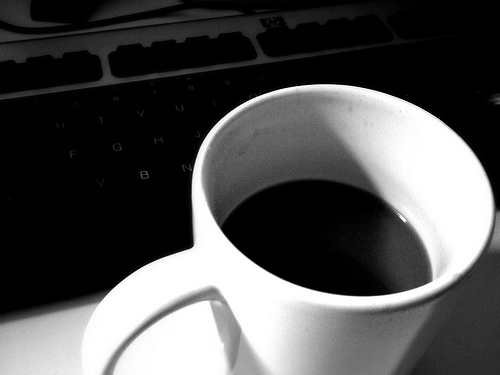 It's time to sit back, relax and enjoy a little joe …
Welcome to another rousing edition of Black Coffee, your off-beat weekly round-up of what's been going on in the world of money and personal finance.
Another glorious week comes to an end. Off we go …
"All deception in the course of life is indeed nothing else but a lie reduced to practice."
— Robert Southey
"Uncertainty is no virtue when the facts are clear, and ambiguity is mere obfuscation when more precise terms are applicable."
— Julian Baggini
Credits and Debits
Debit: For those of you who paid $19,203 at the bitcoin price peak last December, I have good news and bad news. The good news is bitcoin's two-month slide has turned into a bit of a bounce, as the cryptocurrency ended the week up almost 1%. The bad news is that bitcoins are now only fetching $10,000 or so on the open market. Oops.
Debit: Last week I told you that interbank lending has dropped dramatically. In fact, after falling 80% (!) last month, interbank loans are now at their lowest level since 1973, suggesting that the banks no longer trust each other; the same phenomenon occurred prior to the Great Financial Crisis of 2008. Curiously, the Fed has now decided that they'll no longer be tracking interbank lending. Just a coincidence, I'm sure.
Credit: On a related note, technical analyst Clive Maund points out, "The central banks have gotten away with a rising bond market, rising stock market, and low interest rates, thanks to allowing uncontrolled expansion of debt and derivatives — but they're out of time, which is what the bond market drop and consequent plunge in stocks is signaling."
Credit: Meanwhile, Peter Schiff says that rising interest rates reflect bigger debt — not faster growth. He also warns that a continued decline in both the dollar and bonds — which have been underway for more than a year now — will ignite inflation, increase mortgage rates, raise borrowing costs, and expand federal deficits. Okay. But, other than that, I'm sure the economy will be just fine. Who's with me?
Debit: Then again, maybe I'm being too optimistic, as even the Fed appears to be getting a bit antsy over the rapidly increasing size of the US debt. Hopefully, it's just a temporary phase. After all, everyone knows the only way to solve a debt problem is with more debt — especially since our infrastructure still needs to be fixed — otherwise the Fed wouldn't have had their printing presses in overdrive for the past 10 years.
Credit: Last year, the American Society of Civil Engineers gave US road infrastructure a D grade, noting that 20% of all highway miles suffered from potholes, dilapidated bridges, and more, which is why some people are now advocating for making all roads toll roads by charging drivers for every mile they travel. Thankfully, today's technology would eliminate a lot of the issues associated with the earliest US toll roads:
Debit: In other news, it used to be considered unwise to budget more than 30% of household income on housing. Not any more. Today, nearly half of the 21 million renter households in America pay more than 30% of their income for housing — including 11 million households that pay more than 50%. Hey … who says the Fed has done a good job containing inflation over the years? (Psst. It's certainly not me.)
Credit: On a bright note, wages rose last month at the fastest clip in nine years. However, that prompted US Treasury Secretary Steven Mnuchin to make the dubious claim that the higher wages won't necessarily lead to increasing consumer prices. That's technically true; but only in the presence of real economic growth. Unfortunately, this economy has been artificially-juiced by wholesale central bank currency printing.
Credit: Of course, when it comes to the government's economic bureaucrats, absurdity is to be expected. For example, as Jim Quinn notes, "The absurdity of (government inflation data) is almost beyond comprehension — fake data disguised to make you think you haven't been reamed for the last 20 years by Fed-created inflation exceeding 5% per year."
Debit: Speaking of high inflation, it turns out that people who claim nothing good comes from hyperinflation are wrong — behold: the Hyperinflation Diet. That's right; thanks to the rampant food shortages that typically manifest in nations with a dying currency, Venezuelans reported losing on average 24 lbs. in body weight last year. Then again, that weight loss comes at a steep price, as almost 90% now live in poverty.
Debit: Did you see this? According to the IRS, one must have an adjusted gross income of $480,930 to be a member of the "top 1%." In case you're wondering, 1.4 million Americans belonged to this elite club in 2015, the most recent year for which statistics are available. In 2009 the price of admission was $351,968.
Credit: I know what you're thinking — and I have the answer: In 2015, the adjusted gross income threshold for the top 50% of all individual income tax returns was $39,275. But rest assured that eventually, when the US finally succeeds in its mindless quest to kill the dollar, even the bottom 50% will have million-dollar incomes. The trouble is, by then a million bucks won't buy a cup of coffee — whether it's Starbucks or Folgers.
By the Numbers
Here is the percentage price increase (or decrease) for ten grocery staples compared to their price a decade ago:
-15% Eggs
-7% Milk
-6% Boneless chicken breast
16% Wheat bread
21% Sugar
31% White rice
43% Creamy peanut butter
44% Flour
45% Ground beef
58% Bacon
Source: Visual Capitalist
The Question of the Week
 Loading ...
Last Week's Poll Results
If you could visit only one country in South America, which one would it be?
Argentina (23%)
Brazil (21%)
Chile (19%)
Peru (15%)
Ecuador (12%)
Somewhere else. (9%)
More than 1400 people responded to last week's question, and almost 1 in 4 say that, if they could only visit one South American nation, Argentina would be their destination of choice. Exactly 15% agree with my choice of Peru, where I'd love to explore the Incan ruins at Machu Picchu.
Other Useless News
Here are the top five articles viewed by my 20,005 RSS feed, weekly email subscribers, and other followers over the past 30 days (excluding Black Coffee posts):
8 Ways to Make Money on Your Morning Commute
How Choosing Credit or Debit is Like Picking Salad Dressing
You Can Call Me Almost Anything, But Don't Call Me Cheap
7 Awesome Reasons Why You Should Use a Roth IRA for Retirement Savings
Hey, while you're here, please don't forget to:
1. Click on that Like button in the sidebar to your right and become a fan of Len Penzo dot Com on Facebook!
2. Make sure you follow me on Twitter!
3. Subscribe via email too!
And last, but not least …
4. Consider becoming a Len Penzo dot Com Insider! Thank you.
(The Best of) Letters, I Get Letters
Every week I feature the most interesting question or comment — assuming I get one, that is. And folks who are lucky enough to have the only question in the mailbag get their letter highlighted here whether it's interesting or not! You can reach out to me at: Len@LenPenzo.com
Michelle had a suggestion regarding my article highlighting 19 things your suburban millionaire neighbor won't tell you:
"You forgot #20: He's a cheap bastard who doesn't tip well or pay his service tradesmen what they worked for."
Sounds to me like somebody needs a hug.
I'm Len Penzo and I approved this message.
Photo Credit: brendan-c