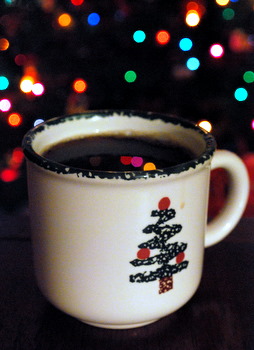 It's time to sit back, relax and enjoy a little joe …
Welcome to another rousing edition of Black Coffee, your off-beat weekly round-up of what's been going on in the world of money and personal finance.
Merry Christmas, everyone! Grab yourself a cup of hot cocoa or some delicious egg nog, put a log on the fire, and let's get started …
"Socialism is a philosophy of failure, the creed of ignorance, and the gospel of envy; its inherent virtue is the equal sharing of misery."
— Winston Churchill
"Men, it has been well said, think in herds; it will be seen that they go mad in herds, while they only recover their senses slowly, and one by one.
— Charles Mackay
Credits and Debits
Debit: Despite having the largest proven oil reserves in the world and an abundance of other natural resources, Venezuela's economy is three years into an economic collapse. Starvation is rampant and the poorest people there are now paying for the fiscal calamity with their lives. How can that be, you ask? One word: socialism. And yet, the statist tyrants in power there refuse to change course. Imagine that.
Debit: On the other hand, a booming economy is making life difficult for many people in the San Francisco Bay Area, where RVs have become the only affordable housing option; the median cost of a two-bedroom apartment is approximately $2500 in San Jose and $2200 in Oakland. This is what happens when central banks flood the world with liquidity and misprice the cost of money via low interest rates.
Debit: Speaking of central bank meddling, this week the Fed released a tweet that shows they're serious about imposing negative rates as a "policy tool" during the next recession — or financial crisis: "Negative interest rates may seem ludicrous, but not if they succeed in pushing people to invest in something more stimulating to the economy than government bonds." Financial alchemists. All of them. (h/t: Craig Hemke)
Credit: Frankly, it's hard to see how rates can remain negative when you realize that the Fed will sell as many bonds during the next three or four years than the total number of bonds that had been accumulated by all of the world's central banks in recorded history up to 1995. At least that's what they say they're going to do — just not in those words.
Debit: Then again, way back in 1988 the Economist boldly predicted that a single world currency would appear in 2018. Yes, this coming year. If the central banks' iron-fisted grip on the bond markets slip and they lose control of interest rates, the Economist's prediction may actually come true.
Credit: For what it's worth, this month the 10-year Treasury bond poked its head above a three decade old downtrend line. The only other time that trend line was broken was during a couple of months in 2007 — and that corresponded to the stock market top before its last major crash. (h/t: Matt_ at TFMR) See for yourself:
Credit: Did you see this? Last Monday the Dow did something it had never done previously during its entire 121-year history: it closed the day on its 70th all-time high for the year. Hooray!
Credit: By any measure, the latest stock market run is almost unparalleled. For example, since 1928, stock market declines of 5% or greater have occurred, on average, three times per year — however, the market has now gone 375 consecutive trading days without a 5% decline. The last time that happened was 1959, which was on the tail end of a streak that lasted 405 trading days.
Credit: Meanwhile, the largest financial bubble in the history of mankind — ahem, better known as "bitcoin" — continues sucking in fresh capital from around the world. In fact, the top 20 cryptocurrencies all hit record highs this week. No, really. This is getting serious, folks; if the financial pull of these cryptos continue getting stronger, they could actually merge into a black hole that swallows planet Earth.
Debit: Of course, financial analyst Dave Kranzler notes that,"The crypto/blockchain delusion has exceeded the absurdity of the Dot-Com and housing bubble eras." Has it ever. As an example, Kranzler cites an animal medical tech development company called Bioptix — its stock price rapidly climbed from $4 to $40 after the firm renamed itself "Riot Blockchain." Heh. You can't make this stuff up, folks.
Debit: Oh … And just in case you think the Bioptix rebranding strategy was a one-off anomaly, you better think again. Shares of lemonade company Long Island Iced Tea soared 500% this week after it changed its name to the "Long Blockchain Corporation." I know. And yet, those of us who are screaming from the rooftops that the financial world has gone totally insane are the ones accused of wearing the tin foil hats.
Credit: With the cryptocurrency craze obviously in full swing, retired market trader, Kevin Muir from the MacroTourist blog, had a very simple request for his readers: "Stop asking me what it was like to trade in the Dot-Com bubble, because you already know — it was just like today."
By the Numbers
Christmas is the most widely observed cultural holiday in the world. Here's how Americans observe it:
95 Percentage who say they celebrate the holiday.
93 Percentage who exchange gifts.
88 Percentage who put up a tree.
74 Percentage who attend parties.
65 Percentage who attend religious services.
Source: History Channel
Last Week's Poll Results
Are you shipping any Christmas packages by mail this year?
No (64%)
Yes (33%)
I haven't decided yet. (2%)
More than 1500 Len Penzo dot Com readers answered last week's question and it turns out that 1 in 3 shipped at least one Christmas gift by mail this year. I expected that number to be higher — especially since most online retailers make it so easy.
The Question of the Week
Loading ...
Other Useless News
Here are the top 5 articles viewed by my 17,777 RSS feed, weekly email subscribers and followers over the past 30 days (excluding Black Coffee posts):
Hey, while you're here, please don't forget to:
1. Click on that Like button in the sidebar to your right and become a fan of Len Penzo dot Com on Facebook!
2. Make sure you follow me on Twitter!
3. Subscribe via email too!
And last, but not least …
4. Consider becoming a Len Penzo dot Com Insider! Thank you.
Letters, I Get Letters
Every week I feature the most interesting question or comment — assuming I get one, that is. And folks who are lucky enough to have the only question in the mailbag get their letter highlighted here whether it's interesting or not! You can reach out to me at: Len@LenPenzo.com
After reading my article on the most common birthdates, Gina shared this:
"I have family members born on September 14th, 16th, 19th, 20th, 21st, 25th, 26th and 30th. I guess you know what my relatives are doing between Christmas and New Years! ha ha"
Well, Gina … at least no one can say you're family doesn't know how to ring in the New Year!
I'm Len Penzo and I approved this message.
Photo Credit: breweddaily.com