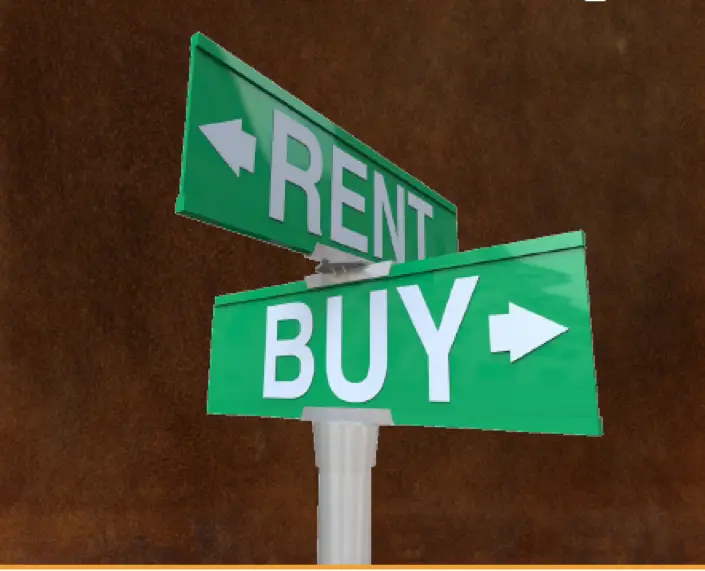 I recently wrote a post here that highlighted things that are better to rent than buy. Now it's time to flip it and reverse, a la Missy Elliot. Here are a few items for which you should always shell out full price — even if you don't want to:
Your own home
There are plenty of arguments out there that make a case for renting a home, and in some cases those arguments are valid. But if you've got money in the bank for a down payment and can handle the monthly mortgage plus expenses, buying can make more sense. It's the frickin' American dream, after all.
"In today's market it makes more sense to buy rather than rent your home," says Randall Yates, founder and CEO of The Lenders Network. "In the past that was debatable because of low rents, but now they're often higher than if you had a mortgage on that same property."
"Mortgage rates are near historic lows." Yates continues. "Still, even a higher rate around 4% equates to a mortgage payment of just under $1200 a month on a $200,000 home with 10% down, including taxes and insurance. If you were to rent that same home, you could expect the rent to be around $1400 a month in most parts of the country."
Realty broker Desare Kohn Laski provides a few more reasons why buying is better:
Equity. "Buying a house builds equity over time," she says. "In most cases, when the equity reaches 20%, it can be tapped for a home equity loan. This allows the homeowner to take advantage of lower interest rates or longer repayment terms."
Tax exemptions. Federal tax exemptions are available as well as the homestead exemption, which excludes a certain amount of the total purchase value from increasing property taxes.
Income. What if I decide I don't like my house anymore, and want to move? "We hear that question often. The good news is you can relocate," Laski quips. "As a homeowner, you have the choice to either resell or rent. Either way, you're generating income."
Freedom. "Plant those flowers, build that fence, and make the cabinet under the stairs your perfect Harry Potter reading sanctuary," she advises.
Plant your roots. Unlike renters who typically move every year, homeowners stay longer in a community. A family can establish their roots and have a true origin of place to call home.
Water Heaters
It's become increasingly common for homeowners to rent or lease water heaters rather than buy them outright now that some energy companies have started to offer this option. Weird but true. Still, you're much better off buying the heater outright rather than renting it as often the rental contracts have details that homeowners overlook.
For example, you may be liable for the water heater's maintenance and repair bills, which on top of a monthly rental fee can make it far more expensive than it might first seem.
Televisions
It may seem tempting to rent out a big screen for game night, or if you have a short term-lease on your home– but rent-to-own stores will charge you more in the long run.
According to personal finance expert Sarah Hollenbeck, "Not only will you rack up credit card interest, but studies have shown that the overall cost of rent-to-own TVs end up costing almost three times more than if you paid with cash up front."
Furniture
I can give you one major reason to steer clear of rented furniture: bed bugs. I'm not saying that it's common with rental furniture, but the risk is there.
"Much like TV rentals, renting furniture can seem like a quick fix," Hollenbeck explains. "But with websites and apps like Craigslist, OfferUp, and LetGo, you can purchase gently-used furniture for less. And if you still want to buy new, then consider places like Overstock.com. When you buy furniture, you don't have to worry about preventing stains from food or pets, and general wear and tear that might cost you a large cleaning fee when you return your items."
Of course, if you're buying used furniture, you also need to be very careful about bringing bed bugs into your home.
Major Appliances
A quick calculation reveals that, compared to renting, buying almost any major appliance starts paying off during the second year. And while most rental companies offer free repairs, it's a moot incentive since you'll get at least a two-year guarantee from the manufacturer for any large appliance you buy outright. Most major name-brand appliances hold up very well over time anyway.
Breast Pump
Yes, it's true! Women can rent breast pumps from hospitals — but a writer named Melissa warns against it. "Renting one costs $20 per month, and buying one cost $250," she informs us. "Considering that I breastfed my son for 12 months and had to pump at work, this purchase (appears) to be a wash. However, I used the pump for my two other children. When I was finished, I sold the pump for $60."
Apparently, there's a market for everything.
Photo Credit: bfahlman