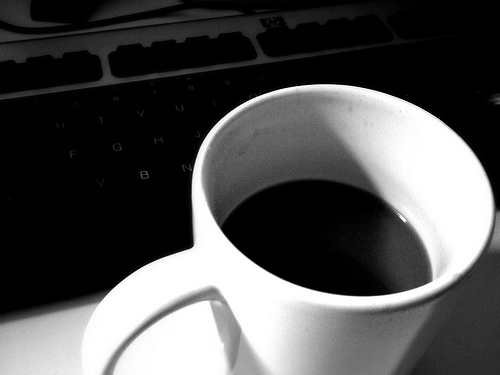 It's time to sit back, relax and enjoy a little joe …
Welcome to another rousing edition of Black Coffee, your off-beat weekly round-up of what's been going on in the world of money and personal finance.
Another glorious week comes to an end. Off we go …
"I can calculate the movement of stars, but not the madness of men."
— Isaac Newton
Credits and Debits
Credit: I see that the de-dollarization of the world continues to pick up speed. This week, Russian President Vladimir Putin directed his government to approve legislation making the ruble the main currency of exchange at all Russian seaports by next year. And so the expiration date on the dollar's role as the world reserve currency draws nearer — as does most Americans' very comfortable standard of living. Tick tock.
Credit: In other news, all three key indices — Dow, S&P 500, and Nasdaq — closed at record highs on Tuesday. Then the Dow did it again on Wednesday. In fact, the Dow has been climbing for so long that it's up approximately 22% and 4000 points since the election. Is this a great country, or what?
Credit: Things are going so well that a record 65% of respondents in the latest University of Michigan Consumer Survey expect that stocks will rise during the next 12 months. That has Mish Shedlock wondering if all of that optimism is a signal that the eight-year bull market is finally nearing its end. I agree. Now you know why guys like Mish and I don't get invited to a lot of parties.
Credit: And Simon Black points out that it's not just stocks: "Stocks are at all-time highs. Bonds are at all-time highs. Property prices are at all-time highs. Many alternative assets like private equity and collectibles are at all-time highs. Yet asset prices keep climbing." Uh huh. Simon usually has nowhere to go on the weekends either.
Credit: By the way, the Dow isn't the only stock index that's en fuego: The S&P 500 hasn't had a 3% decline in ten months. That's the second longest streak since 1928; beaten only by an 11-month streak that started in 1994. It's also the fourth longest period without the S&P experiencing a 5% decline. Thanks, Fed. (And the ECB, BoJ, and BoE).
Credit: In fact, according to the National Bureau of Economic Research, American stocks have risen more during the past eight years than in almost any other post-World War II period of economic growth. And in case you're wondering, if you invested $100 in the S&P 500 at the start of this bull market on July 1, 2009, you'd now have $272. Nice.
Debit: The stock market has delivered terrific returns for investors since the end of the last recession. But, as Zero Hedge points out, there's a problem with the current market euphoria: when measured against hard economic data, today's stock valuations simply don't align with reality. Take a look: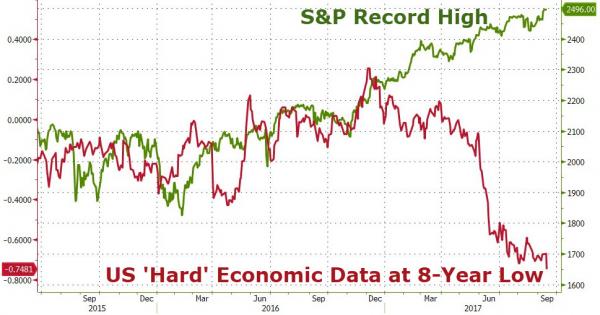 Debit: Speaking of not aligning with reality … Since 2006, corporate giants such as Exxon, IBM, Johnson & Johnson and McDonald's have shown little to no improvement in performance — or, in some cases, worse performance — despite the addition of significant debt. Yet, thanks to the Fed's relentless multi-trillion dollar printing campaign, their stock prices are much higher. Something will have to give. Eventually.
Credit: Meanwhile, investment advisor John Mauldin is warning that a pension storm is coming that, he says, will become "one of the most heated battles of my lifetime." That wouldn't be so alarming if John was only 18 years old — but he's actually closer to 81.
Debit: To prove John's point, this week, financial stresses forced CalPERS to slash its pension payments to retirees in the towns of Redding and Niland, California, by up to 90%. They join Golden State pension funds from Loyalton and the East San Gabriel Valley whose benefits were similarly reduced last year. If you're wondering how that's possible, with equities eight years into a bull market, you're not alone.
Credit: Then again, it's really no mystery at all. As Zero Hedge correctly observes, an ever-increasing number of municipalities are finally beginning to admit what most astute observers have known for years: "Namely, that they're running Ponzi schemes which simply don't have the funding required to pay the benefits they've promised." In other words: What cannot be sustained, won't be sustained.
Credit: Finally … Did you see this? Swiss prosecutors are trying to figure out why someone dumped upwards of a hundred-thousand euros into a Geneva bank crapper. No, really. As crazy as it sounds, perhaps they were trying to make a statement about the future of fiat currency. Okay … maybe not. Regardless, it definitely gives new meaning to the term "flushing money down the toilet."
By the Numbers
This week, retail giant Toys R Us filed for bankruptcy protection, echoing a larger trend for struggling brick-and-mortar retailers in 2017:
1000 Number of Toys R Us stores in the US.
1600 The number of Toys R Us stores worldwide.
1948 The year that Toys R Us was founded.
1957 The year that Toys R Us' mascot, Geoffrey the Giraffe, made his print-advertisement debut.
1984 The year that Toys R Us opened its first international store. (Canada)
$5,000,000,000 Total debt that the toy store currently owes its creditors.
$6,000,000,000 Price that the private equity firms of Kohlberg Kravis Roberts and Bain Capital paid for Toys R Us in 2005.
Source: Heavy
The Question of the Week
 Loading ...
Last Week's Poll Results
Should the US repeal its debt ceiling law?
No (60%)
I'm not sure. (33%)
Yes (7%)
More than 1200 people responded to last week's question and one thing is clear: a lot of people are torn on whether or not the debt ceiling should be repealed. In fact, one in three aren't sure. That being said, a strong majority of folks are still in favor of holding Congress's feet to the fire when it comes to fiscal responsibility — even if, ultimately, they're only pretending.
Other Useless News
Here are the top five articles viewed by my 16,041 RSS feed, weekly email subscribers, and other followers over the past 30 days (excluding Black Coffee posts):
Hey, while you're here, please don't forget to:
1. Click on that Like button in the sidebar to your right and become a fan of Len Penzo dot Com on Facebook!
2. Make sure you follow me on Twitter!
3. Subscribe via email too!
And last, but not least …
4. Consider becoming a Len Penzo dot Com Insider! Thank you.
Letters, I Get Letters
Every week I feature the most interesting question or comment — assuming I get one, that is. And folks who are lucky enough to have the only question in the mailbag get their letter highlighted here whether it's interesting or not! You can reach out to me at: Len@LenPenzo.com
After reading my article on why a college degree isn't necessary to succeed, Jimmy Ekwere left a comment that explains why he only partially agrees with me:
"Your [sic] 65% right. For me i [sic] believe that if one is able to read and write than [sic] your [sic] good to go. Hence if we could teach our children how to communicate and enroll than on an handwork [sic] it could help reduce unmployment [sic]."
You definitely made your point, Jimmy!
I'm Len Penzo and I approved this message.
Photo Credit: brendan-c