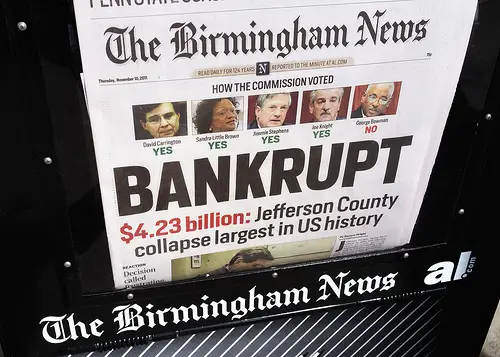 Being rich and famous can set you up for life — and well beyond that — but it also can make otherwise smart people do really stupid things with their money. Just ask MC Hammer, who very famously filed for bankruptcy after spending his estimated $33 million fortune on material luxuries while handing out cash to family and friends.
Hammer isn't the only celeb who mismanaged his riches away. Take a look:
Willie Nelson
The legendary country crooner and marijuana advocate allegedly owed between $16 and $32 million to the IRS during the 1980s. But when he filed for Chapter 11 in 1990, he had a game plan intact: Nelson released an album entitled The IRS Tapes: Who'll Buy My Memories— with the IRS' blessing, no less — to help pay the bill.
William Crapo Durant
You may not recognize the name, but you're familiar with Durant's legacy — he founded General Motors in 1908, five years after Henry Ford (another bankruptcy victim) popularized the American automobile. Unfortunately, by the end of the Great Depression, Durant's $120 million fortune was but a memory. He spent his final years managing a bowling alley in Flint, Michigan.
Aaron Carter
Aaron Carter didn't experience the same success his brother Nick had with the Backstreet Boys, but he was still popular in his own right. His first three albums, Aaron Carter, Aaron's Party, and Oh, Aaron, were relative hits, but as his core demographic — teenage girls — aged out of his brand of music, his popularity declined. His fourth and final studio album, Another Earthquake!, debut at #18 on the Billboard charts, but sank to #41 in its second week. Despite continued touring, the pop singer filed for bankruptcy in 2013, claiming only $8,000 in assets against more than $2.2 million of debt.
Walt Disney
The entertainment icon launched his first studio, Laugh-O-Gram — which made short advertisements and cartoons — in Kansas City, Kansas, in 1922, with distribution by a firm in New York. But when the firm cheated the studio out of revenue, Disney and his partner couldn't carry the overhead, leaving the business bankrupt just a year later. Disney bounced back, of course; by 2016 the animation empire he started building in 1928 was worth $169.3 billion, according to Forbes.
Gary Coleman
What you talkin' bout, Willis? One of the highest paid actors on TV in the early 1980s, Gary Coleman found it difficult to find work after his hugely popular sitcom, Diff'rent Strokes, came to and end. He filed for bankruptcy in 1999 citing $72,000 in medical expenses, and revealing that his adoptive parents and business adviser had squandered a large portion of his fortune when he was a child actor. Coleman died of epidural hematoma at age 42.
H.J. Heinz
It seems to be a trend among American innovators to pick up the pieces and try, try again after going bankrupt. Case in point: When H.J. Heinz's horseradish business went belly up in 1875, he turned to ketchup— with the help of his brother and a cousin — and it was a runaway hit. Fifty-seven varieties and more than 140 years later, Heinz legacy is still enjoyed around the world.
Donald Trump
In the commander-in-chief's defense, he's never personally filed for bankruptcy — but he has filed Chapter 11 six times between 1991 and 2009 for hotel and casino businesses that include Trump Taj Mahal, Trump Plaza Hotel, and Trump Entertainment Resorts, among others. In 2011, Newsweek quoted the president: "I do play with bankruptcy laws — they're very good for me." Interestingly, he's not the first president to have bankruptcy on their records. Several presidents have gone broke, most notably William McKinley, who went bankrupt while serving as Ohio governor in 1893, only to be elected to the highest office in the land three years later.
Burt Reynolds
If Burt Reynolds could give you one piece of financial advice, it would be this: get a pre-nup. The actor learned his lesson the hard way by filing for Chapter 11 in 1996 due to a failed restaurant venture — and a pricey divorce from actress Loni Anderson.
Toni Braxton
Remember that time singer and reality TV star Toni Braxton went on Oprah's talk show in 1998 and revealed that she had to give up her Grammys, Gucci silverware, and Porsche after filing for bankruptcy because, despite selling 20 million albums to the tune of $170 million dollars, she allegedly hadn't received money owed to her from the record label? Yeah, that didn't go over well. Despite persistent financial issues that remained a problem until at least 2013, Braxton is now worth an estimated $10 million.
Dionne Warwick
After putting her money in the hands of people she trusted, Dionne Warwick filed for bankruptcy in March 2013 citing "mismanagement" of her business affairs. At the time she owed upwards of $7 million to the IRS and more than $3 million in business taxes to the state of California. If only her psychic friends had seen this coming.
Photo Credit: ralph and jenny