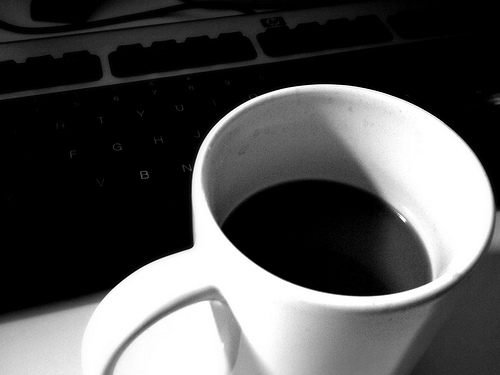 It's time to sit back, relax and enjoy a little joe …
Welcome to another rousing edition of Black Coffee, your off-beat weekly round-up of what's been going on in the world of money and personal finance.
Well … I was out of town most of this week, so I've got a very brief espresso edition of Black Coffee for you today. But I promise I'll be back next week with a full-sized mug.
Okay, off we go …
Credits and Debits
Debit: Can you believe more than half of all American workers — 51%, to be exact — currently make less than $30,000 per year? It's true. The official poverty level for a family of five is $28,410.
Debit: Meanwhile, collapsing commodity prices for everything from corn and copper to oil and iron ore are now threatening the livelihoods of even more Americans — especially those living in "flyover country."
Debit: The truth is, America's middle class is dying — and the pace keeps picking up. Nevertheless, that hasn't managed to stop rents across the nation from skyrocketing; you can thank the Fed's relentless market-distorting monetary policies for that.
Debit: It's no secret that many retirees are getting slammed too; in fact, some union truck drivers may soon see their pensions slashed by as much as 60% because their underperforming funds are essentially insolvent.
Debit: And it's not just union trucker pensions that are in trouble. As financial analyst Dave Kranzler notes, one reason why the Fed is devoting significant resources to propping up the stock market is that pension fund insolvency risks are widespread.
Credit: The good news is retirees who were relying on insolvent pie-in-the-sky pensions to get them through their golden years still have Social Security to lean on. Oh wait …
Credit: More good news: In sharp contrast to the struggling Americans on Main Street is Google's Larry Page; he earned $2.5 billion in one day thanks to Friday's gains from Google stock after the company reported better-than-expected earnings.
Credit: Then again, Larry has his problems too: US banks are beginning to charge wealthy customers for large cash deposits because it's becoming too costly to keep. No, really. Even so, I'm sure Larry will manage. Somehow.
By the Numbers
It wasn't just Larry Page who had a big earnings day on Friday. Here's how four other "tech titans" — and one also-ran — fared after Friday's stock market gains:
$2,912,000,000 Jeff Bezos (Amazon)
$2,423,000,000 Sergey Brin (Google)
$1,117,000,000 Bill Gates (Microsoft)
$1,074,000,000 Mark Zuckerberg (Facebook)
$7.80 Len Penzo
Source: USA Today
The Question of the Week
Sorry, there are no polls available at the moment.
Last Week's Poll Results
What do you need the most?
Time (39%)
Money (32%)
Love (26%)
Power (3%)
Nearly 800 people (!) responded to last week's question and I'm happy to say that only 3% of my readers are psychopaths. Okay … I'm sure not everybody who said they needed more power is a psychopath. At least I hope not. As for the other end of the spectrum, 2 in 5 people said they needed more time. I'm in the same camp; I need more time … after all, it's arguably the one thing money can't buy.
Other Useless News
Here are the top 5 articles viewed by my 7888 RSS feed and weekly email subscribers over the past 30 days (excluding Black Coffee posts):
Hey, while you're here, please don't forget to:
1. Click on that Like button in the sidebar to your right and become a fan of Len Penzo dot Com on Facebook!
2. Make sure you follow me on Twitter!
3. Subscribe via email too!
And last, but not least …
4. Consider becoming a Len Penzo dot Com Insider! Thank you.
Letters, I Get Letters
Every week I feature the most interesting question or comment — assuming I get one, that is. And folks who are lucky enough to have the only question in the mailbag get their letter highlighted here whether it's interesting or not! You can reach out to me at: Len@LenPenzo.com
From Hollis Grey Chambers, Esquire:
This may sound strange and unbelievable to you, but Gianni Angelli left the sum of $60,500,000 to you in his will …
Interesting … I remember my old Uncle Vinny used to grouse about a virulent strain of gianni-angelli he contracted back when he was a teenage boy.
I'm Len Penzo and I approved this message.
Photo Credit: brendan-