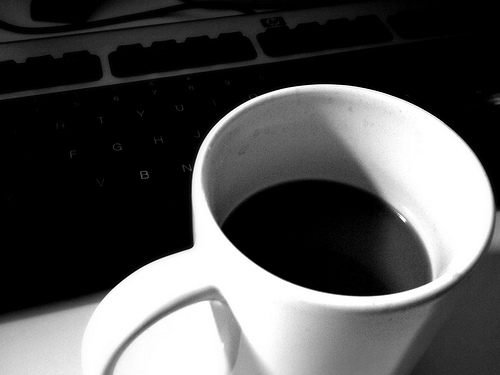 It's time to sit back, relax and enjoy a little joe …
Welcome to another rousing edition of Black Coffee, your off-beat weekly round-up of what's been going on in the world of money and personal finance.
Okay, off we go …
Credits and Debits
Credit: Stop me if you heard this before: This week the Fed ruled out raising interest rates next month and the S&P 500 immediately responded by hitting an all-time high. That's how any addict hooked on low interest rates would react.
Credit: Yes, sedated stock investors have been getting their Fed fix for so long now that even Bank of America is warning that the markets are in The Twilight Zone and urging investors to hold more cash and — get this — the barbarous relic known as gold. Yes, that gold.
Credit: I see the Austrian Central Bank didn't waste any time following B of A's advice — they announced this week that they are repatriating 110 tons of yellow metal that's currently being "safeguarded" for them by the Bank of England.
Debit: Sadly, central bank zero-interest-rate policies have distorted bond markets around the world so badly that conservative investors are now flocking to relatively-high yielding junk bonds as their new fixed-income haven. This won't end well either — no matter which path investors take.
Debit: Did you see this? The economies of 32 states are in such bad shape that they're now dealing with significant budget gaps in fiscal 2015, 2016 — or both.
Debit: With so many states in fiscal distress, it makes the US Senate's decision to hide the details of the Trans Pacific Partnership trade bill being touted by President Obama before it votes a curious one. Why the subterfuge?
Debit: Of course, the last bill that had to be passed to "find out what's in it" was Obamacare — and we all know how that worked out. Thanks to Obamacare, last month healthcare costs rose at their fastest pace since 2007.
Debit: But wait, it gets worse: According to the Wall Street Journal, high medical costs incurred by new Obamacare enrollees are causing insurers to raise rates in 2016 by as much 51%. You can bet those outrageous deductibles won't be going away though.
Debit: Meanwhile, Medicaid sign-ups under Obamacare are skyrocketing beyond advocates' original expectations — and despite opponents' warnings to the contrary. Unfortunately, a portion of the resulting cost overruns will be levied on the states after 2016. Oops.
Credit: If only Hawaii's Obamacare exchange was so successful — guess how many enrollees they got during the special "last chance" enrollment period between March 15 and April 30. If you said "one," you overestimated.
Credit: Hey, now … If you're from Rhode Island and Vermont, don't laugh — those states enrolled just 25 and 97 people, respectively, during the same period. Obviously, a growing number of folks would rather pay the Obamacare tax penalty than buy its over-priced insurance.
Debit: Perhaps if Obamacare was less expensive, union protestors wouldn't have shut down a McDonald's restaurant this week because fry-cooks don't make $15 per hour. Then again, these are the same Utopians who demanded Obamacare be foisted on everyone too. Well, everyone but them.
Debit: By the way, according to the Economic Policy Institute, 36% of all minimum wage workers are age 40 or older. Yeah, that's the sign of a healthy economy. Isn't it? Okay … maybe not.
Credit: One thing is certain: Contrary to the Institute's emotional claims, the demographics of those earning the minimum wage is not a reason to raise it to $15 per hour.
Debit: Then there are those who are currently making nothing at all because they're hopelessly unemployed. A new survey found that the economy is so dismal, 40% of the unemployed have quit looking for a job entirely. I know.
Debit: Finally … With Memorial Day weekend upon us, some of you may be planning on eating a hot dog or two — just don't buy one in New York City, where one unscrupulous street cart vendor near Ground Zero was allegedly selling them for $30 each. Sad.
By the Numbers
Speaking of overpriced New York City hot dogs, here are a few facts and figures on the popular summer food:
20,000,000,000 Hot dogs consumed by Americans each year — that's 70 per person annually.
35 Percentage of hot dogs eaten between Memorial Day and Labor Day.
2 European cities that claim to be the birthplace of the modern hot dog. (Vienna and Frankfurt)
1900 Year "hot dog" first appeared in The Oxford English Dictionary.
$2500 Daily revenue for a Big Apple hot dog cart at W. 67th St. and the West Dr. on a typical summer Saturday.
$50 Amount the same NYC hot dog cart brings in on a typical winter day.
$266,850 Annual fee charged by NYC Parks for a hot dog stand at the same location.
$300 Amount Nathan Handwerker borrowed in 1916 to start a hot dog stand at Coney Island.
$82,900,000 Nathan's Hot Dogs revenue in 2013.
Source: NBC News
The Question of the Week
Sorry, there are no polls available at the moment.
Last Week's Poll Results
How many homes have you ever owned?
1 (28%)
2 (27%)
3 (16%)
5 or more (11%)
0 (10%)
4 (8%)
More than 400 people responded to last week's question, and it turns out that more than half of all respondents said they owned either one or two homes during their lifetime. In fact, it was almost evenly split. Another 16% have owned three homes, while just as many people owned five or more homes as those who never owned one at all. As for me, at age 51 I have owned two homes; and I've been in my current place almost twenty years now.
Other Useless News
Here are the top 5 articles viewed by my 6457RSS feed and weekly email subscribers over the past 30 days (excluding Black Coffee posts):
The Smartest Way to Eliminate Your Credit Card Debt
Hey, while you're here, please don't forget to:
1. Click on that Like button in the sidebar to your right and become a fan of Len Penzo dot Com on Facebook!
2. Make sure you follow me on Twitter!
3. Subscribe via email too!
And last, but not least …
4. Consider becoming a Len Penzo dot Com Insider! Thank you.
(The Best of) Letters, I Get Letters
Every week I feature the most interesting question or comment — assuming I get one, that is. And folks who are lucky enough to have the only question in the mailbag get their letter highlighted here whether it's interesting or not! You can reach out to me at: Len@LenPenzo.com
Here's an odd message I received in my inbox this week fromJoriss:
Your blog is a total squander of time!
Okay. Now let me guess: You're a professional fortune cookie writer, aren't you?
I'm Len Penzo and I approved this message.
Photo Credit: brendan-