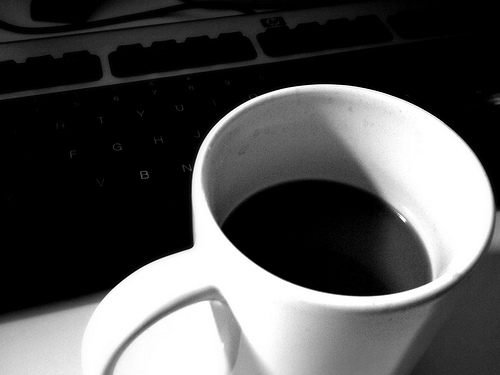 It's time to sit back, relax and enjoy a little joe …
Welcome to another rousing edition of Black Coffee, your off-beat weekly round-up of what's been going on in the world of money and personal finance.
Okay, off we go …
The Question of the Week
Sorry, there are no polls available at the moment.
Last Week's Poll Results
Have you ever loaned money to a friend or relative and not been paid back?
More than 100 people responded to last week's question. No real surprise here: Almost three in four people have been stiffed by a friend or relative at least once in their lifetime.
Credits and Debits
Debit: Did you make your car payment this month? I'm only asking because NBC News reports that the number of vehicle repossessions rose 70% last month; they say a growing number of car and truck owners are having difficulties meeting their loan obligations. Uh huh.
Debit: I see car repos aren't the only thing on the rise. Five years ago, the average price of gasoline in the United States was $2.58 per gallon. Today it's $3.44; that's an increase of 33%. Ouch.
Debit: If you think that's bad, five years ago the average price for a pound of ground beef was $2.15. Today, it's $3.88; that's an increase of 81% — not to mention an all-time high. I wonder how many people saw the size of their paychecks increase 81% over that same period.
Credit: Speaking of all-time highs, the good times keep on rolling — well, at least on Wall Street. This week the S&P 500 hit another all-time high, and the NASDAQ marked its highest point in 14 years. Hooray!
Credit: I'm sure investors were buoyed by the government's announcement that core inflation rose just 0.1% in July; that's the slowest pace since April 2013. The low core inflation rate was led by price drops in computers and plane fares. I know. But I said "core inflation."
Debit: Remember, so-called core inflation is more a measure of life's "wants," rather than our "needs." It primarily tracks occasional purchases, like computers and plane fares — but not items we buy everyday. You know, stuff like, well … ground beef and gasoline.
Credit: Economists and government henchmen will tell you that core inflation doesn't include food and energy because they're "too volatile." (Psst. Here's the real reason: including food and energy makes it tougher to hide the dwindling purchasing power of the dollar.)
Debit: Of course, high inflation is caused by fiscally irresponsible governments. It doesn't help that more than 35% of all Americans — 109 million in all — are now receiving federal welfare benefits.
Debit: Twenty years ago, the sanctity of "the almighty" US dollar was never in question. Today, waning confidence is everywhere; so much so that even the New York Fed's VP of Research is now asking if the US dollar will lose its reserve currency status. No, really. (For what it's worth, she's not sure.)
Debit: A Philadelphia Fed survey found that 18.2% of businesses cut employees as a direct result of Obamacare, versus 3% who hired more. Worse, 88.2% of businesses said they're passing Obamacare's costs to their employees. Yes, that's effectively a wage cut. Forward!
Debit: You think the nanny state is out of control here in the US? Try living in the socialist paradise of Venezuela where, in a desperate attempt to eliminate shortages — caused by government price controls, naturally — shoppers will soon have to have their fingerprints scanned before they can buy groceries. Forward!
Debit: Then there's Argentina. Their Big Government pols have decided that the best way to stem the country's rampant inflation is to implement, wait for it … price controls. Unbelievable. Shortages and fingerprinting shoppers won't be far behind. Forward!
Credit: Most politicians today seem to think improved living standards are created through government "services" like Obamacare and handouts. Wrong. Higher living standards can only come from a booming economy — and that requires business-friendly policies that eliminate government interference and regulations. Just sayin'.
Credit: Finally … My beautiful daughter, Nina, is 15-years-old today. Needless to say, I'm very proud of her and I love watching her grow up — I just wish she wouldn't do it so fast.
(The Best of) By the Numbers
$24,066 Average amount US couples spend on their weddings, excluding the honeymoon and rings.
$3,150 The average cost of a diamond engagement ring.
28 Median age of men who got married the first time in 2010. (It was 23 in 1950.)
26 Median age of women who got married the first time in 2010. (It was 20 in 1950.)
55 Percentage of all couples married at least 15 years.
35 Percentage of all couples married at least 25 years.
33 Approximate percentage of adults who never marry.
6 Percentage of all married couples who have been married more than 50 years.
8 Median number of years that first marriages ended in divorce.
$20,000 The average cost of a divorce.
Source: ABC News, US Census Bureau, Wikipedia
Other Useless News
Here are the top 5 articles viewed by my 5999 RSS feed and weekly email subscribers over the past 30 days (excluding Black Coffee posts):
My 6th Annual Cost Survey of 10 Popular Brown Bag Sandwiches
The High Cost of Being Poor (and How to Vanquish It)
Hey, no matter how you got here, please be sure to:
1. Click that Like button in the sidebar to your right and become a fan of Len Penzo dot Com on Facebook!
2. Make sure you follow me on Twitter!
And last, but not least…
3. Don't forget to subscribe via email too. Thank you!
Letters, I Get Letters
Every week I feature the most interesting question or comment — assuming I get one, that is. And folks who are lucky enough to have the only question in the mailbag get their letter highlighted here whether it's interesting or not! You can reach out to me at: Len@LenPenzo.com
It looks like I struck a nerve with Don regarding my article explaining why I'm not impressed with his expensive luxury car:
Please. Get over yourself!
Done. (But I'm still not impressed.)

I'm Len Penzo and I approved this message.
Photo Credit: brendan-c