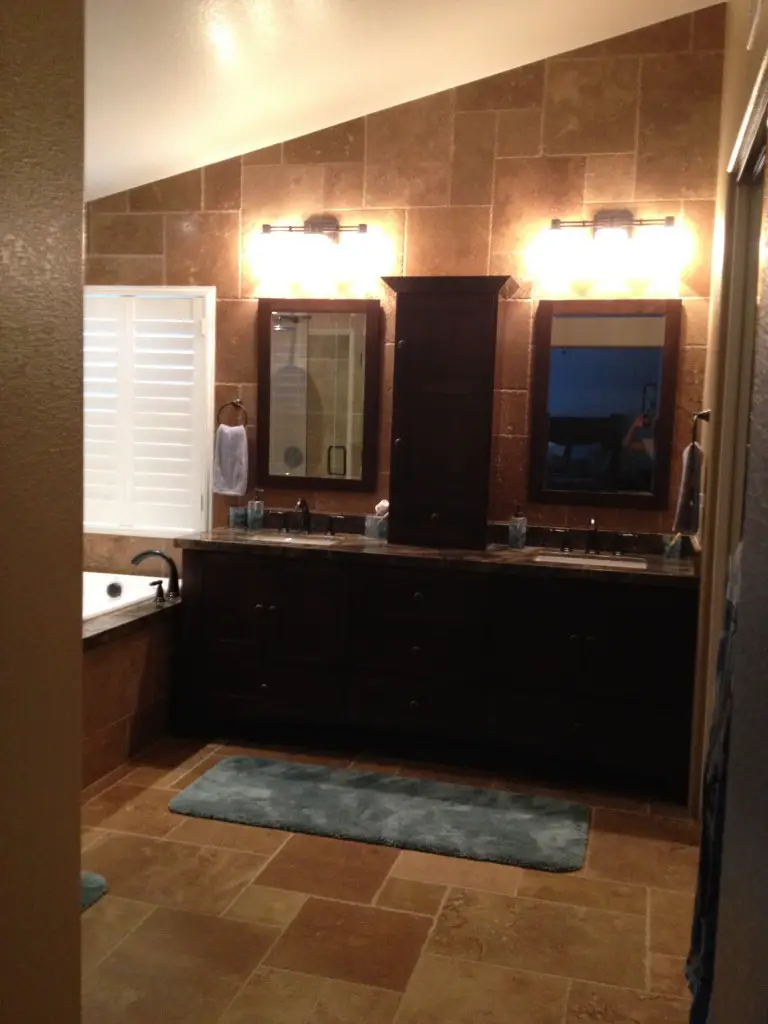 After eight weeks, our master bathroom remodel is finally finished. I guess I shouldn't complain; we waited 17 years to make the upgrade. It was also the last room in our modest 2000 square-foot, three-bedroom, two-and-half bathroom home to get a makeover.
It was worth the wait.
I have to give the Honeybee credit: When spending money on a major remodel, it was natural for a little bit of doubt to creep in regarding the design choices. There were more than a few times we both wondered if the flooring, fixtures and granite were going to come together as she envisioned. In this case, I think the final results speak for themselves.
Here are few more pictures: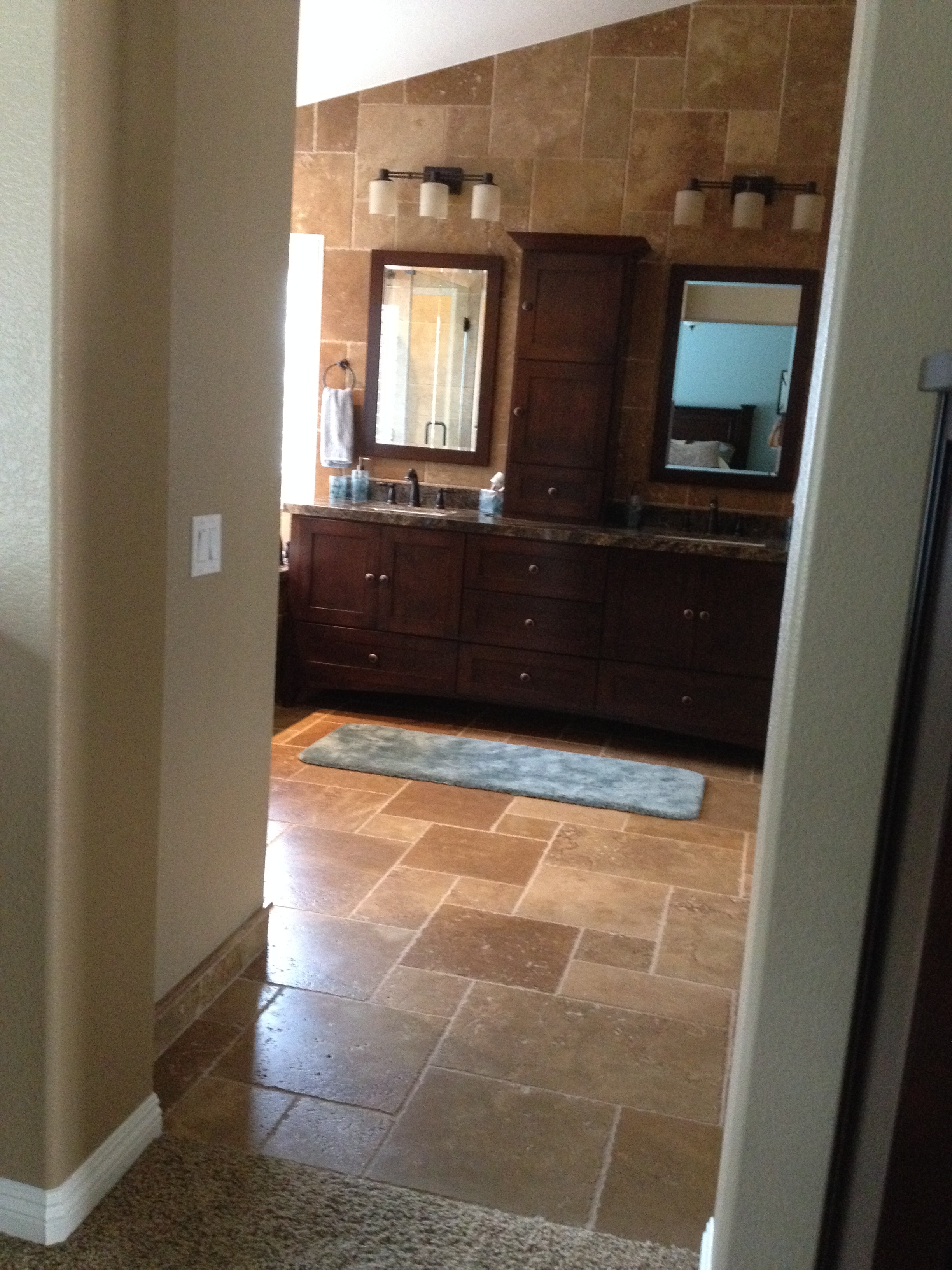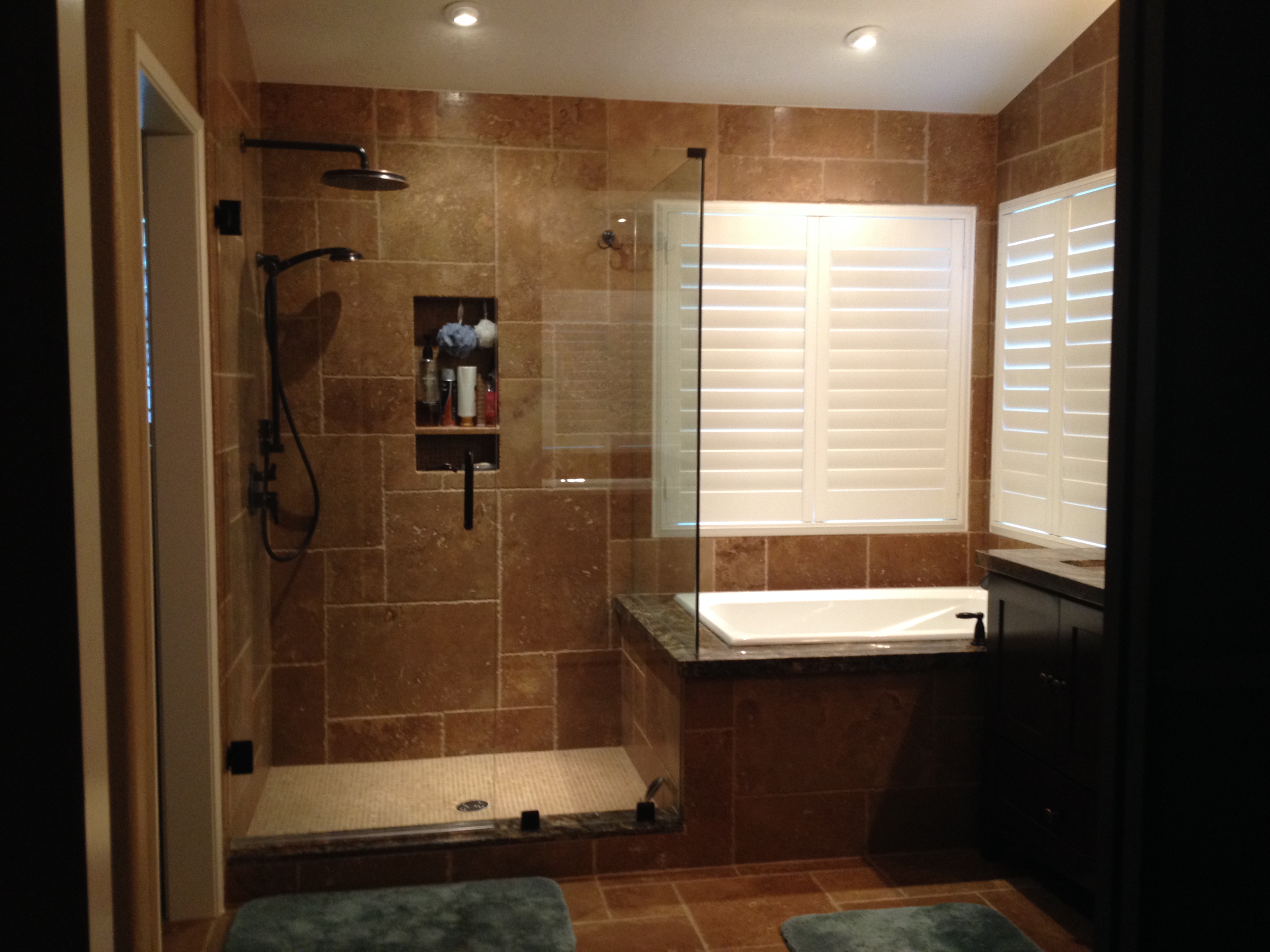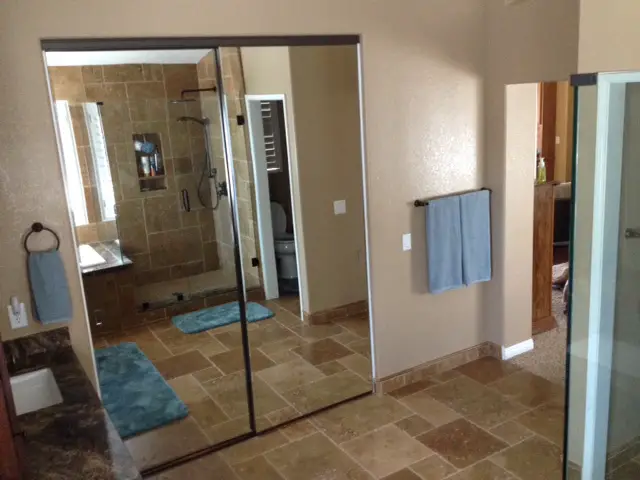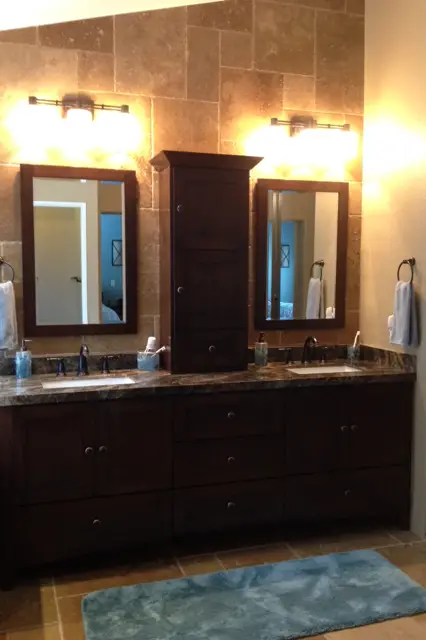 Of course, we started our journey by researching local general contractors on the Internet. We then got multiple estimates from six different contractors, but not before we ensured that:
They were licensed and bonded with the state
They had no complaints with the Better Business Bureau
The predominance of their reviews on sites like Yelp were satisfactory and/or they were vetted by our friends from first-hand experience
In the end, we were very happy with the general contractor we selected. He chipped in some great ideas and was very responsive to all of our concerns and needs. (If you're looking to remodel a kitchen or bathroom and live in Southern California, drop me a line and I'll give you his contact information.)
Project Cost Breakdown
As for those estimates … The initial ones led us to believe that our project was going to end up costing us significantly less than it actually did. I know.
Take a look at how the price grew over the life of the project:

As you can see, there was a difference of almost $4000 between our general contractor's original estimate and his final quote. A good chunk of that was due to several design changes we decided to implement during the project. For example, rather than go with mass-produced cabinetry, we decided to go with a custom-built vanity and cabinet. We also changed our mind and used travertine instead of porcelain tile; and carried the travertine all the way up two of the four primary walls.
We exceeded our original goal of $20,000 but, I'm happy to say, we managed to stay within our $25,000 budget. We didn't take out any loans for this project; this renovation had been included in our household strategic plan for the past several years, so we were able to cover all of the expenses from our savings.
Here is a list of our final bill of materials. As an added bonus, I've included our initial guesstimates as to what we thought we would spend on each item. In most cases we badly underestimated the costs.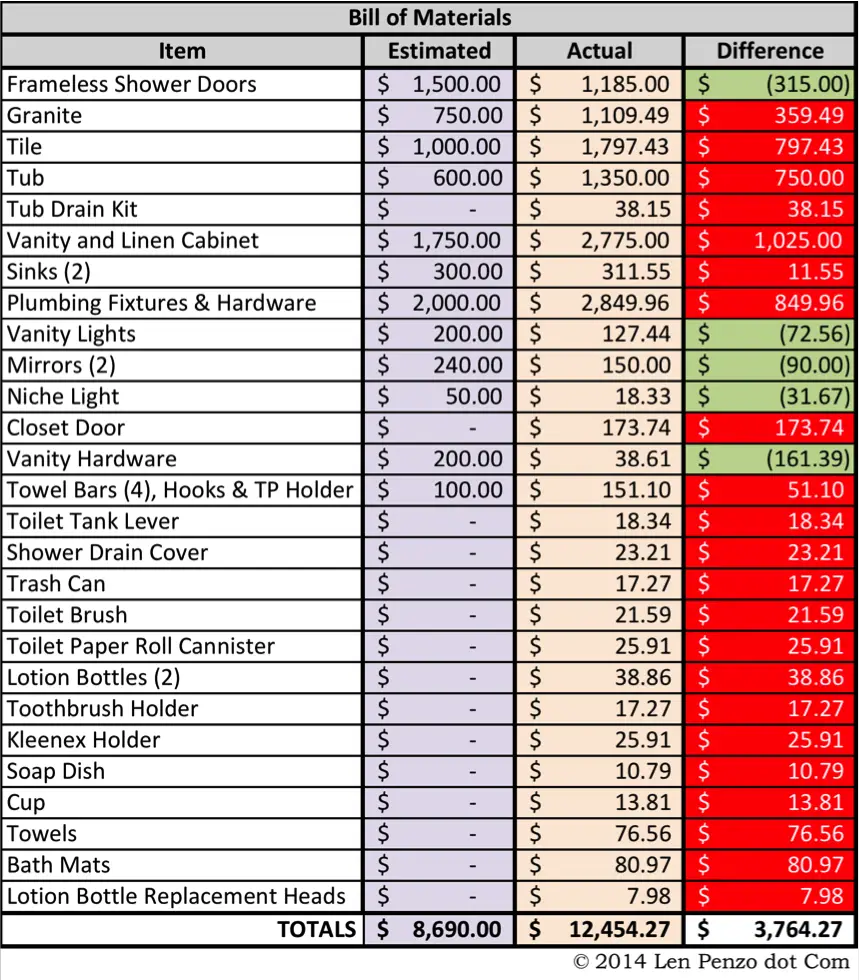 As you can see, in some cases there were costs we didn't even initially consider like towels, bathroom accessories — and a $25.91 Kleenex holder.
Some Lessons Learned
After such a big project, it's hard not come away without learning a few things about the remodeling process. Here are a few of the most important lessons:
You're going to spend more than you anticipate. Trust me; when considering remodeling costs, your first-blush back-of-the-napkin estimate is going to be influenced by unbridled optimism and unrealistic cost expectations. You're also going to forget a few things. So take whatever number you come up with and add another 50% — just to be safe.
It's going to take longer than you think. In our case, what was supposed to be a three-week project took eight weeks to finish. In some cases the subcontractors were to blame. We also had to wait longer than expected for our bathroom fixtures, which had to be back-ordered.
Expect the unexpected. Stuff happens. For example, during construction, somebody dropped a large pipe which ripped a gaping hole in our first-floor kitchen ceiling. Oops. The flooring subcontractor broke the mirrored closet door; it had to be replaced. Oops again. We also discovered our copper pipes had a high amount of corrosion (due to the acidic nature of our water) — so we ended up replacing a bit more plumbing than we had planned.
Don't settle for substandard work. The Honeybee is a real stickler for detail; and she's never afraid to point out substandard work. You shouldn't either. If something isn't done to your satisfaction — speak up! Don't settle for "good enough." Trust me — reputable contractors want happy customers.
Be sure to define a payment schedule. This is a tip, more than a lesson-learned: Never pay a contractor more than 10% of the total job cost up front. Then set up a payment schedule based upon a series of completed task milestones such as demolition, plumbing, flooring, paint, and a final walk-through. Remember, once your contractor is paid in full, you sacrifice your leverage.
Watch out for requirements creep. I've already explained how requirements creep quickly escalated the costs of our previous kitchen remodel. This time around, our master bathroom remodel led to master bedroom upgrades: a fresh coat of paint, a set of new bed sheets, new bedroom doors — and some new bedroom furniture too. Don't worry; we had the money. And if you ask me, it was all money well-spent.
Photos Credit: The Honeybee