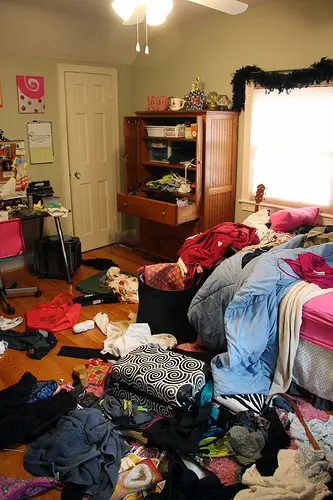 I'm a total neat freak. Always have been.
Truth be told, the Honeybee is a neat freak too. I think that's a big reason why we get along so well.
Oddly enough, our teenage kids are the exact opposite. They're allergic to neat.
The other day I walked in Matthew's "empty" bedroom and it looked like a bomb had gone off. There were so many clothes, school papers, books and other pieces of assorted detritus scattered on his floor that I couldn't see the carpet.
Then I entered Nina's room. Hers was no better; flotsam and jetsam everywhere. At least she was there, sitting at her desk and doing her homework.
"Clean up your room right now, young lady!" I commanded. "And when your brother gets home you can bet he'll be cleaning his pig sty too!"
"Okay, okay, Dad! Sheesh!" my daughter whined. "Oh, and Matthew is home."
That was news to me. "Really? Where is he?"
"In his room."
Huh?
Sure enough. A second check revealed my son to be sleeping in his bed, buried under a few t-shirts, a bath towel, a couple pairs of old sweatpants, five dirty socks, a pop quiz from history class, one silver Sharpee, a bag of half-eaten Fritos, an empty can of Coke, and 66 cents worth of loose change. Snug as a bug in a rug.
Sheesh.
If you think that's bad, you should know that there are a lot of folks out there who make an even bigger mess of their personal finances. It's true.
Hopefully, your finances aren't as messy as my kids' bedrooms. If they are, however, here are 33 reasons why that's probably so:
You spend more than you earn every month.
You're too busy to track your income and expenses.
You always have a large wad of cash in your wallet — especially if …
… You're an impulsive shopper.
You continually overpay for insurance. One example: paying higher auto insurance premiums for low deductibles even though you rarely make claims.
You hate the idea of paying your bills online.
You play the lottery.
You use those credit card convenience checks that you find in your mailbox.
You never read the fine print before signing on the dotted line.
You don't eat a lot of home-cooked meals. Get into the habit by planning your dinner menus in advance.
You spend more than you earn every month.
You rarely review your credit card statements for erroneous charges.
You think budgets are for people who can't manage their finances.
You have a budget — but you never follow it.
You're too embarrassed to use coupons, and too lazy to look for Internet promotional codes.
You use your credit cards even though you can't pay them off in full at the end of the month.
You've got too many well-meaning friends who loan you money.
You spend more than you earn every month.
You're counting on a big inheritance to drop in your lap and save the day.
You prefer making the minimum credit card payments each month.
You don't think twice about using payday loans to cover financial shortfalls.
You buy new cars — and then sell them every few years. Unless you plan on holding it for at least ten years, buying a new car makes little sense.
You never check your credit report for errors, signs of fraud and identity theft.
You hate comparison shopping.
You routinely float checks right before payday.
You think emergency funds are for worrywarts.
You're not very good about paying the bills on time — probably because …
… You stuff your unopened bills in a drawer as soon as you get them.
You think it's important to keep up with the Joneses.
You don't run your household like a business. And last, but not least …
You spend more than you earn every month. (And you thought I was going to forget that one.)
Photo Credit: woodleywonderworks