My name is Barb and I live in Alberta, Canada. I've been working in retail sales management for ten years. My income is just over $40,000 per year, although the climb to get there was very gradual.
I have a teenage daughter who lives with me. She's a full time university student, currently in her first year. I also have two cats.
The Quest for Maximum Value
I grew up in a culture of fiscal penny-pinching, although not in a stressful way. It was more as a puzzle or challenge to see that full value was received for our spending.
I cut the grass. I shovel the sidewalk clear. I cook. I clean. I trim my bangs and color my hair. The choice is always there, of course, to have someone else do those things, but I would rather save the money.
My family has lived without a car for five years now. Transit works very well for us. I rent a vehicle twice a year to do any chores and purchases that need a vehicle. For instance, I'll use it to stock up on six months worth of kitty litter and things like canned milk that are handy to have but quite heavy.
How I Manage My Spending
I manage my spending more than I manage the tracking and charting of my household expenses. For instance, my food purchases are limited by how much I can carry home in a day after work because I have to walk up a hill.
Any pre-made packaged item, like crackers, or frozen meals, or bread has to pass the test of being less than its gram weight. For example, crackers weighing 225 grams (a half-pound) have to cost less than $2.25 and these days, that usually means it is on sale. Toilet paper has to be 30 cents per roll. Bar soap a dollar a bar.
I check the flyers and make a grocery list every week, which I always carry with me, and we post a list of the main items in the freezer over the stove.
We also spend time looking for good values for shoes, socks, underwear, purses, and earrings; these are too personal to purchase second hand.
We actually enjoy "the hunt" in thrift shops such as Value Village, as all levels of quality are there. All of my purchases for work clothes are made there too, even though there's a dress code. Overall, there is a theme to our spending: taking the time to look for a good deal. Sometimes, it requires patience and reminding ourselves that, well, we just need to keep looking.
Our household utilities spending is carefully considered. We only purchased a new fridge after reading that our older model — which we bought way back in 1981 — was actually costing us a small fortune in electricity because the newer models are much more efficient. The best improvement we made for lowering our winter heating bill was to have the attic insulation brought up to the current standard. Our stove, washer and dryer were also purchased in 1981 and are still working very well. I've got to give a shout out to Maytag for my washer and dryer!
I have term life insurance. My entire government "family allowance" check went into an education savings vehicle, tax-free, that covers my daughter's education expenses.
Health insurance is a benefit that's deducted from my paycheck. I also have pet insurance that covers my cats, but I will never buy it again. I now think it's better to set up your own dedicated fund to cover their ill health. However, being this far in, and because I have an older pet, I've decided I'm going to stay with it. Here is a typical summary of my monthly expenses: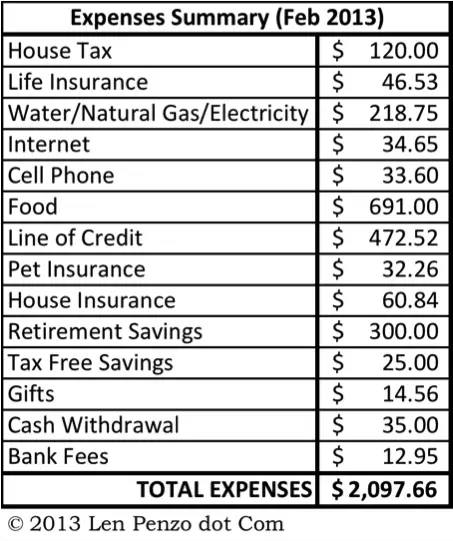 Entertainment and Savings
For entertainment, we make visits to the library at least once a week. We can reserve books, videos, on the library website. We also go to the movie theater courtesy of family who send gift cards at Christmas. The discount movie theater is a great buy at $5 per person.
We have no cable television; when we want to watch a program, we use our laptop computers instead.
We do make the effort to set aside a vacation fund; I have the money automatically deducted from my paycheck every two weeks. We take a vacation every other year; it used to be annually but costs have escalated. I usually book a bed & breakfast very early in the year, but this year I chose a mid-price hotel near a large park and the sea instead. We like to purchase Christmas gifts on the vacation as it is a time of low stress.
My emergency fund is healthy at the moment. I currently have $5,000 saved up.
I save for retirement through a matching program at work; I contribute the maximum allowed. I recently increased my retirement savings to $300 per month. At the same time, however, I decreased my savings for vacations.
I also put any income tax refunds, work bonuses, or any other unexpected monies I get into retirement savings too.
***
If you're a household CEO who is successfully making ends meet on roughly $40,000 per year or less, I'd love to hear from you. Contact me at Len@LenPenzo.com and be sure to put "$40,000" in the subject line. If I publish your story, you'll get a $25 gift card!
Photo Credit: dhererra_96