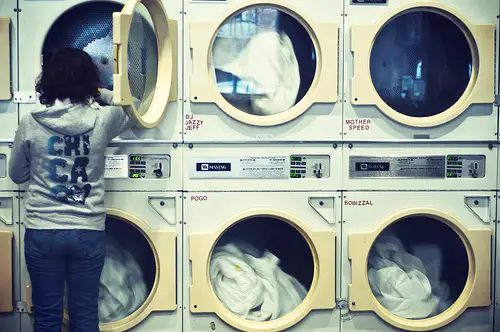 People looking to save money on appliances quickly learn that gas dryers typically cost between $75 to $150 more than their electric counterparts, primarily because the components are more expensive; for folks on tight budgets, that price premium can be a deal breaker. That's one reason only one of every five households in the United States use natural gas clothes dryers.
The thing is, when it comes to home appliance energy use, only the refrigerator consumes more electricity over the course of a year than an electric clothes dryer. Then factor in that, in most places, natural gas is currently significantly cheaper than electricity and it begs the question: Are gas dryers worth the extra money over the long run?
First, Some Basic Assumptions
To keep things simple, let's make the following assumptions:
The heating elements for natural gas and electric dryers are on for the same amount of time
The amount of electricity required to turn the drum for either dryer type is identical
Gas and electric dryers take the same amount of time to dry an equivalent amount of clothes
All electrical and gas lines are already in place
There are no installation costs
The efficiency of gas and electric dryers are essentially equivalent
Maintenance costs are equal
Calculating My Energy Costs

Because the amount of electricity and natural gas my household uses widely varies from winter to summer, I decided to calculate my energy costs across an entire year in order to help offset the seasonal effects of tiered usage-rates.
With that in mind, I spent $561 last year for 540 therms of natural gas and the obligatory taxes; a therm is equivalent to 100,000 British Thermal Units (BTU). That averages out to $1.03926 per therm over the course of the year.
As for my electric bill, I was charged $1676 last year for 9533 kilowatt-hours (kWh) of electricity, no pun intended. That averages out to $0.17578 per kilowatt-hour, all taxes and surcharges included.
Calculating Dryer Costs per Load

When we bought our natural gas Kenmore Elite Steam Dryer a few years ago, it was $86 more than the electric, including tax.
The gas version has a heating element rated at 22,000 BTU. Multiplying my natural gas cost by the rating gives the following result:
(22,000 BTU) x (1 therm per 100,000 BTU) x ($1.03926 per therm) = $0.22864 per load
But since the heating element is only on about half of the time, that reduces my estimated cost to roughly 12 cents per load.
The electric version has a heating element rated at 5.4 kilowatts. Multiplying my electricity cost by the rating gives us:
(5.4 kW) x ($0.17578 per kWh) = $0.94921 per load
Again, assuming the heating element is only on for about half of the time, that reduces my estimated cost to roughly 47 cents per load.
Based upon those numbers, it would cost me about 35 cents more per load if I chose to use an electric dryer.
Calculating the Break Even Point
To determine how long it takes to recover the $86 price premium commanded by the gas dryer, we need to know the break-even point, which is calculated by dividing the gas dryer's price premium by the cost difference per load. In my case:
($86) / ($0.35 per load) = 246 loads
The Honeybee does about 25 loads per month. That means the extra money we paid for our gas dryer was recovered in slightly less than ten months. Not bad!
Some Final Tips
Your results will obviously vary depending on the number of loads you do each week, the price premium of the gas dryer, and the rates you pay for electricity and natural gas.
Also, keep this in mind: If you prefer the advantages of natural gas appliances, but your house isn't plumbed for them, sticking with an electric dryer will probably be the best option because of the high cost of running a new gas line.
Finally, Consumer Reports offers the following tips to consider when looking for either a gas or electric dryer:
Use a moisture sensor. According to the California Energy Commission, they cut energy use by up to 15%.
Don't focus on capacity. When if comes to everyday use, the differences aren't significant.
Don't pay for extra "bells and whistles." Heat level, timed and auto-dry features, and a few fabric options are all you need.
Oh, and one final tip: a dirty lint screen will cause your dryer to expend up to 30% more energy — so keep it clean.
In Conclusion
In our case, it looks like we'll be paying about $36 this year drying clothes with our gas dryer. If we owned an electric version, we'd be spending $141. Over a dryer's expected 18-year lifetime, that's a significant difference in operating costs.
Then again, for those who are looking to save even more money, there's always Plan C: hanging your clothes out to air dry.
Photo Credit: David Goehring