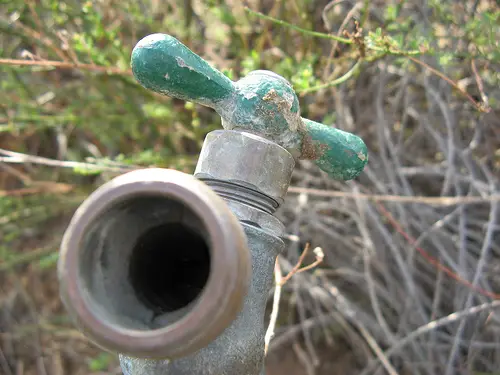 Clean running water is something we all take for granted. After all, there's nothing easier than going to the nearest tap, turning the handle, and being instantly greeted with as much potable water as you can drink.
Water is ridiculously cheap too. Even here, in arid Southern California, I'm paying a mere half-cent per gallon for the stuff.
Of course, it wasn't always that way. Before the advent of modern plumbing, getting water required a bit of effort; most people had to grab a bucket or two and then walk outside to a spring, or a well serviced by a hand pump.
The luckiest folks had their water source nearby. Remember, water is heavy; a pint weighs about one pound — or eight pounds per gallon. That begs the question: How far do you think you could lug a bulky five gallon water container if you had to?
I know this: Most people will be caught completely unprepared when the next natural disaster — or even economic collapse — results in the loss of their ready access to clean running water.
My daughter Nina recently got a small taste of just how dependent we are on our local municipality after a valve on my property failed that left our home without a source of running water for approximately 12 hours.
It's easy to underestimate how much water you use everyday until you no longer have it. In Nina's case, it didn't take long for her to feel the inconvenience of not having a ready and plentiful supply of clean water. She couldn't take her morning shower, and our family had to ration toilet flushes. We had to postpone washing our clothes and the dishes too. The lack of water also limited our cooking options, and even made brushing teeth a challenge.
Needless to say, when it comes to the most important survival items, water is at the top of the list. So, what would you do if your water service was disrupted for a week, a month — or even longer?
Emergency Water Storage
In a dire emergency, most people can survive by drinking as little as one quart of water per day — but that leaves nothing available for anything else.
I currently have an emergency water supply totaling 168 gallons; that's enough water to ensure each member of my family has one gallon per day for 42 days. I used a special water preservative containing 5.25% sodium hypochlorite to help ensure my stored water stays drinkable for at least five years.
My emergency water is stored in special 3.5-gallon stackable containers with handles called "water bricks" (affiliate link) that constrain the entire supply within a compact area measuring just 54-inches long by 48-inches high by 18-inches deep.
At approximately $20 each, water bricks aren't cheap; on a per-gallon basis, they're typically more than twice the cost of a 55-gallon potable-water storage drum. However, for me, the utility and smaller storage footprint of the water bricks were well worth the additional cost.
Here's a picture of my set up: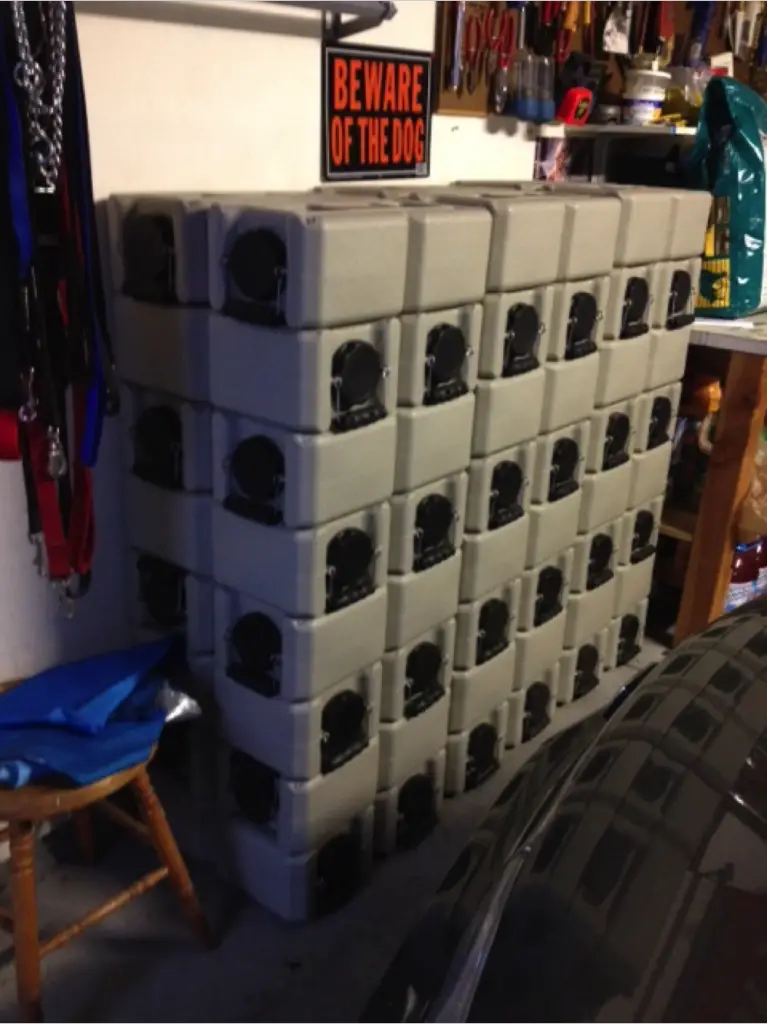 A Few Additional Tips
For long-term emergencies at home, I bought a Big Burkey water filter (affiliate link); they run about $250.
To handle emergencies when I'm away from home, I bought a top-of-the-line pocket water microfilter from Katadyn (affiliate link) that is capable of purifying 13,000 gallons of contaminated water; they cost roughly $350.
If you live in a multistory home, you can use gravity to drain water that's in the upstairs pipes. Just open an upstairs tap and then drain the water from a first floor (or basement) faucet.
In truly desperate times, your hot water heater can be used as an emergency water source. Before you do, make sure you shut off the water intake valve and then turn off any power or gas going to the heater.
Swimming pool water can be used for hygiene purposes. You shouldn't drink it, however, unless you properly filter it first.
The Bottom Line
After our water service was finally restored, Nina looked at me and said, "Now I know why we have so much water stored up for an emergency, Dad."
Yep. Even though we didn't need to use it, my daughter no longer thinks her dear old dad is quite so crazy for keeping all that emergency water on hand.
Now, do I think the local authorities will have enough spare parts on hand to quickly restore my city water supply after damage caused by, say, a catastrophic earthquake — or ensure the system continues to reliably function after an economic collapse? Beats me.
But I'm not waiting to find out.
Photo Credit: bludgeoner86