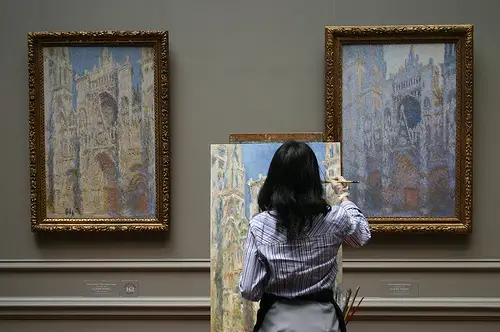 When Marvin Gaspar came to my office for his appointment to discuss an appraisal, I had little clue where I would end up on the roller coaster ride he was about to take me on. Marvin was a claims adjuster from an insurance company who wanted an appraisal to determine if his client's artwork was valuable.
He showed me a few photographs of a Miro (Joan Miro – Spanish, 1893 – 1983) lithograph that his company had been asked to pay a claim on. Of course to him, it was just a bunch of marks on paper, but the claim was for well over $10,000, so his boss had asked him to get a second opinion. I could see danger written all over this one.
The subject artwork had been stolen, along with a number of other things from the claimants home, and the insurance company was involved in the process of settlement. The artwork had been purchased on a cruise ship during the owner's vacation excursion with his family. More danger.
After careful research, I submitted my detailed report. The fair market value for the Miro lithograph was $2600. When the owner saw the results, I had nothing less than a hornet's nest in my face, he was so irate. I simply asked him if he would like to replace the lithograph, and his answer (to my surprise) was "yes."
Within two weeks, I presented the owner with a replacement lithograph from the same edition, framed and with an even lower serial number than the one he lost, in exchange for a check for $2600.
It actually was the easiest thousand dollars I had ever made at the time, not to mention my appraisal fee of $200 from the insurance company. The owner was delighted, as he received a suitable replacement for his artwork. The insurance company was delighted, as they saved nearly $9000 in the process, in exchange for a $200 fee, and I was delighted in that I made $1200 in the process of making two different people, on two different ends of the same transaction, happy as larks.
Art Value Is Often Very Subjective
What's the point? It's not that the people, whether representing an insurance company or an individual who suffered a loss, were dishonest or trying to pull something over on each other. It is simply this: everything has a certain value and, if that value to individuals in transactions is fair and equitable, the economy of our nation flows with much greater ease and simplicity.
But the truth is, people file lawsuits every day over issues of value. Usually, it's not that one person has intentionally defrauded another in a business or relationship issue. It's more that the expectations of one or the other is compromised, and the feeling of loss drives one to express that loss in the legal system.
In fact, art is a completely unique area of commerce, where value is very often quite subjective.
For example, if I buy a vacuum at WalMart, I can simply compare prices of various brand prices. It's quite simple. Then, if a house fire destroys my vacuum, I can collect an insurance check for my purchase price and replace it.
On the other hand, if my Picasso drawing is stolen, I might have a receipt showing that I paid $23,000 for it in 1974. But I can't replace it for that today. Unlike that WalMart vacuum cleaner, the Picasso drawing is irreplaceable. There is only one.
Often, the value of a drawing has both intrinsic as well as deep personal value. For example, it may have been bought while on someone's honeymoon in Spain and carries the hand print of their lives with it. What's that worth?
We can replace that drawing with this drawing, but it will never be the same. Even if we're replacing an etching with its twin, it will never be exactly the same.
Fortunately, if you're looking to invest in art, there are some reliable constants and guiding principles you can lean on. Here are but a few:
1. When determining the value of fine artwork, first look within.
Individuals occasionally approach me and ask if their planned purchase is worth what they're about to pay. My simple reply is this: "If you have the money, and are willing to pay the asking price, then buy it and enjoy it for what it is to you." After all, is this not the foundation of commerce? Does it matter if it's a vacuum cleaner or a fine painting? Not if you are honest with yourself about the foundation of your purchase.
A fellow art aficionado once passed along to me this bit of wisdom regarding how to conclusively determine whether or not to buy a painting: Ask yourself, how you would feel if I was standing behind you and bought the painting the minute you walked away. Would you be grateful that I, in a way, saved you from yourself? Or would you lament the loss of a fine work of art you had the opportunity to acquire, but momentarily lacked the conviction to do so?
So there it is. We have a value guideline: What's it worth to me?
2. For expensive art, get a professional appraisal before you insure it.
The next step is determining the value of your artwork when it comes to the insurance company; in this case, we need to be less subjective and more objective. Can the marketplace determine a common value? Of course, it can. If the marketplace is the flea market, where you're buying an artwork for $35, it really doesn't matter. But if you're about to purchase a Miro lithograph from a cruise line sales pitch for around $11,500, it might make all the difference in the world.
When to seek the counsel of a professional is a matter of personal choice. To some, $11,500 is not a great sum. To others, it's a whole lot. I generally counsel people who come to me for such evaluations, that beginning around the one to two thousand dollar point, one needs to be thinking about a professional appraisal. Most people cannot really afford a loss of $2000 and would need help to recover.
The secret to recovering is this: have a thoughtful, relevant and timely appraisal in hand at the time you sign for the insurance, not after a loss. Why do battle with an insurance company, when you can avoid it from the start? Insurance companies are in business to make a profit, and so paying unsubstantiated claims are an invitation to warfare.
3. Certificate-style artwork appraisals are rarely credible.
An appraisal done on a Xerox copy of a diploma-looking "certificate" is usually not worth a great deal. I've seen so many of these that I barely glance at the "appraised value" on such documents any more. There is usually no foundation, no discussion of value, no comparisons or substantiation for value. Such documents are of very little value at all. They're also the bane to the insurance world and an invitation to disaster.
4. A professional art appraisal protects both the insurance companies and the art owners.
Any good appraisal will be chock full of explanations, comparisons and logical and timely conclusions that give insurance companies the confidence they require before paying a claim or charging a policy premium. In addition, a good appraisal will have some kind of support for authenticity of the subject artwork. No appraisal is worth its salt, if the artwork is fake to begin with (but, that's a whole 'nother topic).
On the other hand, the owner or insured is the one paying the premiums. Why pay the premiums on a half-million dollars worth of goods, if they are only worth $100,000? Premiums ain't cheap. And we pay for what we are getting, so get what you need and get the value you're paying for.
5. Believe it or not, art insurance companies are on your side.
Always remember that insurance companies are organizations made up of a lot of people; people just like you and me. Most competent workers are not out to stick it to anyone. They serve the customers of the company, not the other way around. Good service is what makes a company grow. And if you provide viable information at the time of initiating a policy, everyone involved will benefit from it.
About the Author
Gayle B. Tate is the founding owner and director of G. B. Tate & Sons Fine Art since 1967. He specializes in American and European paintings, sculpture, drawings and fine prints. His services include authentication and appraisal of fine art. He also works with federal authorities and insurance companies to solve and prevent art fraud in the marketplace.
Photo Credit: Robin.elaine