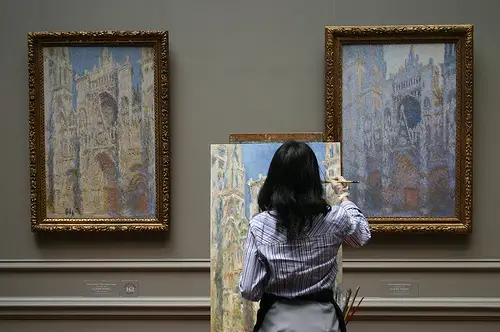 This morning I find myself running to my office with a package in hand, looking desperately for something to cut the tape with. A painting has just arrived by Priority Mail, and I can't wait to open it. It is something that was offered by a seller through our web site and, perceiving that I got a bargain, my heart is pounding with anticipation.
I'm not disappointed. Today, it's a landscape painting by an American Impressionist, Emerson Glass, that jumps out at me with volumes of color and the feel of the prevailing winds in the Rocky Mountains. I bought the painting for $700, and trust I'll do well when it comes time to sell.
For the moment, I just want to see it hanging in the space that I made room for in my office. I put a light on it and sit back to take it in.
After the initial exuberance of my new find, my mind eventually settles into my daily business mode and I begin to think about what kind of investment I just made with this new acquisition, and the long term outlook for it.
I realize that if I enjoy this, then someone else will too. But, how much is such enjoyment worth? Is this a purchase for our home or an art investment? Will I make a profit? How long should I hold it? How did I come to buy this particular artwork rather than something else?
Here are a few discoveries I have made during 50 years of doing this very same thing, day by day. These topics are being discussed in our YouTube video series: "Investing in Art."
1. Do Your Research and Keep a Narrow Focus
The basic truth is this: if you buy what is attractive to you, surely it will also be attractive to someone else. But, is that enough? No; not if you wish to make a profit.
So what is the answer? Study first, buy second. Tangibles, like art, jewelry, antiques and other objects of virtue are different from any other kind of investment on the planet. For works of art, keep this one profound truth in mind: you make your money on the day you buy!
I doubt if many investors buy stocks without first exploring their area of interest. They track their proposed stock, look at the current price and trends, talk with professionals and then make a decision whether to buy or not. It's the same with art — look for an artist, art style or period of art history that you find attractive. Zero in on an artist, group of artists or style that you like, and limit your initial purchases to that area.
2. Don't Buy on a Whim
Don't go shotgun shopping for everything, hoping to find a winner somewhere; it doesn't work. However, there are certain schools of art that have proven their value over time.
Many American and European artists and their associated "schools" — that is, their common styles or backgrounds of influence — have nicely maintained their values and shown excellent growth over many years in the art marketplace. A brief list of these schools include: Hudson River, Askcan (New York) artists, American and European impressionists, regionalist artists of various areas of the east coast and Midwest, Taos Founders, California impressionists, and western impressionists.
There are also schools of abstract imagery, like the expressionists and, well … you get the picture. Each school has its founders and followers. Each has good and poor quality work being produced. But importantly, each school has its own stamp of style and execution that defines it as a specific philosophy that the artists follow.
3. There are Great Artists Still Waiting to be Discovered
Buy low, sell high… duh! Simple? No.
As you develop taste for your favorite school, look for certain emerging artists or still on the "discovery" side of the market. Birger Sandzen (American impressionist, 1871 – 1954) was a virtual unknown until the mid 1980s. Now his work sells regularly in five and six figures; but it was work that could be found for under $1000 not that long ago.
The real secret is, there are many good solid artists that can still be found for under $1000, and some of the best for under $5000.
4. Beware of Fads
Fads seldom make good investments. If you see an artist that's being "pushed" as an investment, listen to your inner voice. If it's saying "you must be kidding!" then stay as far away from it as you can.
Everyone has a sense of beauty and order on the inside of them — everyone — whether you realize it or not, and that inner voice will help you. No matter what any dealer or gallery tells you, it's the auctions and the public arenas of competition that determine the real value of goods being sold.
I read current sale results every day for many artists that I track. Especially in today's volatile economy, being informed is vital if you wish to invest wisely. But, whether you're investing $50 or $10 million, remember your inner voice. Usually, it has more wisdom than you realize. Use it wisely.
***
About the Author: Gayle B. Tate is the founder of G. B. Tate & Sons Fine Art, based in Laramie, Wyoming. He specializes in American and European paintings, sculpture, drawings and fine prints. His services include authentication and appraisal of fine art.
Photo Credit: Robin.elaine