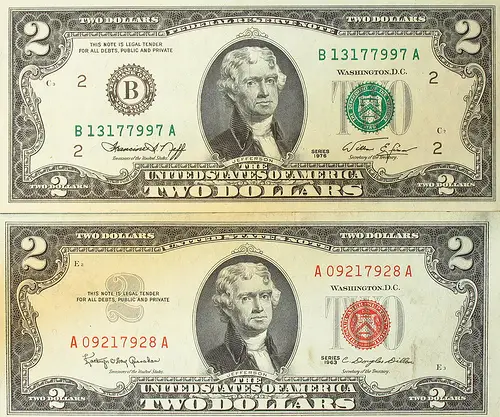 Not too long ago I had to mosey on down to my local hardware store because I needed propane for my barbecue grill. The total price for the refill came to $17.96.
At first I tried to pay with a credit card but, for some reason, their machine was on the fritz, so I gave the kid the only money I had in my wallet: a $20 bill.
In return, he gave me a $2 bill and four pennies. I'm not kidding.
Talk about a numismatic nightmare.
Of course, the cashier tried to convince me that he had just handed over $2.04, but as far as I was concerned, he gave me the financial equivalent of two matchsticks and a ball of lint. If that.
After all, everybody hates pennies — and nobody knows what to do with $2 bills.
If you're like me and most other people, pennies typically get tossed into desk drawers or five-gallon pickle jars where they are quickly forgotten.
As for $2 bills, well … due to their perceived rarity, they usually end up being tucked away in old dressers and other secret hiding places as collectible souvenirs — or even handed out as magical birthday and Christmas gifts for the kids.
As such, people rarely see $2 bills in circulation because nobody ever spends them.
With that in mind, here are 18 facts you probably didn't know about all those $2 bills you're currently squirreling away for no good reason:
Although Thomas Jefferson has been featured on the $2 bill since 1869, it was Alexander Hamilton's portrait that originally graced the front of the bill when it was introduced in 1862.
Jefferson's home, the Monticello, was first featured on the bill's reverse side in 1929. The Monticello gift shop reportedly now gives them out as change to encourage their circulation.
In 1925, the US government tried — unsuccessfully — to increase the popularity of the $2 bill by placing one in federal employee pay envelopes.
After years of public indifference to the $2 bill, production was finally discontinued in 1966, only to be restarted as part of the American Bicentennial celebration in 1976.
The revised $2 bill from 1976 replaced the Monticello with a depiction of John Trumbull's painting, "Declaration of Independence."
Industrious folks looking to create a money-making collectable had the new $2 bills postmarked by the US Post Office on their first day of issue (April 13, 1976).
Unfortunately, so many of them did so that, even today, there are enough postmarked bills floating around to ensure they don't command much above the $2 bill's face value.
As a general rule of thumb, if a $2 bill has a red Treasury seal and serial numbers, it's at least a somewhat-valuable collectable. If the bill has a green Treasury seal and serial numbers, then it's probably not worth more than face value.
Believe it or not, $2 bills are seen in circulation so rarely that some people still think they're counterfeit upon first encountering them.
In 2005, a Baltimore man was arrested and held in custody until Secret Service agents could verify that the 57 $2-bills he used to pay Best Buy for installing a radio-CD player in his son's car were genuine.
Actually, it's a wonder we don't see $2 bills more often; as late as the turn of the 21st century, there were over $1.1 billion worth of the bills in circulation.
For its part, the US Bureau of Engraving and Printing continues to print $2 bills, including as many as 230 million of them back in 2006. Even so, $2 bills make up just 1% of all US bills in circulation.
In 1989, Geneva Steel in Provo, Utah paid their employee bonuses with $2 bills to highlight the importance of the steel mill to the local economy. That fact became obvious after the rare bills began appearing at merchants throughout the surrounding communities.
Then again, not every merchant is enamored with $2 bills. Over the years there have been more than a few claims of businesses refusing to accept $2 bills as legal tender.
According to the US Treasury, merchants aren't legally obligated to accept $2 bills — or bills of any other denomination. Yes, they have to accept US dollars, but those dollars don't have to be in the form of coins and paper money.
Legally, there is nothing stopping vendors from choosing to only accept payment in US dollars for goods and services via credit cards or other electronic means.
The next time you pay for something using a $2 bill, the odds are the cashier will have to put it under the cash drawer. That's because most businesses prefer to use the register's five bill-slots for ones, fives, tens, twenties and checks or coupons.
Speaking of spare change, for quite awhile now, strip clubs have been including $2 bills in their customers' change whenever possible to help increase tip income for their dancers. Well … At least that's what I've been told.
Photo Credit: The Comedian