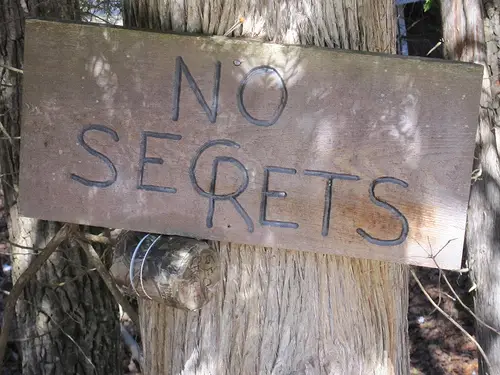 Most people who have emergency and rainy day funds use banks to keep their cash safe. However, it's also wise to keep a home-based readily-accessible disaster fund in the event a situation arises that makes it impossible to withdraw the cash from those accounts — especially if merchants become, for whatever reason, unable or unwilling to conduct credit card transactions too.
The trick is in finding the perfect secret place for hiding your cash from burglars and, sadly, even dishonest friends or relatives.
Of course, some places are more secure than others. For example, workmen fixing a broken water pipe in an El Paso, Texas home last year were more than a bit surprised to find almost $1 million stashed inside a wall.
And while nobody needs a million bucks to tide them over in the event of a local disaster, everybody should have enough cash on hand to cover at least a week or two of living expenses.
Burying your cash outside is never recommended because it's not only easier to forget exactly where you buried it, but it's also prone to decomposition over time.
And although it can be an obvious target for burglars, inside the house you can always "hide" your money in a fire-resistant safe along with your other important papers and documents.
But what if you're looking to be a bit more clever? Those safes are fairly easy to find and, unless they're bolted to the floor, the smaller ones can often be carried off with minimal effort.
A few years ago my pal, the great Linsey Knerl, proposed several good — and not so good — unconventional locations to stash your cash. Some of the better ones included:
Fake return air vents.
Fake drains.
Fake electrical outlets.
An empty box of frozen food.
I particularly like the idea of hiding money in the freezer because it reduces the risk of losing your disaster fund in a fire, but if you're not impressed with any of those, there are other options.
A website called Brickhouse Security offers a panoply of products that allow you to hide your money in plain sight of would-be thieves including safes that look like cans of soda and shaving cream, jars of peanut butter, hollowed-out books and CD cases, landscape rocks, sprinkler heads and even scented candles.
No matter where you keep your disaster fund, just make sure it is made up of mostly small bills because merchants may be unable to make change in a crisis situation; the majority of my fund consists of $5 and $1 bills.
Now I know what the cynics out there are thinking: Why bother? A determined thief is going to find your money anyway!
True; but that logic still doesn't justify making their "job" easier for them. I mean, if that's how you really feel, why bother putting locks on your doors?
Besides, I'm not advocating that anyone should be hiding their entire life savings at home — just enough cash to get through a natural disaster or other adverse situations where, say, the power is out for a relatively long period of time.
Anyway, if you've got a favorite hiding place for your disaster fund, I'd love to hear about them.
Then again, I guess the burglars would too. Never mind.
Photo Credit: Kate Ter Haar