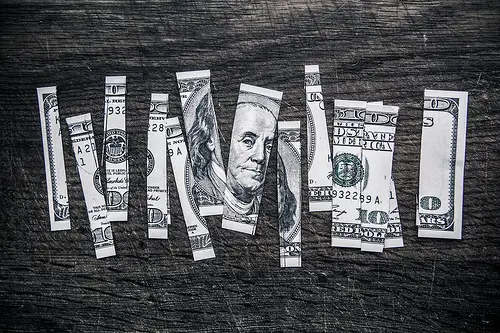 The other day I was in the mood for a couple of chili cheese dogs, so I decided to stop by my local Wienerschnitzel and satisfy my craving.
As I got to the counter to pay for my food I realized that I still had an old $5 gift certificate tucked behind my business cards.
Of course, I was ecstatic. After all, rediscovering that worn-out certificate in my wallet was like finding a $5-bill on the ground — and who doesn't love it when that happens?
You may unknowingly have a little money hiding right in front of you too, although the cash I'm talking about isn't tucked in a hidden recess within your wallet.
It's been estimated that approximately 1 in 8 people in the United States have missing money waiting to be claimed, usually from bygone bank accounts, income tax refunds, uncashed paychecks, utility deposits, insurance policies, escrow deposits, certificate of deposits, and saving bonds. Fortunately, there are unclaimed property laws in every state that instruct companies to turn over those forgotten funds to an appointed official whose job is to help reunite it with you or your heirs.
According to the National Association of Unclaimed Property Administrators (NAUPA), in 2011 more than $2 billion was returned from 2.5 million claims; but that's just a fraction of the $41 billion still waiting to be returned to its rightful owners today.
Some of that money might even belong to you!
How to Determine If You Have Unclaimed Money
OK, Len; so how do I find out if I've got a little cash out there waiting for me?
Well, the NAUPA has a free easy-to-use search engine to help you determine if there's any money in your name waiting to be claimed. At their site is a map of the US and Canada; simply click on the state or province you think might have unclaimed money waiting for you.
Another free site for finding lost money is MissingMoney.com. To use it, simply enter your name and one or more of the states you've lived in, and then the search engine will begin working its magic.
Within a few seconds it returns a detailed list of potential matches that includes the name, last known address, original source of the unclaimed money, and the amount of unclaimed property in non-specific increments such as "over $100."
In order to cast a wider net, I only entered my last name into the search engine. At first, I got really excited when 23 people with my surname popped up. Unfortunately, I wasn't listed in any of the results; the closest match was for somebody named Lazabo Penzo from San Juan, Puerto Rico.
Oh well.
Checking for Unclaimed Retirement Money
If you're a retiree, don't forget to check websites that track unclaimed 401k plans, and unclaimed pension money from companies that went out of business or ended a defined plan.
How to Avoid Having Unclaimed Funds
Experts suggest that if you want to avoid having unclaimed funds, you should always:
Cash your checks promptly.
Keep accurate records of your bank and savings accounts.
Keep a record of all utility deposits.
Prepare a notification checklist of all your monetary accounts for when you change addresses or your name changes for any reason.
One Final Note …
Remember, there's absolutely no reason to patronize websites that charge fees to search for your unclaimed property. Why pay a middle man when you can do the work for free? Especially when it's so easy to do a quick search all by yourself.
By the way, of the 23 Penzo's with unclaimed money who showed up in my database search, four have windfalls of more than $100 on the books — so if you happen to be one them, don't forget to send a 10% finders fee to yours truly.
I'm talkin' to you, Lazabo.
On second thought … Just buy me a chili cheese dog and we'll call it even.
Photo Credit: Tax Credits