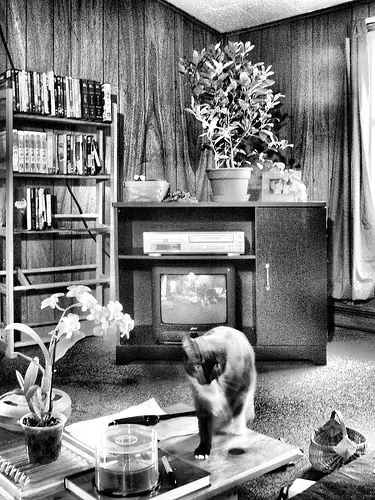 One recent weekend not too long ago I came home to find out that both my kids happened to be spending the night at neighbors' homes. Heh.
Of course, I'm sure all of you who are married with children know what that means.
But before that could actually happen I had to grease the skids. Er, so to speak.
Both the Honeybee and I are homebodies. So we decided to cook up some steaks at home and rent a movie.
I sauteed us some fresh mushrooms and then cooked us up a couple of nice rib eyes (cooked rare, and lightly marinated beforehand in Italian dressing). Of course, our steaks were accompanied by baked potatoes loaded with butter, sour cream, chives and bacon bits.
Oh yeah, it was delicious.
Before I knew it the kitchen was cleaned up and it was movie time.
So I popped us up some fresh hot popcorn and cracked open a frosty cold one. Meanwhile, the Honeybee poured herself a tall Jack and Diet Coke and grabbed the big bag of peanut M&Ms she thinks she keeps hidden from me in the cupboard (in the far corner, behind the bag of Lay's Salt & Vinegar potato chips). Never mind that I prefer the plain ones.
At 8:30 p.m. we settled down to watch The Clash of the Titans starring Liam Neeson, Ralph Fiennes and a bunch of other actors I never heard of.
The Honeybee popped the DVD in the player and the first trailer started up for some goofy movie about talking hoot owls called The Guardians of Ga'Hoole.
"Fast forward it, Honeybee," I said raising my beer in the air for added emphasis. "I don't feel like sitting through the movie previews tonight."
Anyway, after a few seconds of her pointing the remote at the DVD player, it was apparent she was having no luck getting to the movie menu. In fact, that annoying little international red and white slash symbol for "Don't Even Try It, Monsieur!" was mocking us, appearing in the upper right corner of the screen every time the Honeybee pushed the SKIP button. The same thing happened when she tried pressing MENU too.
Talk about threatening to ruin what had started out to be a great evening. For the next 16 minutes we were prisoners in our own home, forced to endure a seemingly never-ending parade of movie trailers, public service announcements and commercials. In our case, we were treated to the following theatrical flotsam and jetsam prior to the start of the movie:
8:30 p.m.: Movie trailer for The Guardians of Ga'Hoole. (Boring. Actually, really boring.)
8:32 p.m.: Movie trailer for Inception. (Okay, that one had me.)
8:34 p.m.: Movie trailer for Lottery Ticket. (Insufferable.)

8:36 p.m.: Commercial for a video game entitled The Legends of the Guardians: The Owls of Ga'Hoole. (Wasn't paying attention. Too busy tossing popcorn to the dog.)
8:37 p.m.: Movie trailer for The Losers. (If the trailer was indicative of the entire movie, the title doubles as a pithy review.)
8:39 p.m.: The original cheesy movie trailer for the 1981 version of Clash of the Titans with Laurence Olivier, Ursula Andress and Harry Hamlin. (Yes, that Harry Hamlin. Now on DVD!)
8:41 p.m.: Commercial for The Clash of the Titans video game. (Must. Drink. More. Beer.)
8:42 p.m.: Movie trailer for a cartoon called Batman: Under the Red Hood. (Really? Is there anything more ridiculous than a movie trailer for a cartoon?)
8:44 p.m.: A public service announcement for the American Film Institute. (No recollection of this on account of my slipping into a brief coma.)
Mercifully, sixteen bloody minutes after we first popped the DVD into the player, our movie was finally ready to start. But my frosty cold one was empty. And the dog and I had already finished most of the popcorn in the bowl.
By the way, this wasn't the first time this happened. Lately, it's been happening more frequently. It doesn't matter where the DVDs come from either. Regardless, I was determined to figure out how to get around this unconscionable abuse of the movie-watching public. And so I did.
Later that week I did some research and discovered a few simple tips for overriding those DVDs from hell. It turns out if you're watching the DVD player from a computer — rather than a DVD player — you can simply press STOP, then PLAY.
However, if you're like most people who use a DVD player, and you don't know how to skip DVD ads, then try one of these two tricks:
1. As soon as the first preview comes on the screen, press the following sequence on your DVD remote: STOP, STOP, PLAY.
2. And if that doesn't work, try pressing: STOP, STOP, STOP, PLAY.
The real question was: Would either of these tricks work?
Well, this past weekend we rented The Werewolf from Blockbuster. Sure enough, the DVD wouldn't allow us to skip over the movie previews.
This time, however, we were ready. The Honeybee pressed STOP, STOP, PLAY and, voila!, the DVD sent us directly to the movie menu. Yes, it worked!
Just for grins, I then tried it on the FBI warning. It worked on that too!
Anyway, natural order has been restored in the Penzo living room and life is good again.
Best of all, the sixteen minutes of our lives we now save watching those boring trailers can be applied to activities that are a lot more fun. If you know what I mean.
***
(Note: This article was originally published on 25 June 2014.)
Photo Credit: striatic