It's time to sit back, relax and enjoy a little joe
Welcome to another rousing edition of Black Coffee, your off-beat weekly round-up of whats been going on in the world of money and personal finance.
OK, here we go …
The Way-Back Machine: Past Posts Of Mine You May Have Missed
From August 2010:
DVDs from Hell: How to Deal with 'Unskippable' Trailers and Ads – If you're like me and hate DVDs that won't let you fast forward through the trailers and advertisements, then you'll appreciate this neat little trick you can perform to solve that problem. You're welcome.
And Here's Some Other Posts You Might Enjoy …
Out of Your Rut – Why Teach Your Kids How to Cook?
Deliver Away Debt – Is Social Media Keeping You in Debt?
Canadian Finance Blog – How to Spend Less: Minimum Effective Dose
Monevator – A History of UK Inflation
The Military Wallet – 5 Priceless Tips from the WWII Generation
Credits and Debits
Credit: Declining crude oil imports helped the US trade deficit for July plunge to its lowest level since October 2009. In fact, oil imports have been steadily declining since 2005, from a high of 12.5 million barrels per day to less than half that total now. Uh huh. Believe it or not.
Debit: One reason we're importing less oil is because total gasoline retail sales in the US have been declining for an even longer period than crude oil imports — and even more dramatically. Total US gasoline sales have been dropping every year since 2004.
Credit: Another reason is that US domestic crude oil production is growing by leaps and bounds. So much so that US oil production is now expected to surpass imports by October; that hasn't happened in 18 years. Somebody pinch me.
Debit: Even so, the price of oil climbed 9% in July, thanks to rising demand for black gold from the rest of the world. That, in turn, has caused gasoline prices to increase enough over the last month to make 2013 the third most expensive summer driving season — so far.
Credit: Nationwide, the average price of US gasoline rose 3.9% last month to $3.63. The good news is that, here in the US, average gasoline prices are expected to drop to $3.46 per gallon during the second half of the year.
Debit: Yet another sign that the US housing market is getting frothy: A new study found that two out of three home shoppers say they'd use aggressive tactics to close a deal, including bidding up to 5% over the asking price, paying the seller's closing costs, and borrowing from loved ones.
Debit: They better be careful. The recent increases in mortgage rates are a real threat to the housing market — especially with so few good jobs being created. And after two years of declines, US home inventories are increasing again; in 2013 they're up 17%.
Debit: The latest housing market mania is a real mystery, considering that US economic growth as measured by the nation's gross domestic product has averaged just under 1.1% since 2009. And that's with all the Fed money pumping and $787 billion "stimulus."
Credit: For what it's worth, between 1981 and 2000, US GDP growth averaged 3.4%. Yes, that's more than three times more robust than what we've experienced during our current so-called recovery.
Debit: Some folks who believe that the US inflation rate is consistently higher than official government figures also claim that the US economy has been contracting almost continuously since 2000. I think that's a stretch — but not by much.
Debit: Gold has taken it on the chin in 2013; it's down almost 22% so far this year. Even so, something is afoot in the market, because evidence is mounting that banks are scrambling to meet demand and prevent a potential run due to a gold bullion shortage.
Debit: Gold forward offered (GOFO) rates have been negative for more than 25 consecutive days. That's unprecedented — GOFO rates have gone negative just two other times since 1999. In both cases they remained negative for only a few days.
Debit: A negative GOFO rate implies that physical gold holders have lost confidence in the bullion banks' ability to deliver the precious metal. It also implies market participants now value gold more than they value fiat dollars.
Debit: One country that apparently values gold more than the US dollar is China. Their recent plea for a new gold-based global monetary system suggests that dollar hegemony may be on its last legs. You can thank unrestrained government spending and the Fed's relentless money-printing campaign for that.
Debit: Slowly but surely, the US dollar is losing its status as the world's reserve currency. If that happens, the US will also cede the enormous financial benefits that come with it — and most Americans' standard of living will drop significantly.
Credit: China's call for a new global gold-standard isn't stopping the Fed from introducing a new $100 bill in October.
Credit: Hey, maybe the Chinese will change their mind after they see the jumbo-sized numeral 100 that occupies a large portion of the new bill's back side — after all, it's printed in gold ink. Then again … probably not.
By the Numbers
Gold is an amazing metal. It's non-reactive, so it doesn't oxidize or rust like other metals, and it's virtually impervious to acid. And here are a few more facts:
1 Number of metals that are naturally yellow.
100 Percentage of gold content in 24 karat jewelry.
75 Percentage of gold content in 18 karat jewelry.
5 Distance, in miles, of a single thread that can be made from one ounce of gold.
300 Area, in square feet, of a thin sheet that can be formed from a single ounce of gold.
1912 The last year that Olympic medals were made of pure gold. Today they are plated with just 6 grams of real gold.
Sources: About.com

The Question of the Week
Loading ...
Last Week's Poll Result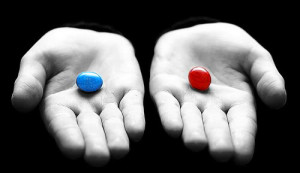 Given the choice, which pill would you take?
Huh? (55%)
Red! (23%)
Blue! (22%)
Speaking of mysteries … For the majority who are still wondering what last week's poll question was referring to, its origin can be traced to the movie The Matrix. Some of you may have seen the famous scene with Keeanu Reeves and Laurence Fishburne that explains the difference between the red and blue pills; I embedded a link to it in one of last week's Black Coffee "credits." As Wikipedia puts it, the two pills offer "the choice between the blissful ignorance of illusion (blue) and embracing the sometimes painful truth of reality (red)."
Last Week's Contest Winners
Congratulations to Daryl, Shirlee, and Lynn! They all won a copy of Clark Howard's Living Large for the Long Haul. I hope you all enjoy the book!
Other Useless News
Here are the top — and bottom — five states in terms of the average number of pages viewed per visit here at Len Penzo dot Com over the past 30 days:
1. Wyoming (2.58 pages/visit)
2. North Dakota (2.53)
3. Arkansas (2.22)
4. Montana (2.21)
5. Alaska (2.16)
46. New Jersey (1.58)
47. Texas (1.57)
48. Hawaii (1.55)
49. Connecticut (1.54)
50. Oklahoma (1.49)
Whether you happen to enjoy what you're reading (like those cowboys and cowgirls in Wyoming) — or not (ahem, Oklahoma) — please dont forget to:
1. Click on that Like button in the sidebar to your right and become a fan of Len Penzo dot Com on Facebook!
2. Make sure you follow me on Twitter!
And last, but not least…
3. Don't forget to subscribe to my RSS feed too! Thank you. 🙂
Letters, I Get Letters
Every week I feature the most interesting question or comment assuming I get one, that is. And folks who are lucky enough to have the only question in the mailbag get their letter highlighted here whether it's interesting or not! You can reach out to me at: Len@LenPenzo.com
Tima had this to say after checking out my 5th annual cost survey of the 10 most popular brown bag sandwiches:
Who in the hell pays $5.99 for a 5 ounce can of tuna?????
Recheck your math, Tima. It's 16 ounces, not five — so don't carp at me. (But if you have any other questions, don't be koi — let minnow!)

I'm Len Penzo and I approved this message.
Photo Credit: Project neXus – Thomas Solberg Andersen