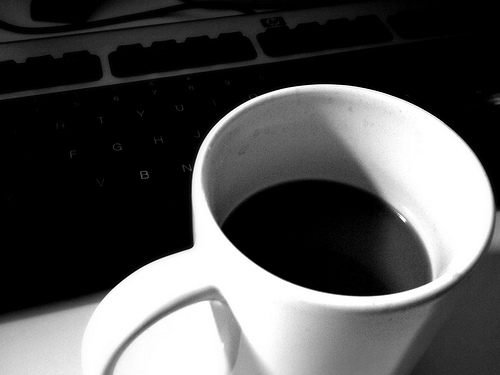 It's time to sit back, relax and enjoy a little joe …
Welcome to another rousing edition of Black Coffee, your off-beat weekly round-up of what's been going on in the world of money and personal finance.
Okay, let's get right to it this week …
Whoever is for higher taxes, feel free to pay higher taxes.
— Adam Carolla
Credits and Debits
Credit: The Dow crossed the 20,000 mark for the first time ever on Wednesday; the S&P also hit another all-time high on the same day. For those who are paying attention, the Dow is up 207% since its March 2009 low. Hooray!
Debit: Looking at the Dow you'd never know that US GDP was just 1.6% in 2016 — that's the lowest print this decade. By the way, the US hasn't had a year with at least 3% GDP since 2005 and the last 4% year was in 2000 — despite adding $15 trillion to the National Debt since then. This downward spiral will continue until our failing debt-based monetary system is replaced — or implodes beforehand.
Debit: Of course, stock investors around the world can thank central banks for the eight-year bull market — and 80% of the world's central banks say they plan to continue buying stocks. Frankly, they have no choice; in an odd way, it has become a necessary component for keeping their Ponzi scheme going and maintaining faith in their failing fiat currencies.
Credit: Then again, as the Wall Street Journal points out, "Central banks care relatively little about whether such investments make profits or losses because they can always print more of their currency. So risk is less important." Sadly, the only thing that matters to these bankers is keeping the gravy train rolling by maintaining their monetary illusion for as long as possible.
Credit: It may be true for the central bankers that risk is "less important" in the short run but, as financial analyst Bill Holter notes, while central banks can buy equities with their government-sanctioned green confetti that's created out of thin air, the strategy has a fatal flaw: it eventually leads to currency destruction.
Credit: Driving home the absurdity of central bank stock-buying, Holter asks a logical question: "How does anything without (intrinsic) value 'support' the price of what is most important to everyday life and thus the real economy?" (Spoiler alert: It can't! At least not forever.)
Debit: Yes, yes … I hear you: the US dollar is still king. Well … it is for now. But, as Simon Black points out, comparing prices of McDonald's Big Mac around the globe clearly demonstrates why the buck is also currently overvalued against almost every currency in the world.
Credit: Eventually, a new system will have to be put in place — and many people are betting on a new gold-backed dollar. Well … assuming the US still has all of the gold it says it does.
Credit: If the US ever does return to a gold-backed currency, cuckoo exchanges like this between those who actually understand that a monetary system based upon real money is in the people's best interest — and the central bankers who insist on maintaining the current scabrous and sinister debt-based Ponzi scheme they've imposed on Americans since 1913 — will finally become a thing of the past:
Debit: In other news, the Governor of the People's Democratic Socialist Utopia of California, Jerry Brown — a.k.a. Gov. Moonbeam — unveiled his proposal for bailing out the state pension fund: raise gas taxes 42% and vehicle registration fees 141%. You can't make this stuff up, folks. Sadly, for private-sector working residents slaves like myself, the odds are he'll get his wish. Forward!
Debit: Did you see this? Apparently, as the inevitable repeal of the "Affordable" Care Act draws ever closer, Americans have — incredibly — undertaken a last-minute love affair with Obamacare. Whaaa? Hmm. Perhaps Stockholm Syndrome is a very real phenomenon after all.
Credit: On the other hand, considering the abject failure of the ACA — and the widespread success of politicians pledging to repeal it since 2010 — it's more likely absolutely certain that the report is just more fake news, based on data generated by the same discredited organizations who gamed the recent US presidential polls.
Debit: Needless to say, rational people warned ACA advocates that, with more than 13,000 pages of regulations, the law would never reduce healthcare costs; indeed, that red tape only exacerbated healthcare costs for most Americans. In fact, the cost of government regulatory compliance on every facet of the US economy currently costs $20,000 for every American worker.
Credit: Can you imagine how much better off the US economy would be if all of that government red tape — and the bureaucrats who create and enforce them — magically disappeared and every worker had an additional $20,000 in their pocket each year to spend or invest? I don't know about you, but I'm starting to feel all tingly inside just thinking about it.
By the Numbers
Congress will be moving on starting construction of the border wall. Here are a few numbers that help to illustrate the wall and its effects:
2000 The approximate length of the US-Mexico border.
415,000 The number of illegal aliens caught crossing the US southern border in 2016.
50 Maximum height of the proposed wall; it would be made of concrete.
700 Miles of new border fencing previously authorized by The Secure Fence Act of 2006.
652 Miles of new fencing already built under The Secure Fence act. As a result, work on the the first 48 miles of the new wall could begin immediately.
$12,000,000,000 Estimated cost to build the proposed wall.
Source: Palm Beach Post
The Question of the Week
 Loading ...
Last Week's Poll Results
Generally speaking, what time do you usually go to bed?
9:30 pm or earlier (22%)
10:00 pm (21%)
Midnight or later (20%)
10:30 pm (18%)
11:00 pm (12%)
11:30 pm (6%)
More than 1300 Len Penzo dot Com readers responded to last week's question and it turns out that slightly more than 2 in 5 say they generally hit the sack by 10:00 pm. Frankly, I expected that figure to be a lot lower. Another 1 in 5 don't lay their head down on the pillow until sometime after the stroke of midnight — which is great if you can do it. Well … unless your name is Cinderella.
Other Useless News
Here are the top 5 articles viewed by my 12,029 RSS feed, weekly email subscribers, and other followers over the past 30 days (excluding Black Coffee posts):
4 Good Reasons Why Some Quarters are Painted Red
The 7 Most Popular Ways to Commit Financial Suicide
Hey, while you're here, please don't forget to:
1. Click on that Like button in the sidebar to your right and become a fan of Len Penzo dot Com on Facebook!
2. Make sure you follow me on Twitter!
3. Subscribe via email too!
And last, but not least …
4. Consider becoming a Len Penzo dot Com Insider! Thank you.
Letters, I Get Letters
Every week I feature the most interesting question or comment — assuming I get one, that is. And folks who are lucky enough to have the only question in the mailbag get their letter highlighted here whether it's interesting or not! You can reach out to me at: Len@LenPenzo.com
Kevin had this to say after finding my article highlighting a hack for annoying DVDs with "unskippable" trailers and ads:
It's disgusting how the entire world is slowly limiting people's freedom. Soon they'll decide when the DVD player lets you watch your movie.
I tell you what — they better not mess with my Raisinettes.
I'm Len Penzo and I approved this message.
Photo Credit: brendan-