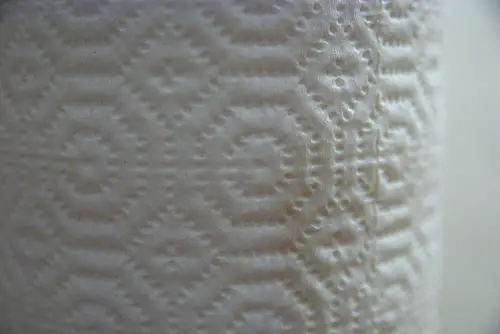 The paper towel is one of the greatest inventions ever and, frankly, I think too many of us take them for granted.
Think about it: They're not only invaluable for cleaning up spills and other messes, but the best ones can also handle tough jobs like cleaning the kitchen stove.
Paper towels are the brainchild of Arthur Scott who, as the story goes, developed them in 1907 from a cartload of rejected toilet paper. I know.
Today, the United States is the biggest consumer of paper towels, consuming 50% more towels than Europe and five times more than the folks in Latin America — so it's no wonder that American grocery stores devote such an unbelievably large portion of their paper-products aisle to paper towels.
With so many brands of varying price and quality to choose from, it's tough to know which paper towel offers the best value. Of course, the answer depends upon which factors one considers to be the most important when it comes time to evaluate them.
In 2009 Consumer Reports evaluated paper towels based upon absorbency, scrub strength and wet strength — but I'm most interested in: 1) cost; 2) absorbency, and; 3) scrub strength. And so, with that in mind, I decided to perform my own experiment comparing a host of paper towel brands based on those criteria.
How I Conducted the Test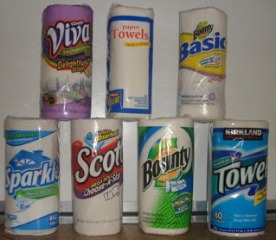 The first step was to hop on down to my local grocery store where I bought six different brands of paper towels: Sparkle, Bounty, Bounty Basic, Scott, Shoppers Value, and Kleenex Viva. I also went to my local Costco and bought their Kirkland Signature brand.
Next, I had to devise a couple of tests to measure absorbency and scrub strength.
To measure absorbency, I dipped a paper towel into a large glass full of water. Once the towel was saturated, I removed it and squeezed the water into a beaker and measured it (in milliliters). To ensure an apples-to-apples comparison, I used 11 x 12 inch samples for all brands being tested.
To measure scrub strength, I wrapped a wet paper towel around a sponge and scrubbed it back and forth over a laminated counter top. I then counted the number of scrubs before the paper towel tore.
For each paper towel sampled, I conducted three separate absorbency tests and three scrub tests. The results were then averaged.
Next, scores were assigned to each of the paper towels. The top-performing towel was given a score of one hundred and the other towels' scores were then scaled appropriately.
The final ratings for each brand were simply derived by averaging the three scores for cost, absorbency and scrub strength.
The Results
It turns out that no single brand excelled in all three categories. That being said, Kirkland Signature and Scott provided the best overall value. As such, they have been given the coveted "Penzo Pick!" designation. (I know, but just play along.)
When it came to absorbency, Bounty was the undisputed champion. It soaked up an average of 65 milliliters of water, far outdistancing its closest rival.
Not surprisingly, Costco's Kirkland Signature brand was the least expensive paper towel at just a hair under two cents per square foot. Despite the low price, it performed very well in my absorbency test; at 40 milliliters, it absorbed almost as much water as the Viva brand although not as much as the Bounty.
When it came to scrub strength, the Scott brand proved to be the most durable. My test results showed Scott to be more than twice as hardy as the next-best brand, Viva.
Here is a complete summary of my test results: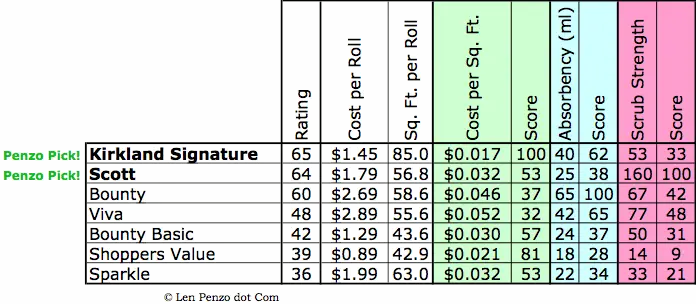 Recommendations
If price is your most important requirement, then the Kirkland Signature brand from Costco is by far your best bet. Kirkland's price-to-performance ratio is unmatched.
If you buy paper towels primarily for their absorbency, then Bounty is your best bet. However, keep in mind you are going to pay for it, as Bounty was the second most expensive brand on a cost per square foot basis.
For those who prefer paper towels that can stand up to the toughest cleaning jobs, then Scott paper towels are the way to go.
The two bargain brands tested, Bounty Basic and Shoppers Value, ended up being nothing more than, ahem, paper tigers. They both performed so poorly that unless you were using them as over-sized napkins you'd probably be better off spending a little extra on a better quality paper towel.
Viva was the most expensive brand surveyed. Unfortunately, its price-to-performance ratio was quite poor.
So there you have it: my great paper towel test. Hopefully you learned a few things from this little experiment. I know I did!
Photo Credits: milajake (top); Len Penzo
(This is an updated version of an article originally posted on April 28, 2010.)