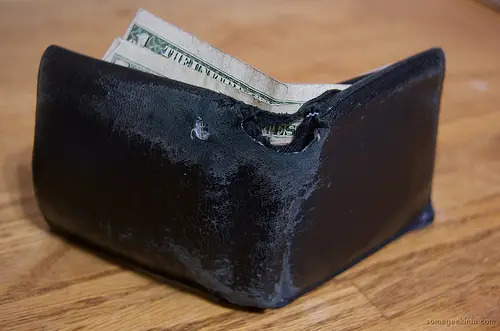 Think about how much stuff you have in your wallet at the moment: maybe a little cash, and probably a few debit cards or credit cards.
Now, are you satisfied with how much your wallet is earning for you?
It's never a bad time to take a look inside that billfold to see if you can do better.
Cash
If you've got cash in your wallet, remember that it's just sitting there, not earning you a dime of interest. Yes, I realize that's easier said than done anyway these days, but it's still the truth. (Well … unless you are investing in United States Series I savings bonds, which are paying almost 10% interest right now.) Regardless, it doesn't change the fact that, when you pay for stuff with cash, you aren't getting any rewards. Of course, it's always important to keep at least a little bit of cash on hand for those smaller "emergencies" — whether it's at the town fair to buy cotton candy, or at that annoying coffee shop that still doesn't take plastic — but the truth is, those who are financially disciplined should maximize their purchasing power whenever possible by paying for goods and services with some sort of rewards-based credit card.
Debit Card
How is your debit card treating you these days? Are you using it for purchases – or mainly for withdrawing cash from the ATM? If it's the latter, then you're earning zero rewards. If it's the former, I'll caution you on two points: First, unlike a credit card, you typically get little or no liability coverage with a debit card, so there is a bit more risk. Second, most debit cards don't offer rewards – although if you check the Internet you'll find that there are a few exceptions out there.
Credit Card
Finally, about those credit cards … Are you getting awesome rewards, at no cost and a good interest rate? If you're not, then you should do yourself a big favor and do a quick credit card comparison to see if you can get a better deal from a competing creditor. There are a lot of cards that offer great cash-back rewards, or even travel rewards, and have no annual fees. If your current card isn't giving you anything more than points, or you're paying an arm and a leg in fees each year, you should consider switching to a card that will work harder for you.
Your wallet will thank you for it.
Photo Credit: Casey Fleser