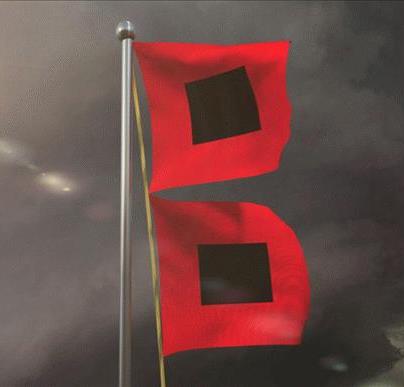 It's time to sit back, relax and enjoy a little joe …
Welcome to another rousing edition of Black Coffee, your off-beat weekly round-up of what's been going on in the world of money and personal finance.
I hope everybody had a wonderful week. And with that, let's get right to this week's commentary, shall we?
With the exception of periods under the gold standard, practically all governments of history have used their exclusive power to issue money to defraud and plunder the people.
–– Friedrich Hayek
The state remains, as it was in the beginning, the common enemy of all well-disposed, industrious, and decent men.
— H.L. Mencken
Credits and Debits
Debit: Did you see this? As the price of gasoline and diesel fuel continues to rise, at least one national gas station chain in Washington state is reprogramming its pumps to accommodate double-digit fuel prices. No, really. Hey … read into that what you will. In any case, when they're done reprogramming those gas pumps, let's hope they'll be kind enough to send one of their technicians over to reprogram this machine:
Debit: Believe it or not, with the "official" inflation rate in the US at 8.3% – and the true rate closer to 18% – it could be worse. If you want a glimpse into where America is heading, look no further than Argentina where the annual inflation rate is more than 50%. As a result, used cars have become "smart investments" because they retain value better than the Argentine peso. Um, and apparently the US dollar too …
Debit: On the other hand, there are only so many used cars one can own. So the average Argentinian resorts to, ironically, hoarding those rapidly-depreciating US dollars too. Yes, yes; a dollar that is depreciating at an annual rate of 18% is garbage – but it's still preferable to one that's depreciating three times faster. So Argentinians with discretionary income exchange their excess pathetic pesos for those stinky greenbacks as fast as they can, while storing them in safes, mattresses, and anywhere else that the government can't get to them. Even so, politicians and central bankers insist inflation is preferable to deflation. Go figure.
Credit: Unfortunately for all of us, macroeconomist Alasdair Macleod notes that after Nixon decoupled the US dollar from gold in 1971, the US began transitioning its economy from manufacturing to one primarily focused on financialization; it's a strategy that began in the 1980s and essentially continued for the next 40 years, mainly via the suppression of interest rates. "But that period," says Macleod, "appears to be coming to an end as the markets finally reassert themselves through higher prices." Uh huh. That being said, inflation is so bad that it's apparently affecting more than just prices now …
Credit: By the way, macro analyst Bill Holter once again reminded us – as well as the wicked charlatans who continue to extoll the "miraculous" benefits of unfettered fiat currency printing and the power of Modern Monetary Theory – that the current monetary system's demise was mathematically sown as soon as the dollar's link to the yellow metal was broken. Sadly, we are now reaping the results of that transition as the system begins its death throes in the form of rising price inflation and the looting of the Treasury. Then again, for some people, a lot of their economic pain is self-inflicted …
Debit: Of course, as the US dollar continues its decent into the abyss, most Americans will realize they need to protect their purchasing power too. However, since the US dollar is the world's premier global reserve currency, they will not be able to turn to another another nation's currency for relief. Instead, they will turn to silver and gold. Sadly most won't do this until it is too late to preserve their hard-earned savings. How do I know this? Well … here's one clue:
Debit: It's not a coincidence that the US experienced its greatest periods of real economic growth in the 50 years after the Civil War and the 30 years after World War II – periods when the US dollar was anchored to gold, thereby ensuring that economic growth was tied to productivity. However, governments with an eye toward expanding their power need a fiat currency "managed" by a central bank. Here's the problem: The Fed – which is supposed to be a steward for the US dollar and the productive, non-financial private sector – is, like all central banks, just a proxy for the state. And an extremely poor one at that …
Credit: In his farewell presidential address, Andrew Jackson took the time to remind Americans of the dangers of fiat currency and central banking. He warned that "The paper system, being founded on public confidence and having no intrinsic value, is liable to great and sudden fluctuations, thereby rendering property insecure and the wages of labor unsteady and uncertain." Uh huh. Just ask anyone who is tired of renting and hoping to buy a new home:
Credit: Jackson continued his address by saying that without the yoke of gold and silver, banks and, by extension, the US government, "can not be relied upon to keep the circulating medium uniform in amount. In times of prosperity, when confidence is high, they are tempted by the prospect of gain or by the influence of those who hope to profit by it to extend their issues of paper beyond the bounds of discretion and the reasonable demands of business … until public confidence is shaken." Judging by the relative calm we're still seeing in the markets, that loss of public confidence is still a ways off …
Credit: Jackson then observed that once confidence was lost, "a reaction takes place, and (the banks) immediately withdraw the credits they have given, and produce a ruinous contraction of the circulating medium, which is felt by the whole community. The banks by this means save themselves, and the mischievous consequences of their imprudence are visited upon the public." Behold, Exhibit 9999:
Credit: If you think the president was finished; he wasn't. In fact, he was just getting warmed up. Jackson understood the importance of a monetary system tied to precious metals, and warned that fiat currency was "evil" because when it becomes ridiculously cheap, it "naturally engenders a spirit of speculation injurious to the habits and character of the people by (fostering) an eager desire to amass wealth without labor." It sounds reasonable. I just wish there were a few modern-day examples out there to assure us that what this long-dead president said still holds true in today's modern society. Oh, wait …
Credit: Eventually, Jackson concluded his address by warning that "the temptation to obtain money at any sacrifice will become stronger and stronger, and inevitably lead to corruption, which will destroy the purity of your government. Some of the evils which arise from this system will press peculiar hardship upon the class of society least able to bear it." Indeed. You know … Once you realize that America's seventh president gave these admonitions 185 years ago, you'd be forgiven for thinking he was psychic. But in realty, he was just a wise man with a firm grasp of basic macroeconomic principles – and a lot of common sense.
Hey! … It's Contest Time! 🥳
My friend and host of the Stacking Benjamins podcast, Joe Saul-Sehy, has a new personal finance book, Stacked: Your Super-Serious Guide to Modern Money Management. I've read it and it's a really fun guide to managing your money! Anyway, Joe gave me not one, but two – yes, two! – autographed copies to give away to my readers.
If you are interested in getting a copy, here's what you need to do:
Estimate the total number of comments that have been left on my blog (both reader comments and my replies) from its inception in December 2008 until this past Friday, May 27th.
I will accept entries in this Black Coffee comment section through Friday, June 3rd at 11:59 pm, Pacific Time.
The two people who come closest to the answer (regardless of whether it is over or under) will be crowned the winners. Good luck!
The Question of the Week
Loading ...
Last Week's Poll Results
Will you be taking a summer vacation in 2022 that's more than 500 miles from home?
No (61%)
Yes (32%)
I'm not sure (7%)
More than 2300 Len Penzo dot Com readers responded to last week's question and it turns out that slightly less than 1 in 3 of them said they were definitely going to take a summer trip of more than 500 miles from their home. That's almost double the number of this recent survey by The Vacationer where just 18% of Americans said they were traveling more than 500 miles from home this summer.
If you have a question you'd like me to ask the readers here, send it to me at Len@LenPenzo.com — and be sure to put "Question of the Week" in the subject line.
By the Numbers
Here is some additional data from a recent TripAdvisor survey that gauges American travelers' attitudes in 2022:
71% The percentage who said they were planning to enjoy some leisure travel this year.
8% The percentage increase of those traveling for leisure in 2022 compared to 2019.
29% Travelers' planned spending increase on this year's trip(s) compared to 2019.
68% Percentage of American travelers who said they planned to stay within the US.
29% The share of American travelers who said they were traveling overseas.
30% The share of travelers who agreed that when planning their travel destinations, "it's important to pack as many activities as possible" into their trip.
75% Percentage of travelers who agreed that when planning their travel destinations, "it's important to see new places."
34% The share of travelers who agreed that when planning their travel destinations, "it's important to be immersed in 'authentic local experiences.'"
30% The percentage of travelers who said that cleanliness isn't an important factor when considering which hospitality businesses to patronize.
Source: New York Post
Useless News: Sugar Mama
A rich, lonely widow decided she needed another man in her life, so she placed a personal ad that read:
RICH WIDOW LOOKING FOR MAN TO SHARE HER LIFE AND FORTUNE WITH THE FOLLOWING QUALIFICATIONS:
1. HE WON'T BEAT ME UP
2. HE WON'T RUN AWAY
3. HE MUST BE GREAT IN BED
For several months, the widow's phone rang off the hook, her doorbell was ringing constantly, and she received tons of mail — but it was all to no avail. None of the men seemed to meet her qualifications.
Then one day the doorbell rang yet again. She opened the door to find a man — with no arms and no legs — lying on the welcome mat. Perplexed, she asked, "Who are you and what do you want?"
"Hi!" said the man. "Your search is over, for I'm the man of your dreams: I've got no arms, so I can't beat you up, and I've got no legs, so I can't run away."
"That's great," the widow replied, "But what makes you think you're so great in bed?"
The man replied, "I rang the doorbell, didn't I?"
(h/t: billhilly)
More Useless News
Here are the top five articles viewed by my 42,477 RSS feed, weekly email subscribers, and other followers over the past 30 days (excluding Black Coffee posts):
Hey, while you're here, please don't forget to:
1. Subscribe to my weekly Len Penzo dot Com Newsletter! (It's easy! See the big green box in the sidebar at the top of the page.)
2. Make sure you follow me on my new favorite quick-chat site, Gab — oh yeah, and Parler too! Of course, you can always follow me on Twitter. Just be careful what you say there.
3. Become a fan of Len Penzo dot Com on Facebook too!
And last, but not least …
4. Please support this website by patronizing my sponsors!
Thank you!!!! 😊
Letters, I Get Letters
Every week I feature the most interesting question or comment assuming I get one, that is. And folks who are lucky enough to have the only question in the mailbag get their letter highlighted here whether it's interesting or not! You can reach out to me at: Len@LenPenzo.com
From Benjamin:
Hello, Len. First time reader here, and I must say, you've frightened me.
No need to be scared. Most people say I have no idea what I'm talking about.
If you enjoyed this, please forward it to your friends and family. 😊
I'm Len Penzo and I approved this message.
Photo Credit: public domain