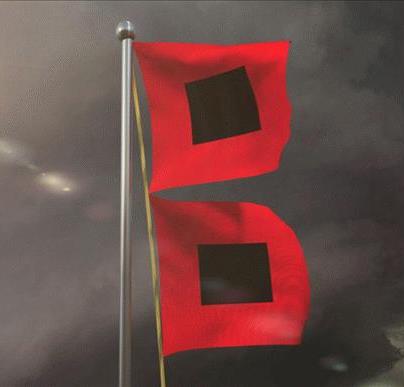 It's time to sit back, relax and enjoy a little joe …
Welcome to another rousing edition of Black Coffee, your off-beat weekly round-up of what's been going on in the world of money and personal finance.
I hope everybody had a wonderful week. And with that, let's get right to this week's commentary, shall we?
When you accept money in payment for your work, you do so only on the conviction that you will exchange it for the product of the work of others. Not an ocean of tears nor all the guns in the world can transform those pieces of paper in your wallet into the bread you will need to survive tomorrow. Those pieces of paper — which should have been gold — are a token of honor; your claim upon the energy of the men who produce.
— Ayn Rand, Atlas Shrugged
Fire is the test of gold; adversity, of strong men.
— Martha Graham
Credits and Debits
Debit: Did you see this? FedEx and rival UPS are increasing shipping rates for customers at the fastest pace in nearly a decade. And while UPS has yet to quantify its increase, FedEx says the bulk of their rate increases would occur throughout January by around 5.9% or 7.9%, depending on the service. So much for inflation being transitory.
Credit: As far as commentator Charles Hugh Smith is concerned, "Clueless economists are wringing their hands about the labor shortage without looking at the underlying causes, one of which is painfully obvious: the American economy now only works for the top 10%; the American Dream of turning labor into capital is now reserved for the already-wealthy. As a result the smart crowd is opting out of the conventional workforce's debt-overwork-deadend-treadmill." And, apparently, the not-so-smart crowd is too …
Credit: Clearly, free market capitalism has been so badly hijacked by government and central bank intervention, it's no longer working. In fact, it's hopelessly broken. According to macro analyst James Rickards, "We're in a new depression now. Growth declined in 2008, and the recovery from 2009-2019 averaged 2.2% annual growth — well below the long-term trend of 4.0%. GDP declined again by 3.4% in 2020, which is the steepest one-year decline since 1946." Uh huh. And that's with the Fed's printers in overdrive. Er … and the requisite insider trading:
Debit: Rickards then goes on to predict that, if "the COVID pandemic is followed by another equally shocking event such as war or a financial panic, we won't recover fully until 2045 in terms of savings, consumption, disinflation, low interest rates and low growth." Correction, Mr. Rickards: That would only be true if the current monetary system is around that long. If not, then things could get back to normal within a few years.
Debit: Speaking of financial panics, investment banker Jim Chanos, says the Evergrande crisis is just a symptom of China's property-driven growth model coming to an end. And he warns that this could be "far worse" than a "Lehman-type" implosion: "There's lots of Evergrandes in China — Evergrande just happens to be the biggest — (and) their whole property market is on stilts." He may be on to something; on Monday, Chinese realtor Sinic Holdings plunged 87% (!) on fears of a slowing real estate sector. Uh oh.
Debit: Needless to say, Evergrande is just the symbol of a far larger problem — that being our fraudulent debt-based fiat monetary system, which has enabled the massive debt, corruption and malinvestments that are at the root cause of most of the world's troubles today. The good news is we can definitely count on our politicians to do the right thing and fix this problem once and for all. Said no one ever. Oh … and speaking of malinvestments, here are 15 of them:
Credit: Then again, as macroeconomist Alasdair Macleod notes, fiat currency "is a funny-money game that will (eventually) go horribly wrong. There's only one escape, and that's to own the one form of money that is no one's counterparty risk (and) always comes to humanity's rescue when fiat fails: gold." To be clear, he is referring to physical gold; not its paper derivative, which has upwards of 300 owners for every ounce that is actually in the vaults.
Debit: Of course, Macleod also astutely observes that gold continues to be "neglected by nearly everyone because it's the anti-bubble. The more that people believe in fiat-denominated assets, the less they believe in gold. That is until their funny-money games implode, inevitably triggered by sharply rising interest rates." True … but "inevitably" sure is taking its sweet time getting here.
Credit: In the meantime, Citi macro analyst Matt King noted in his latest report: "For anyone who has actually tried trading in markets over the past decade, the idea that prices might be determined more by flows and liquidity than by a rational discounting of fundamentals sounds less like a revolutionary insight and more like a statement of the blindingly obvious." Well … unless you're a central banker.
Debit: In fact, King wryly observes that "central bankers seem to be the only market participants left who fail to appreciate the stranglehold their policies have over asset prices; everyone else gave up looking at fundamental value in favor of obsessing over the minutiae of central bank balance sheet line items a long time ago." In other words: Most investors have stopped playing chess in favor of checkers. Why? Because they got tired of losing …
Credit: This week, the inimitable financial commentator, MN Gordon, reminded us that because "the economy and the financial system has adjusted to abundant cheap credit, everyone is dependent upon it. So it's highly unlikely the Fed will ever be able to (stop) printing … let alone reduce its mammoth balance sheet or let rates rise. In truth, they will continue printing until every last cent of the dollar's value has smoldered away." Agreed. At least until right before the very end, when the monetary system moves from "smoldering" to a four-alarm fire.
Credit: Unfortunately, as Zero Hedge reminds us, the stark reality is that our monetary system is now in a very precarious position from which there is no escape: "Either the Fed prints hundreds of billions every quarter bringing the fiat system ever closer to its death, or we crash" — which will also bring the entire system down. The question is: While we continue waiting for "inevitably" to get here, what, if anything, are you going to do to protect your finances?
Last Week's Poll Results
Do you own any cryptocurrency?
More than 2200 Len Penzo dot Com readers responded to last week's question and it turns out that only 1 in 6 say they have at least one form of cryptocurrency in their portfolio. I'm in the majority camp; I've never owned any cryptocurrencies and never will. That's not to say I wish I would have bought a few of them a decade ago on a speculative whim.
Yes; that was a missed opportunity for me. Hey … at least I'm not computer programmer Laszlo Hanyecz; in 2010 he agreed to pay 10,000 bitcoins for two Papa John's pizzas. After all, if poor Laszlo had held on to all those bitcoins instead, he'd be worth roughly $450 million today. In fact, Laszlo mined — and spent — roughly 100,000 bitcoins in all, much of it on pizza. For those counting at home, that's $4.5 billion. Heh. Talk about expensive pizza.
If you have a question you'd like me to ask the readers here, send it to me at Len@LenPenzo.com — and be sure to put "Question of the Week" in the subject line.
The Question of the Week
Loading ...
By the Numbers
When it comes to states that have been most impacted by the labor shortage, no state has been harder hit than Nebraska, with 1.8 job openings per unemployed person. On the other hand, here are the ten states that have been least impacted:
10 Illinois (job openings per unemployed person: 0.59)
9 New Jersey (0.59)
8 Arizona (0.56)
7 New Mexico (0.53)
6 Louisiana (0.52)
5 Connecticut (0.51)
4 Nevada (0.50)
3 California (0.45)
2 New York (0.45)
1 Hawaii (0.41)
Source: CareerCloud
Useless News: A Room With a View
I work for a travel company and this is a true story.
A man called, furious about an Orlando, Florida, vacation package we had booked for him: He was expecting an ocean-view hotel room.
I explained that was not possible, since Orlando is in the middle of the state.
"Don't lie to me," he said. "I looked on the map, and Florida is a very thin state."
(h/t: hotelstories.freeservers.com)
More Useless News
Here are the top five articles viewed by my 40,101 RSS feed, weekly email subscribers, and other followers over the past 30 days (excluding Black Coffee posts):
Hey, while you're here, please don't forget to:
1. Click on that Like button in the sidebar to your right and become a fan of Len Penzo dot Com on Facebook!
2. Make sure you follow me on my new favorite quick-chat site, Gab — oh yeah, and Parler too! Of course, you can always follow me on Twitter too. Just be careful what you say there.
3. Subscribe via email too!
And last, but not least …
4. Please support this website by patronizing my sponsors!
Thank you!!!! 😊
Letters, I Get Letters
Every week I feature the most interesting question or comment assuming I get one, that is. And folks who are lucky enough to have the only question in the mailbag get their letter highlighted here whether it's interesting or not! You can reach out to me at: Len@LenPenzo.com
I received this note from Donna S. who, I can only assume, works at the Department of Redundancy Department:
I don't like your Credits and Debits. If I can give you some advice, I think your blog would be a lot nicer if it were more informative and nicer.
Nicer, eh? Okay … Here's a nice joke: What did 0 say to 8? "Nice belt!"
If you enjoyed this, please forward it to your friends and family. I'm Len Penzo and I approved this message.
Photo Credit: public domain