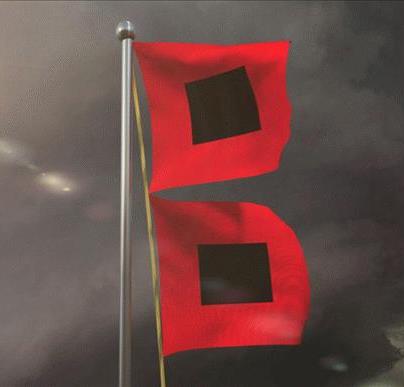 It's time to sit back, relax and enjoy a little joe …
Welcome to another rousing edition of Black Coffee, your off-beat weekly round-up of what's been going on in the world of money and personal finance.
I hope everybody had a wonderful week. And with that, let's get right to this week's commentary, shall we?
The world is full of kings and queens
Who blind your eyes and steal your dreams
They'll tell you black is really white
The moon is just the sun at night
And when you walk in golden halls
You get to keep the gold that falls
— Ronnie Dio
Credits and Debits
Credit: Did you see this? According to investment research strategist, Ed Yardeni, Wall Street is going to remain in investing heaven because the S&P 500 will soon reach 4500. No, really. If true, that's up nearly 10% from its current level. But before you get too excited, keep in mind that Venezuela and Zimbabwe both had the best-performing stock markets in the world during their latest hyperinflations — at least in nominal terms. Some would argue the US markets' relentless rise is a budding symptom of the same problem.
Alexandr Ferreira (@a_ferreira42) May 19, 2021
Credit: And for those of you thinking higher stock prices are impossible because valuations are already at insane levels, hedge fund manager John Hussman notes, "as long as investors get inclined to speculate, they treat zero-interest money as an inferior asset, and they'll chase any asset with a yield above zero. Valuation doesn't matter because investors rule out the possibility of price declines in the first place." Thanks, Fed.
underappreciated…stocks usually don't like hanging out at valuations that result in negative real earnings yields for very long

Twain's Mustache (@TwainsMustache) May 21, 2021
Debit: Meanwhile, Main Street is getting reacquainted with the inflationary hell of skyrocketing prices — which has now extended to used cars. Yes; used. The primary reason? Apparently, new-car production is being so badly hampered by critical electronic-chip shortages that demand is migrating to where the supply of working vehicles can be found. Well … either that, or the used car market hired this guy to be their new pitchman:
Debit: Speaking of inflation, as we noted here last week, on a year-over-year basis, the CPI figure grew by 4.2% in April, the most since September 2008. In addition, the core index rose 3% YoY, the largest since January 1996. Now for the punchline: After being mostly in negative territory over the past 15 years, the correlation between stocks and bonds jumped to the highest level since 1999.
Credit: I know what you're thinking: Yeah, so? What does that mean for me? Well … according to Zero Hedge, the current strongly-positive relationship between bonds and stocks "confirms that equities are now more sensitive to the bond market and, especially, to inflation." So you officially have nothing to worry about — as long as you don't own any stocks. Or bonds. Or have a 401(k). Or …
Debit: Goldman Sachs says they expect the housing market to generate double-digit home price appreciation for the next two years. They're also predicting that by 2024 home prices will be rising at a pace far faster than what was seen during the last housing bubble that ultimately popped in 2007. Psst. If you think this has nothing to do with the Fed keeping its printing press on overdrive, you probably have a lot in common with this couple:
The fact we aren't getting poorer fast enough is a challenge to the fed??

Chris Knoernschild🇺🇸 (@chris88len) March 24, 2019
the fed seems not to know that growth is not a consequence of inflation though inflation can be a consequence of growth…

bill fleckenstein (@fleckcap) May 17, 2021
Debit: Unfortunately, anybody who has been paying bills long enough knows the Fed exceeded its absurd 2% inflation target many years ago. In fact, both the Chapwood Index and Shadowstats data show that inflation has been running at roughly 10% for almost two decades — which means the dollar's purchasing power has been halved not once, but twice since then.
I know I have been very concerned that prices have not been rising fast enough for the past several years. I really appreciate Powell's efforts on this score, don't you?

Andy Fately (@fx_poet) May 21, 2021
Credit: This week, the always on-target MN Gordon pointed out that, "These price distortions are not defects of capitalism. They're symptoms of a scam currency managed by central planners. Specifically, (the US) has what Karl Marx envisioned in his Communist Manifesto: 'Credit centralization by means of a national bank with state capital and an exclusive monopoly.'" Yes; because when it comes to the economy, a handful of clueless bureaucrats is infinitely more knowledgable than the free market.
If you read this example. a $1,250 Television (admittedly much nicer) is -7.1% CHEAPER than the old $250 TV, "after the quality adjustment is applied."

So they are saying that something that costs 5x what an older model cost is actually -7.1% CHEAPER, & that's in the CPI. pic.twitter.com/xZWx6ZUv0m

Rudy Havenstein, Private Entropy. (@RudyHavenstein) March 23, 2019
Credit: Then again, as Fred Hickey notes, "Despite desperate attempts to declare building inflationary pressure as 'transitory,' the Fed is losing control of the inflation narrative as witnessed by polls and indices on inflation expectations." He goes on to add that inflation is still in the "early days for this upward thrust." And you thought a 300% increase in commodities like lumber was bad. Heh. You ain't seen nothin' yet.
Come on now, they have a plan. It just changes every day.

Outthebull (@outthebull) May 21, 2021
Debit: The inflation narrative isn't the only thing the Fed is losing control of — for the third time in less than two years they've got a reverse repo problem. In short, it means the banks are unable to absorb all of the US Treasuries the Fed is trying to pawn off to them — and that's a problem for the Fed, because it exposes QE for what it really is: a cover for outright debt monetization.
Let me translate – We at The Fed have to pretend that we might one day stop QE, but we know in truth that that we cant. The last time we tried tapping our foot lightly on the brake we blew up the markets. We are trapped. We know it. You know it. But we need to pretend otherwise. https://t.co/9ijjAbbRai

Albert Edwards (@albertedwards99) May 19, 2021
Credit: It's becoming apparent that the Fed's grip on the rapidly-imploding debt-based monetary system is becoming more tenuous with each passing day. The good news is you can still protect your purchasing power — not to mention insure your hard-earned retirement savings — by holding real money: physical gold and silver. Remember, just a little goes a long way. And as an added bonus, it will help you sleep better too.
I agree with that. They gave us 1 year + to think about what to do, after giving 12 years of the first crack in the hall. That is 13 years of generosity. 👍 pic.twitter.com/9Rz2Fbddcs

Tamay Ozgokmen (@TOzgokmen) May 20, 2021
By the Numbers
According to Forbes, unless current tax law is changed to put pass-through entities (e.g., sole-proprietors, LLCs, and Subchapter S-corps) on par with C-corps, then the current plan to raise corporate tax rates will end up affecting small businesses too. Here are some key numbers:
21% The current US corporate tax rate.
2 The United States' current rank of the lowest corporate tax rates among the G7 nations.
28% The new corporate tax rate that's currently under consideration.
4 The United States' new rank of the lowest corporate tax rates among the G7 nations, if the new tax is enacted.
6% Estimated decline in corporate earnings resulting from the higher tax rate (which would presumably affect stock prices).
3671 Number of publicly-traded companies in the US.
23,000,000 Number of private businesses in the US.
95% The percentage of American small businesses that are defined as pass-through entities.
Source: Forbes
The Question of the Week
 Loading ...
Last Week's Poll Results
What age do you plan to retire (or did retire)?
60 to 69(60%)
50 to 59 (19%)
I'll never retire (12%)
70 or later (5%)
Before 50 (4%)
More than 2100 Len Penzo dot Com readers responded to last week's question and it turns out that three times as many say they'll never retire than those who say they plan on retiring before they turn 50. That being said, 2 in 3 of all readers said they plan on hanging it up at some point — but not before their 60th birthday. As for yours truly, count me among the 1 in 5 respondents who plan to turn in their work badge in my (late) 50s.
If you have a question you'd like me to ask the readers here, send it to me at Len@LenPenzo.com — and be sure to put "Question of the Week" in the subject line.
Useless News: A Pirate's Life
A pirate walked into a bar and the bartender said: "Hey, I haven't seen you in a while. What happened? You look terrible!"
"What do you mean?" said the pirate. "I feel fine."
"Well … what about the wooden leg?" asked the bartender. "You didn't have that before."
"Oh, that." said the pirate. "We were in a battle off the coast of Tripoli and I got hit with a cannon ball, but I'm fine now."
"Okay," replied the bartender, "but what about that hook? What happened to your hand?"
"We were in another battle off the coast of Morocco; I boarded a ship and got into a sword fight. My hand was cut off. When we got back to port I was fitted with the hook. But I'm fine, really."
"So what about the eye patch?"
"We were at sea, hot on the tail of a Spanish galleon," the pirate explained. "Suddenly, a huge flock of birds flew overhead. When I looked up, one of them shit in my eye."
The bartender was incredulous. "You're kidding, right? You mean to tell me you lost an eye because of a little bird shit?"
"Well," the pirate said, "it was my first day with the hook."
(h/t: Billhilly)
More Useless News
Here are the top five articles viewed by my 38,120 RSS feed, weekly email subscribers, and other followers over the past 30 days (excluding Black Coffee posts):
Hey, while you're here, please don't forget to:
1. Click on that Like button in the sidebar to your right and become a fan of Len Penzo dot Com on Facebook!
2. Make sure you follow me on my new favorite quick-chat site, Gab — oh yeah, and Parler too! Of course, you can always follow me on Twitter too. Just be careful what you say there.
3. Subscribe via email too!
And last, but not least …
4. Please support this website by patronizing my sponsors!
Thank you!!!! 😊
Letters, I Get Letters
Every week I feature the most interesting question or comment assuming I get one, that is. And folks who are lucky enough to have the only question in the mailbag get their letter highlighted here whether it's interesting or not! You can reach out to me at: Len@LenPenzo.com
After reading my article on 36 amazing uses for plastic grocery bags, Felicia Luburich shared a clever — if not slightly unrelated — tip of her own:
To pick up dog poo, use shiny coupon pages.
Great idea! I'll use two-for-one coupons so I can pick it up twice as fast.
If you enjoyed this, please forward it to your friends and family. I'm Len Penzo and I approved this message.
Photo Credit: public domain