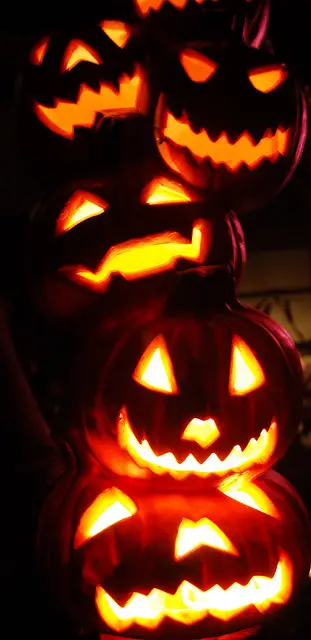 I love Halloween. It's one of my favorite holidays — and based upon its mass appeal, apparently I'm not alone.
In fact, even though the wicked economy continues to put a scare into most people, when it comes to celebrating what was originally known as All Hallows' Eve, spirits remain high.
So just how hot is Halloween? Well … despite the recent COVID scare, it's still as popular as ever. So much so that it's, dare I say … downright spooky.
To prove it, here are a few bone-chilling financial facts from the National Retail Federation — along with some other horrendous Halloween trivia I managed to, um … dig up:
1. The Halloween business is absolutely monstrous. Americans will spend $8.1 billion this year on everything from candy and costumes to decorations. Despite the COVID scare, that's only slightly less than the $8.7 billion consumers spent last season.
2. Here's another shocking survey finding: The average consumer intends to spend $92.12 on Halloween products in 2013. That's $5.85 less than last year.
3. According to the latest available US Census Bureau figures, there were 41 million trick-or-treaters in 2017 between the ages of 5 and 14. What's unknown is just how many cranky old people sat on their front porches screaming, "Get off my lawn!"
4. This year, almost 6 in 10 Americans plan to celebrate Halloween. I assume the other four prefer gardening. Or giving trespassing kids the evil eye.
5. Then again, who says Halloween is just for the kids? Believe it or not, this year adults are collectively expected to spend $180 million more on Halloween costumes for themselves than their own little hobgoblins.
6. Don't forget Fido: Americans spend more than $300 million annually to dress up their pets for Halloween. The most popular pet costume? A pumpkin.
7. With billions of dollars being spent on Halloween costumes alone, it's no wonder that there are currently 1,218 costume rental establishments across America.
8. If you plan on attending a neighborhood Halloween party this year, you can reduce the chance of bumping into your sartorial doppelganger by avoiding the most popular adult costume for him and her in 2020: Joe Exotic and Carole Baskin. No, really.
9. Of course, I'd be lying if I told you I'm glad the "vampy vixen" failed to crack the ten most popular adult costumes this year. Believe it or not, as recently as 2011 the vampy vixen ranked seventh. Ah … the good ol' days!
10. Census data shows that 92% of American households consider their neighborhoods safe. Yes, that includes the folks living in places like Tombstone, Arizona and Cape Fear, North Carolina.
11. Even so, that won't stop parents from checking the kids' Halloween candy for signs of tampering.
12. If it makes parents feel any better, there has been only one documented case since 1974 of a child being killed by a lethal Halloween treat — and in that lone instance, the Grim Reaper turned out to be the father.
13. On the other hand, Halloween can still be dangerous for young children. In fact, a recent JAMA Pediatrics study found that 4- to 8-year-olds are ten times more likely to get hit by a car on Halloween than any other night of the year.
14. By the way, if you hate crowds, make sure you avoid the stores on October 28; that happens to be the biggest day of the year for candy sales.
15. In all, Americans will spend more than $2 billion on candy to keep the neighborhood goblins happy. Hopefully, they'll avoid the 13 Halloween treats kids hate more than anything. One of the most despised: mints.
16. Somewhat ironically, a lot of kids will tell you that many of the most popular Halloween treats don't involve chocolate at all.
17. Still, if you insist on giving out chocolate this Halloween, you'll probably want to know that the four most popular candy varieties are: Snickers, Reese's Peanut Butter Cups, Kit Kat, and M&Ms.
18. Here's an eerie trick for scaring up your favorite treats: Kit Kat lovers might be interested to know that they have a 37% better chance of scoring that crispy confection at a ranch-style home. And any self-respecting Reese's Peanut Butter Cup fan should realize they have a 26% greater chance of getting those tasty treats at two-story houses. Then again, I usually avoid the hassle entirely by just buying — and squirreling away — an extra bag for myself. Just don't tell my kids.
Photo Credit: Kathy Kimpel