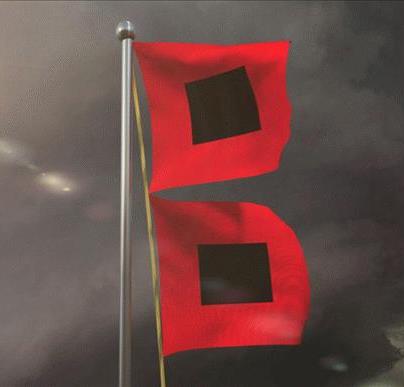 It's time to sit back, relax and enjoy a little joe …
Welcome to another rousing edition of Black Coffee, your off-beat weekly round-up of what's been going on in the world of money and personal finance.
I hope everybody has a safe and enjoyable Independence Day weekend celebration here in the United States of America!
Now on to this week's financial commentary …
Anyone who believes exponential growth can go on forever in a finite world is either a madman or an economist.
— Kenneth E. Boulding
It's really amazing that in the age of unbelief, there isn't even more fraud. After all, with no God, there's no one to ever call you to account — and no accounting at all if you can get away with it.
— Ben Stein
Credits and Debits
Debit: Did you see this? There is now an official coin shortage in the US. No, really. Apparently, the Fed has been rationing coins as their circulation tailed off during the pandemic. For now, the biggest impact is in the Midwest, where Meijer supermarket's self-scan checkout machines now only accept credit and debit cards, EBT cards, and gift cards. Just when you thought 2020 couldn't get any stranger.
Debit: Of course, more than a few people are saying that this "coin shortage" is actually an opening gambit toward the eventual ban of all cash transactions. Maybe. But even if it's not, the twisted logic of a company refusing to accept even exact change in the middle of a coin shortage is, well … to be kind, let's just say "unexpected." Although, to be honest, I'm not sure if it's actually as unexpected as this:
Debit: Meanwhile, stock prices today are more expensive than they were during the peak of the Dot Com bubble 20 years ago — but you probably already had an inkling that was the case. In fact, the current disconnect between stock prices and sustainable profits is greater than at any other time in modern history. As usual, asset manager Sven Henrich sums up the current situation perfectly …
Powell: We're very concerned
Fauci: It's going to be very disturbing
WHO: The worst is yet to come
Investors: Fuck it, let's buy everything into quarter end.

Sven Henrich (@NorthmanTrader) June 30, 2020
Debit: Curiously, according to Yelp, "Of all business closures on Yelp since March 1, 41% are permanent closures." Uh huh. Permanent. Apparently, the stock market is unaware of this, as well as the impact all of these closed businesses will have on the rest of the economy. After all, its kind of hard to have a V-recovery when so many small businesses have closed their doors for good.
Debit: With that in mind, you can bet it's no coincidence that since 2017 the International Monetary Fund (IMF) has given a score of warnings suggesting an upcoming monetary crisis. This week they did it again, saying the US and Eurozone GDPs are expected see 8% and 10% declines this year, respectively. And if you think that's optimistic, you're right; these are the same analysts who bring a book to read for an eye dilation test.
Credit: As Charles Hugh Smith observes, "Once you allow your economy to become dependent on extremes of debt, leverage, inequality, legalized looting, monopoly, pay-to-play politics and speculative asset bubbles, a depression is inevitable. The only question is "when?" And that's been answered, although nobody wants to hear it: 2020 and beyond." And for those who prefer pictures, Charles cleverly illustrates exactly how the depression dominos will fall:
Debit: By the way, in 1981 total US federal spending was less than $700 billion. Compare that to the last 90 days: the US government has borrowed nearly four times that amount — nearly $3 trillion! Keep in mind that it took the US more than 200 years to run up its first trillion in debt. Now it's occurring almost every month.
Debit: First billions; now trillions. Frankly, you'd be forgiven if you thought "the Q-word" — quadrillions — was just around the corner. That's because in late 2017, Michigan State Economics Professor Mark Skidmore discovered $21 trillion of unaccounted debt. In other words: additional spending on top of the current $26 trillion National Debt. I know; but, unfortunately, it gets worse …
Credit: Skidmore recently revealed that his latest research shows the US Treasury market is rolling over $90 trillion per year in hidden debt — which suggests the true National Debt could be as high as $123 trillion. "Something is really, really wrong," Skidmore says. "And it's not just bad accounting. It's concerning because people could lose confidence in the currency." Heh. Ya think? In the meantime, maybe this guy can help the government accountants:
Credit: As Jim Quinn notes, "The economic shutdown provided the perfect cover for the Fed to generate $10 trillion out of thin air to rescue their owners and the corporate interests. The plebs were thrown $1200, while small businesses had to beg, borrow, and steal to survive. Eliminating the creative destruction of capitalism has destroyed free markets; (now) the big get bigger, the rich get richer, and the poor get poorer." Imagine that.
Credit: Quinn's assessment is correct, of course. Which is why, asset manager Egon VonGreyerz warned this week that, "The world is on the verge of a financial system implosion. Just a small crack could push the whole system into a black hole. All that's needed is a second coronavirus wave or a bank collapse." Psst. That's kind of like saying all that's needed is the sun to rise in the east and set in the west.
Credit: The bottom line is this: It's only a matter of time before at least one of those catalysts finally arrives — which is why it's important that you take advantage of the current period of relative financial calm to insure your wealth — while you still can. After all, everybody knows they can't buy home insurance when their house is on fire. Likewise, when the monetary system finally does melt down, well … physical gold and silver won't be available either. At any price.
By the Numbers
The end of the second quarter of 2020 is behind us — which also means the year is officially half over. With that in mind, here is the mid-year scorecard for select assets:
-35.7% Oil (West Texas Intermediate)
-26.2% Commodities (CRB)
-13.5% Platinum
-9.6% Dow Industrials
-4.0% S&P 500
4.0% Silver
12.1% Nasdaq Composite
17.0% Gold Miners (GDX)
18.0% Gold
25.1% Junior Gold Miners (GDXJ)
Source: The Moneychanger
The Question of the Week
Loading ...
Last Week's Poll Results
Do you own any firearms?
Yes (51%)
No (34%)
No, but I'm considering it. (15%)
More than 2000 Len Penzo dot Com readers responded to last week's question and it turns out that 2 in 3 either own a firearm or are considering getting one. According to Statista, as of 2018, approximately 43% of American households owned at least one firearm.
Last week's question was suggested by reader Frank. If you have a question you'd like me to ask the readers here, send it to me at Len@LenPenzo.com and be sure to put "Question of the Week" in the subject line.
Useless News: New Car
Fred was telling his friend how his uncle tried to make a new car for himself … "So he took wheels from a Chevy, a radiator from a Ford, some tires and fenders from a Kia, the sound system from a Lexus …"
"Holy Cow," interrupted his friend, "What did your uncle finally end up with?"
Fred replied, "Two years."
(h/t: Jon)
This Week's Sponsor: Get the Best Insurance Rates with Gabi!
Gabi is a full-service, online advisor who compares all your insurance options to find you the right policy. Best of all, Gabi gets 7 out of 10 clients lower premiums! So what are you waiting for? Get an instant quote with Gabi and save up to $720 annually!
Hey, while you're here, please don't forget to:
1. Click on that Like button in the sidebar to your right and become a fan of Len Penzo dot Com on Facebook!
2. Make sure you follow me on Twitter — oh, and Parler too!
3. Subscribe via email too!
And last, but not least …
4. Please support this website by patronizing my sponsors!
Thank you!!!! 😊
Letters, I Get Letters
Every week I feature the most interesting question or comment — assuming I get one, that is. And folks who are lucky enough to have the only question in the mailbag get their letter highlighted here whether it's interesting or not! You can reach out to me at: Len@LenPenzo.com
After reading my article on lousy customer rewards programs, Bridget shared her experience:
I remember the time I got a Keurig coffee maker with my Coke points. It was well worth it!
Hmm. Call me crazy, Bridget, but I'm bettin' that sleep isn't too high on your priority list.
If you enjoyed this, please forward it to your friends and family. I'm Len Penzo and I approved this message.
Photo Credit: public domain