I have a love/hate relationship with my credit card company. Last week I got a little taste of both after they sent me another mailbox surprise.
You see, although my current Citi Dividends Mastercard didn't expire until 2014, they went ahead and sent me and the Honeybee new cards anyway.
If you think that's strange, Citi also included a second, separate, Citi Dividend American Express Card for both of us — although we never applied for it.
Of course, I instantly became apoplectic upon looking at those American Express cards. After all, I didn't apply for, or want, an American Express Card! In fact, I was quite happy with the perfectly good card that was already in my wallet.
Anyway, after picking my jaw off the floor, I composed myself long enough to take a picture of what I had pulled out of the envelope moments earlier: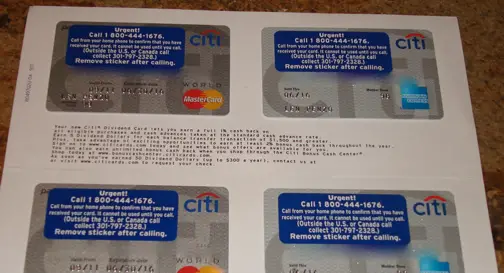 It's bad enough that I had recently received — and ignored — upwards of 50 credit card offers in my mail box over the past three months; that ultimately forced me to get serious in my quest to stop junk mail. Now I had to deal with this.
Needless to say, I wanted answers. And I wanted them fast.
At the bottom of Citi's letter telling me all about why I was going to love having a new credit card I never asked for, I sheepishly noticed that they added this post script:
"P.S. We know you weren't expecting this … so you may have some questions."
Ya think, Citi?
And Now, The Rest of the Story …
Fortunately, in an effort to keep their customer service phone banks from collapsing under an onslaught of angry clients, the marketing gurus at Citi wisely included on the backside of their letter a list of frequently asked questions carefully designed to help peel folks like me from the living room ceiling.
It turns out that the new American Express credit card we were given draws from the same credit line as our original Citi Dividend Mastercard, and the charges from both cards are then consolidated into a single monthly statement.
In essence, what I now have are two separate credit cards under one credit card account, which in theory is meant to provide two key benefits:
The ability to earn cash rewards more quickly
Greater control over the use of my credit
In the latter case, I can now use my Citi Dividend American Express card at locations that accept American Express but don't accept Mastercard, and vice versa.
The more I thought about it, the more I liked the idea. Especially considering my credit card terms and conditions didn't change. In addition, there are no annual fees for either card, and my credit card account will continue to be reported as a single account to the credit bureaus.
So I really have nothing to complain about.
Then again, I'm still upset about being blindsided by Citi — not to mention a bit annoyed that they didn't bother to double my credit limit too.
Like I said, it's a love/hate relationship.