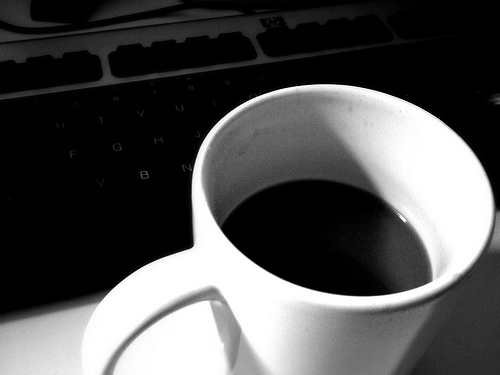 It's time to sit back, relax and enjoy a little joe …
Welcome to another rousing edition of Black Coffee, your off-beat weekly round-up of what's been going on in the world of money and personal finance.
Okay … and with that, let's get to it …
"Double, double toil and trouble; fire burn and caldron bubble."
— from Shakespeare's Macbeth
"There's always something to think about in terms of problems that are dark and important and immediate and scary."
— Kenneth Branagh
"Be afraid … Be very afraid."
— Ronnie, from The Fly
Credits and Debits
Credit: Financial analyst Dave Kranzler got into the Halloween spirit this week. He noted that "a lot of skeletons in the closet suddenly pop out of 'hiding' when the stock market (falls)." In fact, Denver Dave says a growing trove of evidence suggests that, when it comes to a financial market collapse, it's only a matter of time.
Debit: You can bet Wall Street is more than bit spooked, as stocks ended another horrific week sharply lower; in fact, the Dow and the S&P 500 are now in the red for the year. For the week, the Dow was off 3%, the S&P 500 fell 3.9% and the Nasdaq plunged 3.8%. In the spirit of the season, October has been … well, a bloodbath so far; the S&P has lost 8.8%, the Dow is down 6.7%, and the Nasdaq has shed 11%.
Credit: Here's another scary indicator that could be predicting the next financial crisis is on the horizon: the Dow "Smart Money" Flow Index. What's that, you say? Well, I'm not quite sure myself, but this definitely doesn't look good:
Credit: Speaking of financial crises, Russia is doing its part to hasten a dollar collapse, as its alternative to the US electronic payment transfer system known as "SWIFT" has reached another milestone in its development. In fact, Russia announced last week that it's ready to take on international partners in the quest to de-dollarize and end America's leverage over the international financial system. Uh oh.
Credit: One thing is certain: Former Fed Chairman Paul Volcker says the US is in "a hell of a mess in every direction" — and he seems to blame the central bank. According to Volcker, there appears to be no "theoretical justification" for the Fed's 2% inflation target. He's right; it's all theoretical ivory-tower academic bullshit … er, if I can be frank. Or should I say, Frankenstein.
Debit: Did you see this? A growing number of American banks are offering payday loans; the loans are typically $1000 or less and must be repaid within a few weeks — but they aren't cheap. For example, US Bank charges customers who choose to automatically debit payments from their account $12 for every $100 borrowed. That's an APR of 71%! By the way, US Bank's regular savings account pays 0.01%. Woohoo!
Debit: And if you think 71% is a high interest rate, borrowers who opt for manual payments pay 88%. Curiously, ZeroHedge reports that, in marketing materials released by US Bank, a spokesman proclaims the usurious program is "the right thing to do for our customers." Heh. Apparently, that mantra doesn't apply to their customers who would rather save their cash than accumulate debt. Just sayin'.
Debit: Of course, the popularity of those high-interest loans isn't surprising when you consider that the median yearly wage in the United States is now a paltry $30,533 — that's less than $2500 per month. To put that another way, fully half of all Americans earn even less. Yikes. Now that's what I call a true Nightmare on Elm Street.
Debit: Maybe that's why new home sales in September plunged 13.2% from the year before — that's the largest year-over-year drop since May 2011. And here's more bad news: The median sales price decreased 3.5% year-over-year to $320,000, and the current supply of homes rose to 7.1 months — that's the highest figure since March 2011. And if you think that's scary, look at this:
Credit: According to his calculations, Charles Hugh Smith says it takes $106,000 to earn a middle class lifestyle today. If that's true, it means four out of every five Americans don't earn enough to get them out of the lower class, since a household income of $111,000 is the top quintile cut-off point. The only reason it doesn't seem that way is most people are filling the void by living on cheap — and not so cheap — credit.
Credit: Then again, the lack of income can always be comfortably overcome by simply winning a billion-dollar lottery prize, like some lucky person did last week. After all, it's almost impossible to squander a billion dollar jackpot. Yes, even after Uncle Sam and the state get done taking their "fair share."
By the Numbers
By now almost everyone knows an unidentified South Carolina resident won the recent $1.6 billion lottery jackpot. Here's a little more on the numbers behind that big prize:
$1,568,000,000 The actual value of the winning ticket, which was sold at the KC Mart in Simpsonville, South Carolina.
$50,000 Amount received by the owner of the KC Mart that sold the winning ticket.
180 Maximum number of days the ticket holder has to claim their prize.
$905,000,000 Jackpot payout if the winner chooses to take a cash lump sum.
$330,000,000 The amount owed in federal taxes on the lump sum payout — that doesn't include state taxes.
$15,000,000 Rough approximation of how much the jackpot winner would earn per year if they accepted the cash-up-front prize and then invested the after-tax sum in Treasury bonds.
Source: Money
Last Week's Poll Results
Did you buy a Powerball lottery ticket in the past week?
More than 1600 Len Penzo dot Com readers responded to last week's question and it turns out that 2 in 3 of them say they did not buy a lottery ticket during the past week, despite the $1.6 billion grand prize. Neither did I.
The Question of the Week
 Loading ...
Useless News: Sunday Dinner
Three grown kids, all successful, agreed to a Sunday dinner in their honor.
"Happy Anniversary Mom and Dad," gushed son number one. "Sorry I'm running late. I had an emergency at the hospital with a patient you know how it is, and I didn't have time to get you a gift."
"Not to worry," said the father. "The important thing is were all together today."
Son number two arrived. "You and Mom look great. Dad, I just flew in from Montreal between depositions and didnt have time to shop for you.
"Its nothing," said the father. "We're glad you were able to come."
Just then the daughter arrived. "Hello and happy anniversary! Sorry, but my boss is sending me out of town and I was really busy packing so I didn't have time to get you anything."
After they had finished dessert, the father said, "There's something your mother and I have wanted to tell you for a long time. You see, we were really poor, but we managed to send each of you to college. Through the years your mother and I knew we loved each other very much, but we just never found the time to get married."
The three children gasped,"What? You mean we're bastards?"
"Yep," said the father. "Cheap ones, too"
(h/t: RD Blakeslee)
Other Useless News
Here are the top five articles viewed by my 21,021 RSS feed, weekly email subscribers, and other followers over the past 30 days (excluding Black Coffee posts):
Unique Halloween Treats Kids Love — But Rarely Get!
34 Financial Tricks to Help You Retire Early
Hey, while you're here, please don't forget to:
1. Click on that Like button in the sidebar to your right and become a fan of Len Penzo dot Com on Facebook!
2. Make sure you follow me on Twitter!
3. Subscribe via email too!
And last, but not least …
4. Consider becoming a Len Penzo dot Com Insider! Thank you.
Letters, I Get Letters
Every week I feature the most interesting question or comment assuming I get one, that is. And folks who are lucky enough to have the only question in the mailbag get their letter highlighted here whether it's interesting or not! You can reach out to me at: Len@LenPenzo.com
After reading my article on yucky Halloween treats kids would rather toss than eat, Erica left this comment:
"I see people with six month old babies trick or treating. Now come on, who's really eating the candy?"
Beats me. But I know a lot of parents who would rather go to a bar on Halloween because they prefer boos over candy.
I'm Len Penzo and I approved this message.
Photo Credit: brendan-c