After many years, I've become very familiar with that eternal home loan enigma known as the mortgage junk fee. It's hard not to become familiar with mortgage junk fees after buying two homes and refinancing my mortgage multiple times. As a result, I always challenge the more questionable junk fees — and you should too.
So what is a junk fee? Well, it refers to dubious lender or broker fees designed purely for increasing their profits. Yes, some fees are legitimate; after all, lenders and brokers have to make their money too, but in many cases junk fees are 100% profit.
So how can the layman know whether or not the fees listed on the itemization statement are legitimate? Well, here are three tips — and a junk fee glossary — that should keep you from overpaying at closing time:
1. Comparison Shop
The best way to fight excessive junk fees is to comparison shop your loan and make sure that you try to negotiate each one down to, at the very least, the lowest price you receive.
2. Challenge Questionable Fees As Early As Possible
It's important to understand that the time to challenge these fees is not when you're at the settlement table signing papers. Instead, do it after you've got several estimates in hand from which you can compare fees.
3. Understand What You're Being Charged For
It's a cliche, but it's true nevertheless: knowledge is power. So here's a junk fee glossary that will shine a light on some of the more common charges:
Where applicable, at the end of each description I've included the percentage of institutions charging each of these junk fees based upon a survey conducted by Bankrate.com; the lower the number, the more negotiating leverage you should have to get the fee removed or lowered.
Administration. A pure junk fee that's supposedly used to cover the cost of managing the loan during the closing process; it's outrageous and ripe for negotiation. (14%)
Application Fee. This fee is shameful. No lender that wants your business should ever charge this fee. Imagine paying money to simply fill out the application to buy a service. This is equivalent to a hamburger stand charging you money to place your order for a cheeseburger. (18%)
Appraisal Fee. Lenders need to know the value of your home. But in times of rising home prices this is usually unnecessary if you refinanced or bought your home within the previous year. (83%)
Closing Costs / Settlement Fees. These fees cover services that must be performed to process and close your loan application such as title fees, recording fees, appraisal fees, credit report fees, pest inspection, attorney's fees, taxes, and surveying fees. Watch for double-dipping with other junk fees. (93%)
Commitment Fee. This odd fee is supposedly the cost of processing the loan terms-and-conditions paperwork. Completely bogus. (2%)
Credit Report. This is exactly what it says. Credit reports are extremely cheap; they're generally free to individuals at least once per year. While they aren't necessarily free to the lenders, it is highly doubtful they are paying even $100 for it. This is usually a big profit maker for the lender. (81%)
Document Prep. This is a classic junk fee that nobody should ever pay. The process of preparing paperwork is an inherent part of the lender's job. This is tantamount to a burger joint tacking on an additional Burger Preparation fee on top of their advertised menu price. (34%)
Discount Points. This fee is used to buy down the interest rate. (47%)
Express Mail Fee. Again, another junk fee that should be inherent to the lender's job. This is also sometimes listed as a Postage or Courier Fee. Despite the high number shown in the bank rate survey, I've successfully got this charge removed all but one time. Don't feel bad for the lender — they aren't losing any money here. (81%)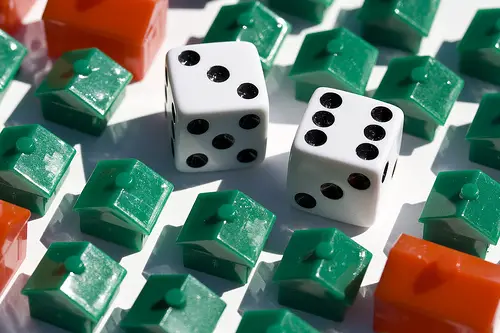 Fee. That's right. "Fee." If you see this garbage charge, immediately call your lender to get a detailed explanation. As she stammers and stutters, be ready to pounce on any instances of double dipping that crop up.
Flood Check/Certification Fee. In order to comply with federal regulations and secondary mortgage requirements, lenders are required to obtain a certification from a surveyor indicating whether the property is within a flood hazard area. (95%)
Funding Fee. This is similar to a wire transfer fee, so watch for double-dipping. (14%)
Lender Fee. These fees are borne by the lender during the closing process and may include attorney fees, application fees, recording fees, courier fees, etc. If this number appears excessive to you, ask for a detailed breakdown of all costs involved with this fee. Then after you get the breakdown, make sure the lender is not double-dipping by charging you a Lender Fee and a Courier Fee. Due diligence on your part usually makes this one of the more negotiable fees. (46%)
Origination Fee. This is a payment associated with the establishment of an account with the lender.
Processing Fee. This fee is fairly common and covers the cost of processing the loan. (45%)
Reconveyance Verification Fee. A fee — if not an outright scam — charged to have someone verify that the bank holding the seller's loan actually reconveys the title, or clears the loan. Pure poppycock.
Tax Service Fee. This is a fee to cover a third party the lender hires to monitor and/or pay the property tax bills. (82%)
Title Fees. These fees may include escrow fees, document prep fees, messenger service fees and recording fees for recording the title onto the deed. Watch for double-dipping here. (29%)
Title Insurance. This fee covers the costs of assuring the lender that you own the home and the lender's mortgage is a valid lien. It also protects the owner in the event someone challenges ownership of the home. (83%)
Underwriting Fee. A lender charges mortgage underwriting fees to cover the cost of evaluating your total loan application package, including your ability to pay the loan back. This should include your credit report, employment history, financial documents and appraisal. Again, watch for double-dipping; there should be no credit report fee if there is also an underwriting fee. If you're working with a broker, he shouldn't be charging you for a separate underwriting fee. They are the domain of the lender. (40%)
VA Funding Fee. This is required by law and is intended to enable veterans who obtains a VA home loan to contribute toward the cost of this benefit, thereby reducing the cost to taxpayers. It is usually in the vicinity of 2% – 3% of the loan. If you aren't getting a VA loan, then this fee is bogus.
Warehouse Fee. A lender will tell you this is his cost of temporarily holding the loan before it's sold on the secondary mortgage market. Utter garbage.
Wire Transfer Fee. This fee covers the cost of transmitting cash via the inter-bank wire transfer system to you, your prior lender or the company closing the loan. Similar to the Funding Fee, so watch for double dipping. (50%)
Remember, federal law prohibits lenders from charging fees for nonexistent goods or services. The law also prohibits markups of settlement expenses in the absence of additional services. But the good faith estimates that the lenders hand out have very minimal legal backing. So in the end it's up to you to make sure that you are not being taken for a ride at closing time. Knowing the make-up of your junk fees is a great place to start.
Photos Credit: Woodley Wonderworks