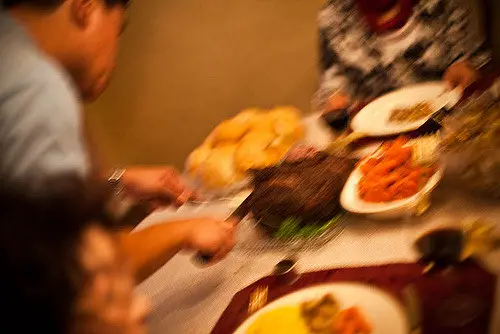 Thanksgiving is filled with family, friends, good food and football. But it can also be filled with expenses — especially if you're having Thanksgiving dinner at your house. The good news is there are plenty of ways to cook and enjoy a delicious budget Thanksgiving dinner.
No need to worry, though. The Thanksgiving holiday also offers ample ways to save. Here are eight of them:
Decide How Much You Need
Don't buy enough food to feed an army if you don't have an army coming. Plan your grocery list and menu so that everyone gets enough, of course, but you don't need leftovers for a week.
Also, figure out who will eat what. If you have vegetarians or vegans coming, you don't need turkey; many vegetarians would rather eat a simple pasta or warm braised lentils. Vegetarian food is often cheaper simply because pasta and lentils are less expensive than meat. If you have two or more vegetarians coming, plan an entree for them and cut down on the size of the turkey or ham you're getting.
Don't Make Traditional Foods No One Ever Eats
Traditional Thanksgiving meals are wonderful but there are always those dishes that no one actually eats. Cranberry sauce serves as more of a visual than a real food for many people. Lots of people don't like sweet potatoes, especially in a casserole with marshmallows or walnuts. Mince pie can be an ordeal to be survived rather than a sought-after dessert.
If you find yourself tossing out most of a particular dish every year, you're safe leaving it off the menu. If people ask for it, you can always add it back next year.
Make it Potluck
Bringing dishes to share is a Thanksgiving tradition in many families. This shares the cost of food in a fair and equitable way.
If your cousin can't cook, suggest they pick up some nuts, dried fruit or chocolate to snack on before the big meal starts. You can circulate a sign up sheet or you can assign dishes you know people make. A cheese and olive platter is another quick and cheap appetizer even the less kitchen savvy can whip up and bring to your dinner.
Stick to Your Grocery List
Once you know what you need to get, make a list. Then, stick to the list once you hit the grocery store. Avoid impulse purchases!
Many stores have tons of holiday-themed goodies around Thanksgiving. Reaching for the persimmon-flavored chocolate, or the sugar cookies in the shape of a turkey, is a sure way to jack up your grocery bill.
Look for Sales
Of course, one of the most important ways to ensure you'll have a delicious budget Thanksgiving dinner is to look around for deals on holiday food. Chains like Aldi's routinely have lower costs than other grocery stores. If you're a Costco member, shop there for savings. Many places start advertising sales on turkeys right after Halloween. If your local grocery store has a promotion on turkeys, don't hesitate to buy. Many organizations also have drawings for free turkeys.
Don't neglect coupons. Sites like Groupon can save you significant cash on food and decor for the holidays.
Go for Inexpensive Wine and Liquors
If your family usually has wine or liquor with Thanksgiving dinner, scour stores for sales here as well. Wine and liquor costs can add up quickly if you go with the most expensive varieties. Many people, though, actually prefer wine in a box, which costs roughly $2.50 per glass. Others swear by Trader Joe's venerable Two-Buck Chuck, a good wine at an affordable price.
The potluck method also works well for wine, beer and liquor.
Choose Simple Decor
Many people love holiday decorations as much as the food. Thanksgiving can be an excuse to go all out on decor, but if you're not careful, the price tag can quickly multiply.
You don't need tons of decorations for a beautiful Thanksgiving. A simple tall candle or two will add warmth to the table. A centerpiece of gourds, or a cornucopia basket, is inexpensive and seasonal. No need for special holiday plates. It's the company that counts, not how it looks.
Freeze and Reheat Leftovers
A budget Thanksgiving dinner doesn't stop when you turn off the oven. Remember, no one needs to throw out leftover food. Almost everything left over from Thanksgiving dinner can be frozen for later eating. As a result, you'll need fewer groceries for the week after, resulting in follow-on savings.
You can use leftover turkey and ham in soups, salads and pasta dishes. Leftover vegetables can become the central vegetable in future meals. Pies and other desserts can become the stuff you munch on while looking over your Black Friday loot or planning Cyber Monday purchases.
Thanksgiving can take a toll on your bank account — but it doesn't have to. Taking advantage of these tips will ensure that you have a reasonably priced holiday that's fun, food-filled and festive.
Photo Credit: grayclee