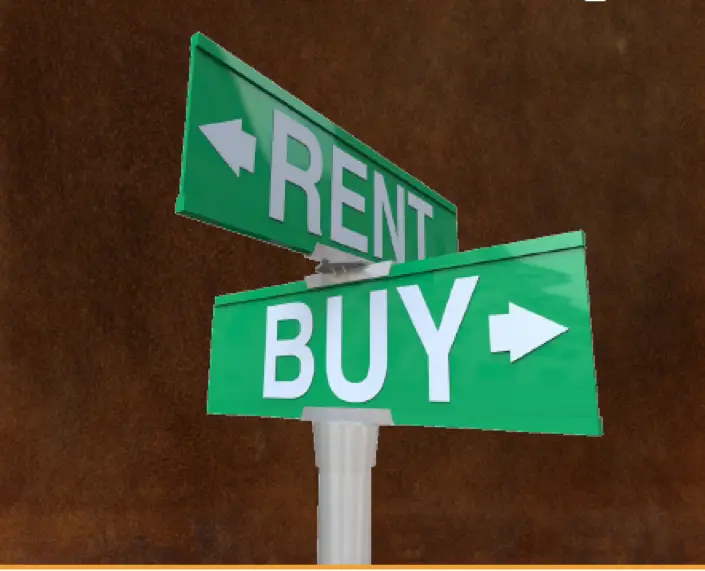 Want to enjoy life's finer things without the big investment? Then instead of spending cash to own them outright, consider renting — especially if you'll only use them infrequently.
Renting can often fill a temporary void without creating a new one in your wallet. With that in mind, here are 15 things that are often better to rent than buy:
Bikes
I've had two of my bikes stolen while locked to bike racks this year, and I'm not rushing out to buy a new one. Luckily, my town just introduced a bike-sharing program this summer from which I can rent a bike for much less than it would cost to lose another one. Renting a bike is also more practical if you're only a sometimes-user; you can rent mountain bikes for adventure, or a cruiser for leisure rides along the shore.
Large power tools
I'm not a particularly handy guy, but I can do a few things around the house, and sometimes that calls for tools I don't own, like a $1500 miter saw with a sliding compound and 12-inch blade. Peer-to-peer tool-rental services like Zilok can be a good resource, but your best bet is big-name home improvement stores.
Designer clothing
Luxury clothing and accessory rental sites, particularly Rent the Runway and Bag Borrow or Steal let you get all spiffed up for special occasions at a fraction of the cost.
Cars
If you rarely drive a car, or if you live in an urban area with reliable public transportation, renting a vehicle is your best bet — especially when you factor in repair costs, insurance, parking, depreciation, and other expenses.
Books and DVDs
I haven't bought a book or DVD in nearly 10 years; I donated or sold them when I moved to Manhattan to avoid carrying heavy boxes full of junk I rarely used. Since then I've only rented books from the library and DVDs from Redbox. Frankly, I don't even do the latter anymore since on-demand movies have become so affordable.
Boats
Most owners admit that boats are a money pit; it's not a coincidence that BOAT stands for "break out another thousand." According to personal-finance educator Matt Collins,"The majority of boat owners only use their boats frequently in the beginning. You're better off renting a boat when you need it. Trust me; your friends won't care, as long as it floats!"
Housing
I'm a staunch advocate for home ownership, but renting is definitely the way to go if you're on a tight budget; for those living paycheck to paycheck, unpredictable expenses increase the risk of losing your home to foreclosure. Better safe than homeless, I say.
Textbooks
There aren't many college students who use their textbooks after they've finished a class.
"It's much cheaper and simpler to rent textbooks each semester, and send them back once the semester has ended," Collins says. "Rented textbooks are often available for 67% off the purchase price."
eCampus.com and CampusBooks are great places to look.
Surf and ski equipment
My friend, Diana, is an avid adventurer and she suggests renting surfboards and skis when traveling. Why? Diana says, "They're expensive to transport on a plane, a pain to carry, and they can get damaged in flight."
Carpet shampooer
On average, quality carpet cleaners cost upwards of $500. You can save significantly by renting this equipment — because, really, how often are you going to shampoo your carpets? My local Home Depot currently charges $21 for a 4-hour rental.
Tuxedo
I bought a tuxedo about eight years ago because it was on sale for a very good price; I've worn it once. You're better off sticking with a rental — if only because your body will change over time.
Commercial appliances
A friend told me you can rent dishwashers and ice machines if you own a food prep business. If it breaks, the technicians are there within the hour, seven days a week. This could be an ideal cost-saving solution for food-service proprietors just starting out.
Musical instruments
Kids regularly change their minds about the extra-curriculars in which they participate, which is why you should rent musical instruments until your child proves their commitment. Local music stores rent instruments, but you also can rent them online.
Bakeware
Another friend enlightened me about rental bakeware recently. Her local library has a collection for rent "so you can make that awesome Wilton train cake without dropping $30 for the pan." Her words, but I agree.
Party decor
People think DIY projects save money, but that's not always true. When it comes to weddings, you're better off renting decor like table toppers and bouquets. And if you're going to be house-poor in the near future, bump up the bar expense; nobody will care that the flowers are fake once they're hammered.
Photo Credit: bfahlman