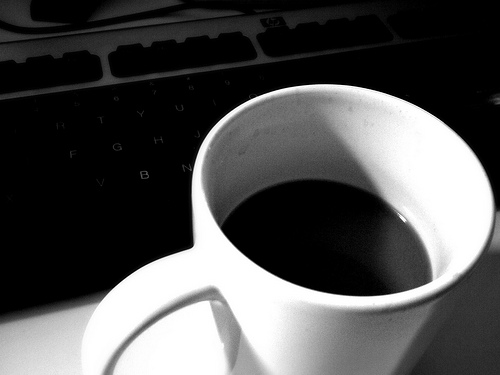 It's time to sit back, relax and enjoy a little joe …
Welcome to another rousing edition of Black Coffee, your off-beat weekly round-up of what's been going on in the world of money and personal finance.
A new month is upon us, so let's get started …
To be is to do.
— Socrates
To do is to be.
— Jean-Paul Sartre
Do be do be do.
— Frank Sinatra
Credits and Debits
Debit: The Venezuelan economy is now in the terminal stages of a death spiral. In fact, societal collapse may be just around the corner. But don't be fooled: It's pure coincidence that the nation's descent into the abyss increased as soon as it began doubling down on its draconian efforts to kill capitalism once and for all.
Credit: Clearly, socialism isn't to blame for Venezuela's troubles. No, the real problem is that socialism simply isn't being implemented correctly there. Then again, how could it be? After all, President Nicolas Maduro's true expertise is centered around driving buses — not guiding the people's revolution. Forward!
Credit: Forget fighting for a "living wage" — it's time for a guaranteed minimum income for all — regardless of people's employment situation. Don't scoff. Leading economists and respected climate change scientists agree: A guaranteed universal minimum income provides economic security for everyone. I just wish somebody would have thought of this 30 years ago.
Debit: If the US became more forward thinking, there's no limit to the number illegal immigrants the economy could absorb. Yes, even as the great majority of their employment opportunities rapidly go the way of the dodo, thanks to advances in technology and automation.
Credit: I know what you're thinking: But, Len, who's going to pay for all of this? It's a stupid question. Yes, the US is $20 trillion in debt — but that's only a number. The truth is, the National Debt is irrelevant because, as The Street's Mike Norman observes, "(The dollar) is nothing more than a tax credit." Well … duh!
Credit: Of course, although highly unlikely, there's always a minuscule chance that Mike Norman could be wrong. Fortunately, if we really can rack up too much debt, Microsoft founder Bill Gates assures us that the robots he's building to replace the human workforce will pay enough taxes to keep the Utopian dream alive. See? It's all good, people.
Debit: Frankly, with so many leading economists, forward thinkers, computer geeks, and other smart guys assuring us that Utopia is finally within our grasp, it makes me wonder how there can be so many International Monetary System deniers, annoying gold bugs, Chicken Littles, financial idiots, and other flat-earthers still worried about hyperinflation and the demise of the dollar. Losers.
Debit: The truth is, hysterical people who insist on holding gold and silver as wealth insurance are wasting their hard-earned money; it's settled economic science. The Wall Street Journal admitted as much when they called gold nothing more than a pet rock. (Psst. There's a reason why paper beats rock in Rochambeau.)
Credit: Besides, who needs gold — or silver — when Farmville Cash is the latest crypto-currency darling in town? Uh huh. Suddenly, canceling my Farmville account way back in 2010 doesn't seem like such a good idea anymore.
Credit: Hey … If you're going to dabble in alternative currencies, maybe it's time to consider something that's financially stable, like bitcoin. I know — the folks at Investopedia point out the exact opposite … but you don't believe everything you read on the Internet — or do you?
Last Week's Poll Results
Have you ever robbed a bank?
No, but I've thought about it (47%)
No (33%)
Yes (20%)
More than 1400 Len Penzo dot Com readers answered last week's question and I'm happy to say that only one in five respondents admit to participating in at least one bank stick-up. Frankly, I expected the percentage of admitted bank robbers to be lower; perhaps something in the low teens — but, whatever. Meanwhile, one in two readers say they've actually thought about pulling off a bank heist but, apparently, lack the stones to actually try it — at least so far.
The Question of the Week
Loading ...
By the Numbers
Here's are a few random facts about numbers, by the numbers:
0 Number of wild snakes in Ireland.
1 Number of times a sloth poops per week.
4 Percentage of people in the world with an "outie" belly button.
5 Number of mass extinctions that Earth has experienced.
7 Number of televisions that Micheal Lotito ate during his lifetime.
10 Percentage of the world's population that is left handed.
$1,000,000,000 By his own estimate, the amount of Pablo Escobar's ill-gotten cash that was consumed by rats while in storage.
Source: The Guardian
Insider Notes: The Weimar Hyperinflation
Hey! You need to be an Insider to view the rest of this section! If you'd like to join, please click "Insider Membership" at the top of my blog page.
Other Useless News
Programming note: Unlike most blogs, I'm always open for the weekend here at Len Penzo dot Com. There's a fresh new article waiting for you every Saturday afternoon. At least there should be. If not, somebody call 9-1-1.
Hey! If you happen to enjoy what you're reading — or not — please don't forget to:
1. Click on that Like button in the sidebar to your right and become a fan of Len Penzo dot Com on Facebook!
2. Make sure you follow me on Twitter!
3. Don't forget to subscribe via email too! Thank you.
And last, but not least …
4. Consider becoming a Len Penzo dot Com Insider!
Letters, I Get Letters
Every week I feature the most interesting question or comment — assuming I get one, that is. And folks who are lucky enough to have the only question in the mailbag get their letter highlighted here whether it's interesting or not! You can reach out to me at: Len@LenPenzo.com
This week I received the following question from Wilson:
Saturday is April 1st. I was wondering if you would consider doing an April Fool's Day version of Black Coffee?
What makes you think I'd ever want to try something like that?
I'm Len Penzo and I approved this message.
Photo Credit: brendan-c