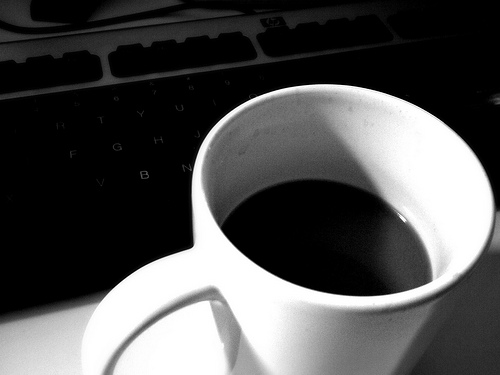 It's time to sit back, relax and enjoy a little joe …
Welcome to another rousing edition of Black Coffee, your off-beat weekly round-up of what's been going on in the world of money and personal finance.
Let's kick this baby off, shall we?
There are three things in the world that deserve no mercy: hypocrisy, tyranny, and fraud.
— Frederick William Robertson
It is a fraud to borrow what we are unable to pay.
— Publilius Syrus
Things gained through unjust fraud are never secure.
— Sophocles
Credits and Debits
Debit: Here's more news suggesting that America's high standard of living is essentially a house of cards looking for a windstorm: Yet another survey found that half of all US working families are living paycheck to paycheck. Just imagine how big that number would be if we weren't eight years into an "economic recovery."
Debit: It appears as if the economic punishment will only continue for those who are financially struggling. That's because last month the Fed's preferred inflation gauge supposedly hit its 2% target for the first time in five years. Uh oh.
Credit: I know what you're thinking: But, Len, the true inflation rate has been higher than that for years! That it has, with few exceptions — which is why I said "supposedly." The key takeaway is that the Fed data indicates that inflation is clearly picking up.
Debit: Meanwhile, Wall Street is suddenly fretting over the number of consumer auto loans given to Main Street borrowers with very low credit scores. They're afraid those loans won't be paid back if the "economic recovery" suddenly stalls. Heh. Too bad they didn't think of that before they handed out those loans to anybody who could fog a mirror. Or even not fog one.
Debit: What got Wall Street's attention? This: The share of auto securities tied to 'deep subprime car loans' — that is, those given to borrowers with credit scores under 550 — climbed from 5.1% in 2010 to 32.5% today. Now for the punchline: Not coincidentally, defaults on those bonds have risen significantly since 2012. Oops.
Debit: Speaking of debt, the amount of debt around the world has now eclipsed $215 trillion. If you think the great majority of that is ever going to be paid back, I've got a million bucks worth of $3-bills I'd like to sell you at a discount.
Debit: Forget the world — here in the US, total private and public sector debt is more than $63 trillion; that's 1.55% more than last quarter and 3.11% higher than a year ago. Then again, what did you expect? Our debt-based monetary system is a legalized Ponzi scheme that must continue expanding in order to avoid imploding.
Debit: The US public sector is doing its part to keep the Ponzi scheme alive. In fact, as Zero Hedge notes, credit card debt surpassed $1 trillion last month for the first time since 2007, where it now joins both auto ($1.1 trillion) and student ($1.4 trillion) loan debt.
Credit: Of course, the Congressional Budget Office knows that Ponzi schemes are mathematically ensured to eventually collapse anyway — which is why they just warned that America's exponential debt growth will one day lead to a financial catastrophe. Then again, they warn us every year.
Debit: According to the latest CBO report, "Federal debt is now at its highest level since shortly after World War II. If current laws remain unchanged, growing budget deficits would boost that debt sharply over the next 30 years." I wonder how many overpaid bureaucrats it took to figure that out.
Credit: Apparently, the CBO has a sense of humor — after all, who actually believes the current monetary system has 30 more years of life in it? Thirty months is closer to reality.
Debit: The CBO also says, "If a fiscal crisis occurs, policymakers would have only limited — and unattractive — options: modify the contractual terms of existing obligations, use monetary policy to raise inflation above expectations, or adopt large and abrupt spending cuts or tax increases." In other words, pick your poison: formal default, informal default, or an epic depression.
Credit: Just how far has the US been living above its means? Well … prior to 1971, trade deficits were settled in gold. The US supposedly owns 8000 tons of the yellow metal but, as Egon Von Greyerz notes, the US is so deep in debt that 453,000 tons (!) of gold would have been needed to settle the $12 trillion trade deficit America has racked up since 1999 alone.
Credit: And here's the kicker: Since the dawn of mankind, only 170,000 tons of gold have ever been mined. Add it all up and the inescapable conclusion is that Americans' cushy lifestyle has been an illusion based on monetary fraud for many years now.
Debit: Perhaps not coincidentally, last week a massive gold coin weighing 220 pounds was stolen from a German museum. No, really. And although police officials say they have few leads at the moment, they quickly eliminated Ben Bernanke as a suspect after he answered this question:
The Question of the Week
Loading ...
Last Week's Poll Results
What's your favorite day of the weekend?
Saturday (53%)
Sunday (33%)
Friday (14%)
Forget TGIF. That's because only slightly more than one in seven Len Penzo dot Com readers say their favorite day of the weekend is Friday. At least according to the more than 1300 people who responded. Apparently, more than half prefer Saturday. For another one in three, it's all about Sunday. I know Saturday is my favorite day of the week — but that's only because Sunday follows it!
(The Best of) By the Numbers
Amaze your friends with these bigfoot facts:
17 Length, in inches, of the typical sasquatch footprint.
1811 Year that the first sasquatch footprints were discovered.
35 A bigfoot's top running speed, in miles per hour.
10 The maximum height of a bigfoot, in feet.
490 Typical sasquatch weight, in pounds.
80% Supposedly, the chance of surviving a bigfoot confrontation if you offer it food. (No, really.)
1965 Year that Russia put the sasquatch on its endangered species list. (Two years later, France and Germany did too.)
Source: Mirror
Other Useless News
Here are the top — and bottom — five states in terms of the average number of pages viewed per visit here at Len Penzo dot Com over the past 30 days:
1. Montana (2.20 pages/visit)
2. New Hampshire (1.93)
3. Arkansas (1.84)
4. Maine (1.80)
5. Vermont (1.77)

46. Mississippi (1.26)
47. Illinois (1.25)
48. Minnesota (1.23)
49. California (1.22)
50. Old Mexico (1.20)
Whether you happen to enjoy what you're reading (like my friends in Montana) — or not (ahem, Old Mexico) — please don't forget to:
1. Click on that Like button in the sidebar to your right and become a fan of Len Penzo dot Com on Facebook!
2. Make sure you follow me on Twitter!
3. Subscribe via email too!
And last, but not least …
4. Consider becoming a Len Penzo dot Com Insider! Thank you.
Letters, I Get Letters
Every week I feature the most interesting question or comment — assuming I get one, that is. And folks who are lucky enough to have the only question in the mailbag get their letter highlighted here whether it's interesting or not! You can reach out to me at: Len@LenPenzo.com
After reading last week's April Fool's Day edition of Black Coffee, Bill dropped this message in my inbox:
Nice work. For once I actually found myself agreeing with what you wrote.
Well, Bill … if that's true, then it will probably be the last time you agree with me too!
I'm Len Penzo and I approved this message.
Photo Credit: brendan-c