Well, it took a couple of months longer than the Honeybee and I originally anticipated, but after a few delays due to uncooperative weather, supplier issues, and one less-than-scrupulous contractor, we finally completed our porch remodel project.
Like most remodeling projects, this one had its share of good news and bad news. We did end up spending a bit more than we had originally planned, but we're extremely happy with the end result.
By the way, in case you missed it, I covered the project backstory and details of Phase 1 here. And if you're interested in my other remodeling adventures, you can find summaries of our kitchen and master bathroom refurbishment projects on this site as well.
I'll start the latest picture gallery by cutting right to the chase with a couple of shots that show before- and after-views. Here is a shot of our home from nine years ago, which didn't change much between then and our project start-date: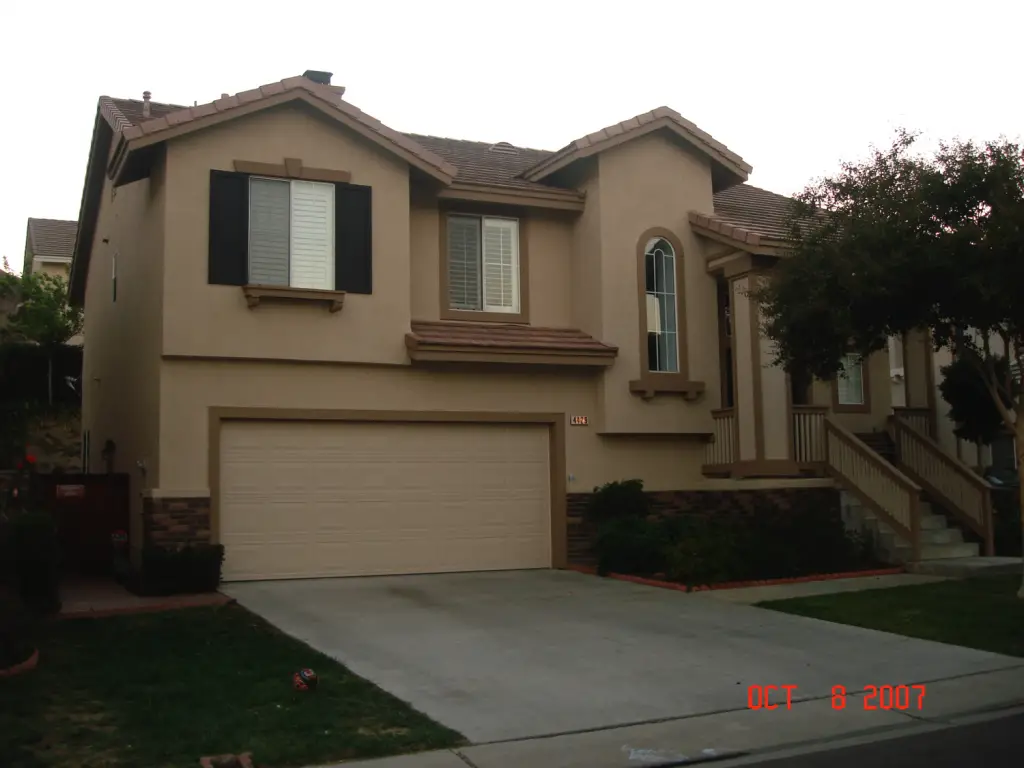 And here is the finished result, showing the resurfaced driveway, walkway and porch, contemporary railing, the upgraded brick columns, and the new stair and planter masonry: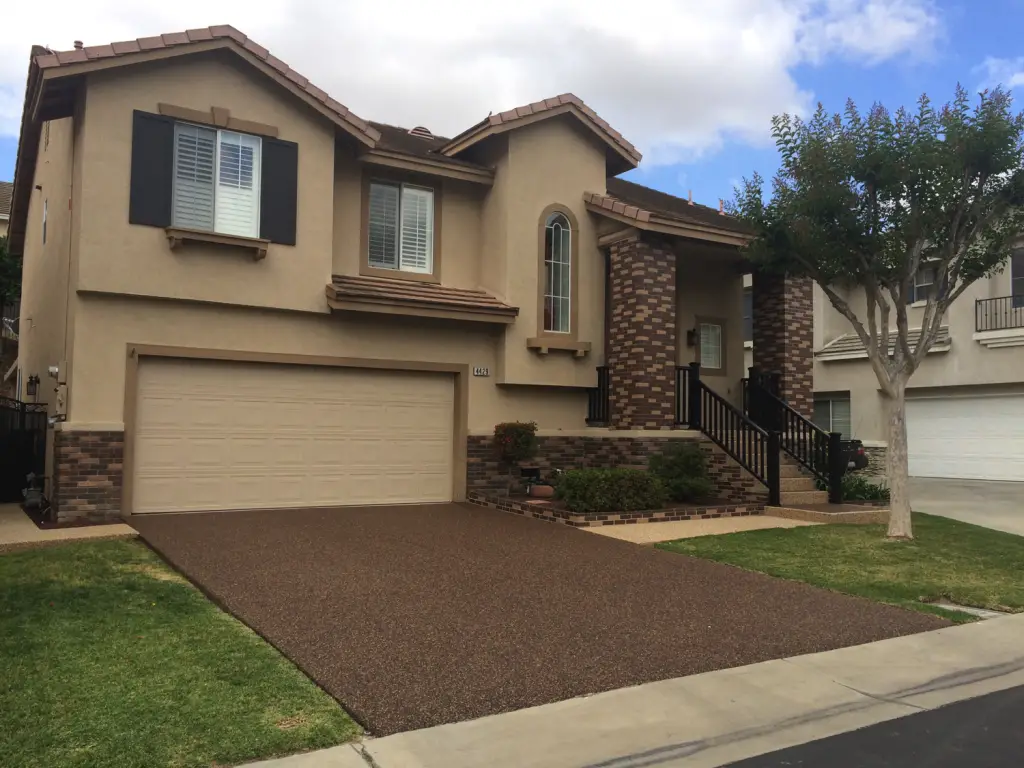 Here is a view from another angle that shows some more detail. The walkway, stairs, and driveway are now covered in a natural stone surface called Pebble Tec. It really is amazing stuff and we couldn't have been happier with Dan Brehaut and his team of artisans at Stone Paving, Inc. If you live in Southern California, I highly recommend him.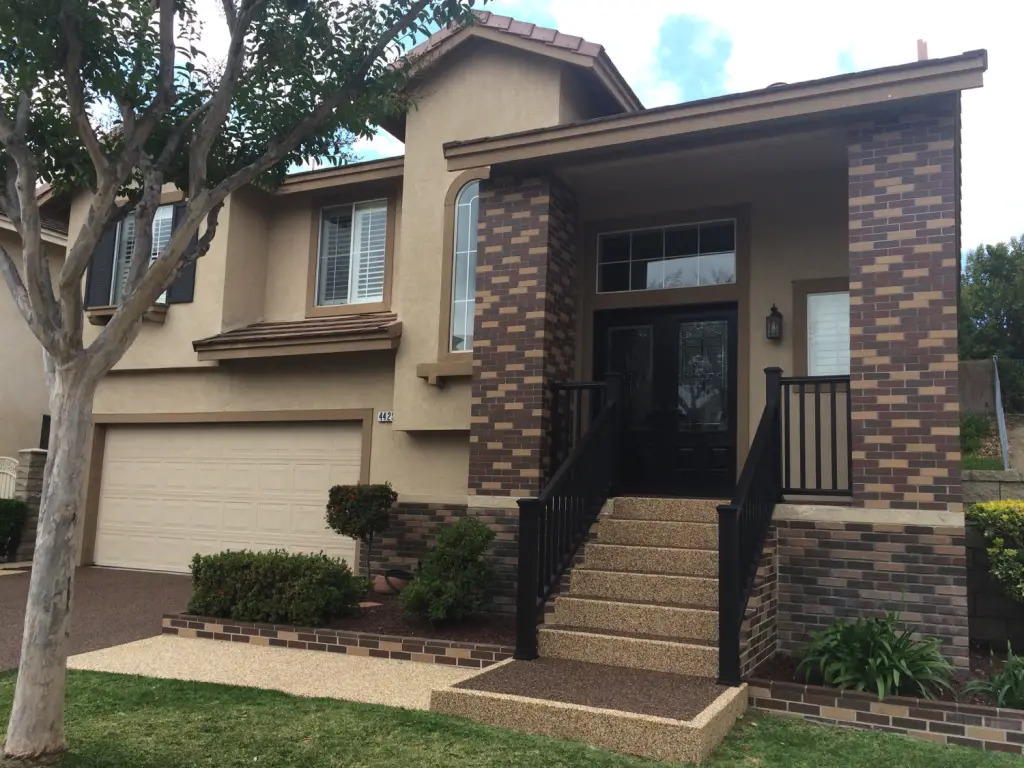 The next shot shows a bit more detail on the planter and stair masonry as well as the new stair railing: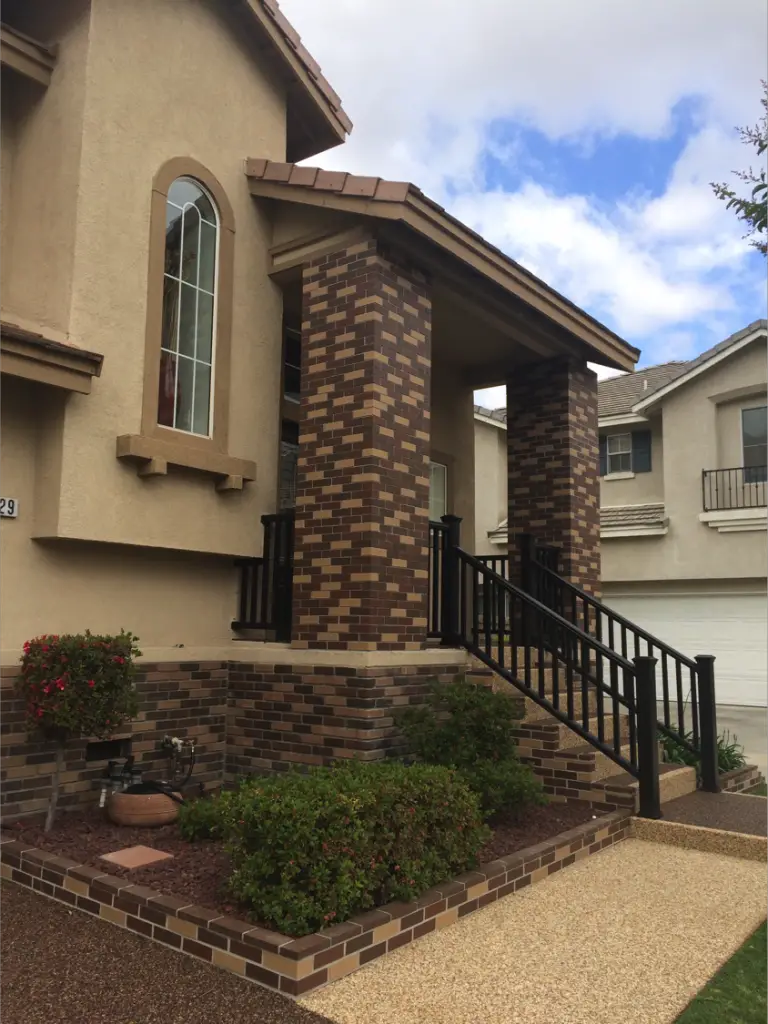 We lucked out with our mason, John Fitzgerald. Masonry, more than any of the other residential trades, combines skill and artistry with back-breaking work — and he did a terrific job at a fair price. Again, if you live in the Southern California area, and are looking for a mason, drop me a line and I'll pass along John's contact info to you.
Of course, there aren't many projects that go without a hitch, and this one was no exception; our bugaboo was the railing. We decided to go with composite railing manufactured by Trex, which we purchased from Home Depot.
Unfortunately, a series of supply chain debacles turned a promised two-week delivery period into one that stretched out for two full months. This was primarily the result of a failure to deliver parts in a damage-free condition — on three separate occasions we had to send back post sleeves that were apparently damaged in transit. I know.
As I see it, the shoddy service was directly attributable to there being not one, but two middlemen between the original manufacturer and Home Depot, which neutered Home Depot's ability to effectively address the problem. Eventually, after six weeks of delays, I stopped working with Home Depot and called Trex directly, informing them of my plight; to their credit, they bypassed everyone and sent me replacement parts immediately.
Sadly, the railing continued to haunt us after the state-licensed carpenter we hired began the installation process. To make a long story short, although he worked at an overly-deliberate pace, that wasn't enough to prevent him from making several embarrassing mistakes one would expect to see from a carpenter's apprentice — example: he was clearly not familiar with the old "measure twice, cut once" saw.
In the end, he turned a job that should have taken an experienced carpenter a single day or a day-and-a-half at most, into a three-day affair. As a result, the final cost was more than twice his initial estimate.
On a related note, despite being a licensed contractor who should know better — and despite starting work without a contract that specified a payment schedule — he also tried pressuring me into paying for the work before he finished. Heh. That failed miserably on his part too.
Needless to say, I won't be recommending him to anyone.
So … after all of that, here is a breakdown of the final costs of our porch project: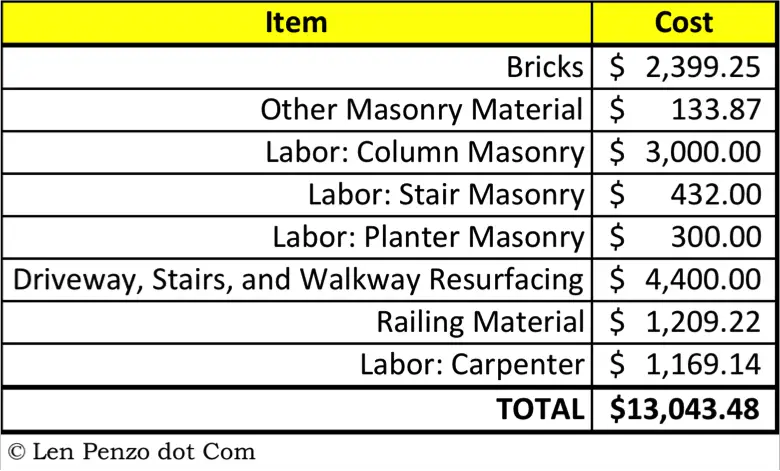 In the beginning, it was my hope that I could complete the project for under $10,000. Obviously, I was a bit optimistic — but that's okay. All in all, despite the troubles we had getting the railing installed, the Honeybee and I are happy with the results.
Photo Credits: The Honeybee