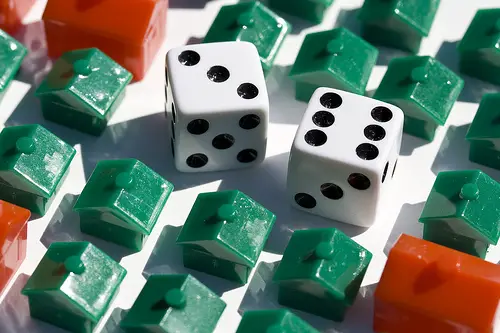 A couple of weeks ago, I received a question from Lauren regarding the wisdom of paying down the mortgage early:
Len: We've been working to pay off our mortgage ASAP so we have a roof over our heads if (when) inflation hits. Should we should continue doing that or should we divert some of our extra mortgage payments to (buy) more precious metals?
There is always a passionate debate between those who believe paying off the mortgage early is a no-brainer, and folks like me who think it's better to put your money elsewhere.
Ultimately, you'll need to make your own decision, but here's why I'm not paying off my mortgage early:
For many years, I was a HUGE proponent of early mortgage-retirement. So much so that, between 1997 and 2009, I made approximately $80,000 in additional mortgage principal payments to my lender. But during the spring of 2009, it became apparent to me that the Federal Reserve was no longer committed to protecting the value of the US dollar — so I began to waver on the wisdom of the early-mortgage-payoff philosophy.
Soon after, I became absolutely convinced that paying off my mortgage was no longer in my best interest, because the risk of high inflation, if not an outright US dollar collapse, had become extremely likely — and loan values are essentially inflated away in the presence of a collapsing currency.
Inflation and the Fixed-Rate Mortgage
In his book, When Money Dies, Adam Fergusson chronicles life in Germany during the collapse of the mark between 1919 and 1923. The following chart shows just how quickly Germany's currency declined relative to gold and silver as the inflation rate increased — slowly at first, but then very rapidly: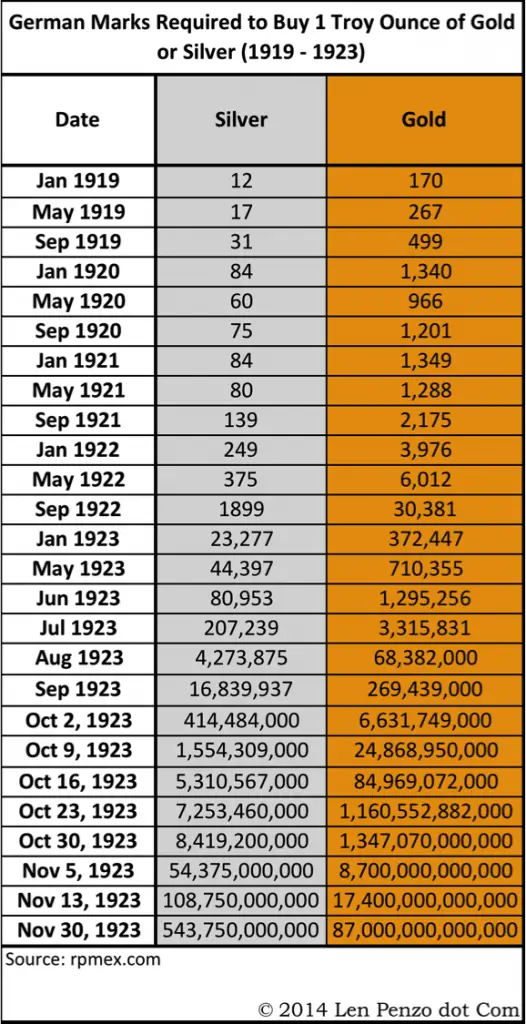 Once inflation really got rolling in Germany, rent controls were established. (In case you're wondering, rent control is very common during hyperinflation events because it helps reduce the risk of civil unrest.)
As for those who had a mortgage, Fergusson writes:
Mortgage payments (became) no more than a nominal burden to (homeowners) — a consideration which dismayed the mortgage banks.
They were dismayed for good reason: Fixed-rate mortgage holders were quickly learning that hyperinflation was truly a debtor's best friend. As Fergusson notes:
(One woman) went to stay in the country and asked her hosts bluntly what they were doing with all the money they were squeezing out of the townspeople. They replied candidly that they were paying off their mortgages.
By the latter half of 1922, inflation had so thoroughly decimated the purchasing power of the collapsing mark that Germans who were fortunate enough to have fixed-rate mortgages were paying off their home loans with a week's wages.
Financially-savvy Germans who were able to secure loans during the hyperinflation were even more fortunate, as Fergusson explains here:
In February 1922, with a loan from a friendly banker, (a farmer) bought an estate neighboring his own property for (approximately $300,000 in 2014 dollars). He paid the debt in the autumn with the sale of less than half the crop of one of his potato fields.
Of course, this was possible because, as the mark became less valuable over time, the proportion of currency that households allocated to shelter, food, heating and electricity shifted. Before debasement of the mark commenced in 1913, household expenditures for shelter and food were essentially equal. However, as inflation got worse, the amount of household income required to keep a roof over one's head became trivial: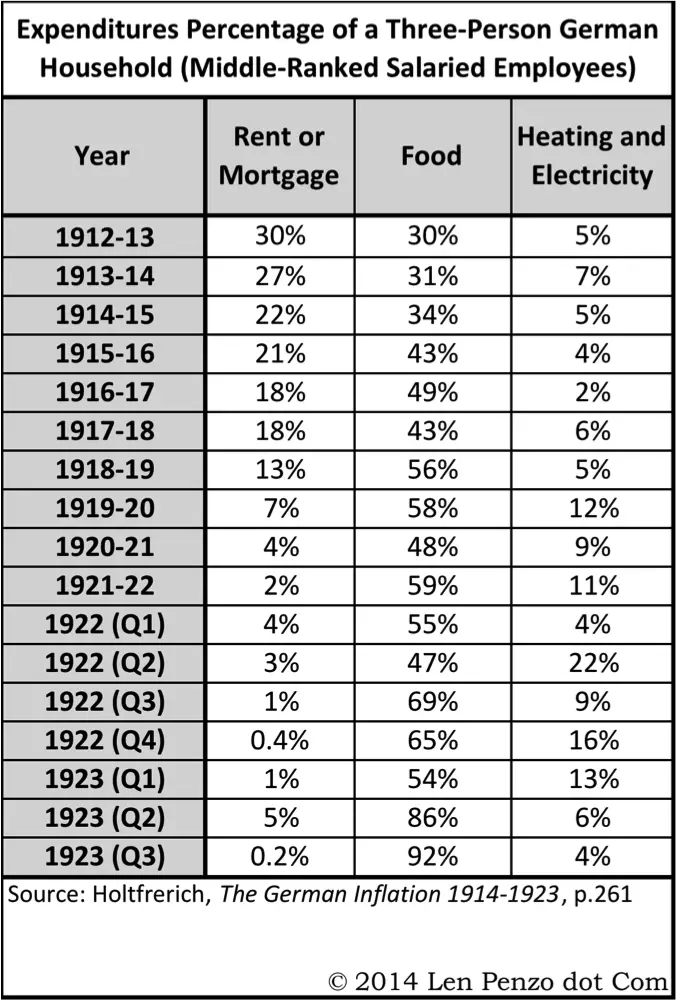 As you can see, during the final stages of collapse, renters and fixed-rate mortgage holders were devoting less than 1% of their income toward shelter. Yes, in order to benefit from paying off your mortgage in such a scenario, your wages need to keep pace with the increasing inflation. The good news is history shows that wages generally do tend to keep pace with inflation (albeit with a slight lag) because they have to — otherwise, there would be no incentive to work.
What If Scenarios
I know what you're thinking: Could the government pass a law revaluing your mortgage so that your lender is not paid back in hyper-inflated dollars? Perhaps, but I don't think that's likely — at least not in the United States. After all, a mortgage is a contract that's denominated in US dollars, and I believe that contract law will remain sacrosanct here. If not, I suspect we'll have even bigger problems than hyperinflation on our hands; namely, the complete breakdown of a civil society.
And what if you're wrong, Len? What if you're just being a big worrywart and it turns out that the dollar doesn't ever collapse?
Well … I'll still have no regrets, and here's why: Generally speaking, annual mortgage expenditures become sharply reduced over time for those with fixed-rate mortgages who remain gainfully employed. The following chart shows how the proportion of my paycheck devoted to the mortgage has steadily dropped from 38% in 1997 to just 5% today, without hyperinflation: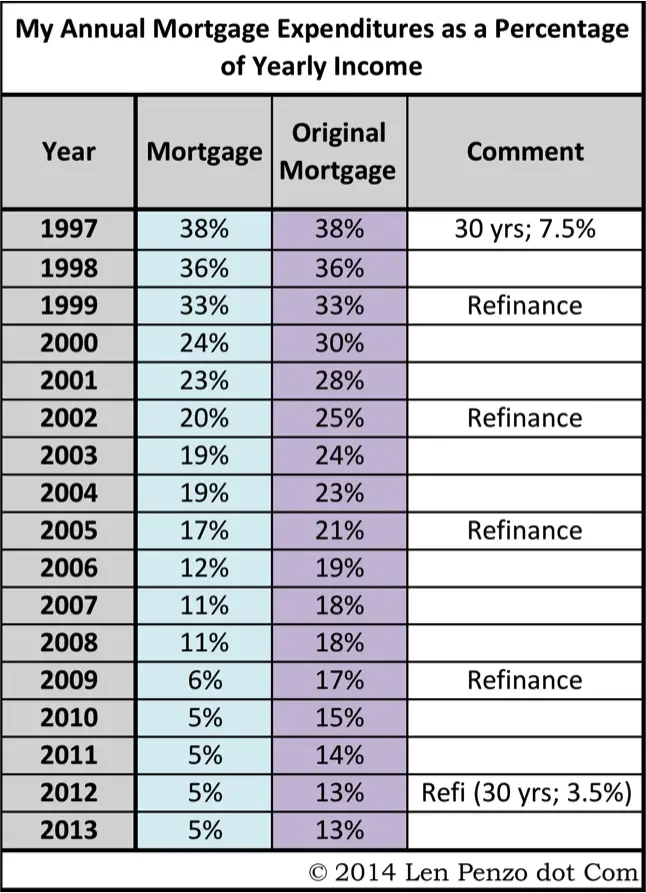 In other words, my mortgage payment, while not zero, is such a small percentage of my total income that it's almost an afterthought now — and that gives me the flexibility to allocate more of my income towards other important goals, including protecting my wealth with precious metals.
True, that 5% figure was made possible via a series of no-cash-out refinances that steadily reduced my mortgage payments over time; but as you can see, even if I had kept my original mortgage, the proportion of my income devoted to my home loan would still be just 13% today, on the strength of my annual raises alone.
So patience is rewarded either way.
The Bottom Line
Don't get me wrong; there's still a lot to be said about the advantages of paying off the mortgage early. In a normal world, with a relatively strong currency, modest interest rates, and a healthy financial system that rewards savers and punishes debtors, it's certainly the path I would take. In fact, it's the path I religiously followed for many years.
Unfortunately, I don't believe that's the environment we live in anymore. But that's just my opinion.
Photo Credit: woodleywonderworks