My name is Lynsey and I'm 25-years-old with no children. I'm from Minnesota and have a bachelor's degree in Marketing and Business Management. I am currently employed in the marketing field.
I've always been pretty responsible with my money, however I realize that life is meant to be lived. I'm lucky enough that I live comfortably and can do all the things I enjoy; but when it comes time to eventually buy my first home, or retire, I will still have the nest egg to do both.
The Vagaries of Variable Income
Unlike most people, I don't receive the same amount of pay each month. I'm paid a base salary of $22,000 per year. My salary is my "live off of" money. I use this to pay my monthly expenses.
After taxes, health insurance, and a 6% 401k contribution with a 3% employer match, I receive $590 every two weeks, or roughly $1180 per month. There are two months during the year when I receive three paychecks, but I don't count those two extra checks as part of my "live off of" money. I'll explain why later.
I also receive a monthly sales commission check which varies drastically from month to month. Since that income is so unpredictable, I consider this yearly income, not monthly. It typically varies annually between $13,000 and $17,000, before taxes, which is why I do not include it in my "live off of" money.
Despite earning less than $40,000 annually, I never "go without." I live in a nice house, drive a nice car, wear nice clothes, go out with friends frequently, and still manage to put some cash away in savings.
Expenses and Savings
I live in a shared house and pay $325 per month which includes my rent and all utilities.
I've only ever taken a loan out once to pay for a car. I currently drive a 2007 Pontiac G6, which I paid cash for, so I do not have an auto payment.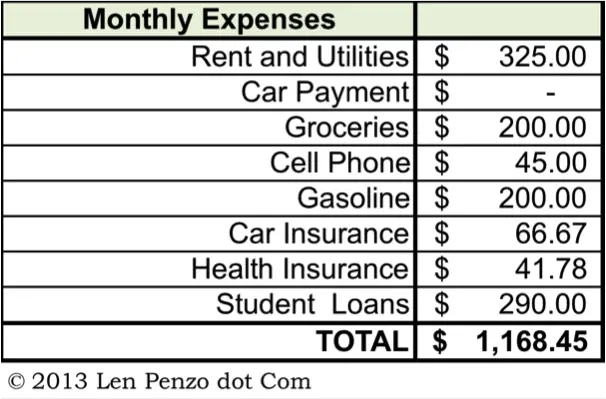 I do not break down my budget as far as others do allotting so much for gas, groceries, clothing, entertainment, etc. I have two fixed expenses every month: my rent and a $40 student loan payment. After those are paid I have $855 left to spend on whatever I want. I allow myself that freedom.
I charge everything on a credit card, I don't care how much I spend, or what I spend it on. My only rule is that my credit card bill must be under $800 every month. If I only spend $500 one month, then I take the difference and put it in a savings account. I also do the same with those "extra" two paychecks I get every year. The money that goes into this savings account is what I use for emergencies, vacations, unexpected expenses, or whatever else I need to throughout the year. It's also where the cash came from to purchase my car without a loan.
I use online banking and check my credit card balance online to make sure I'm where I need to be for the month. I check both accounts several times per week.
It's pretty easy to keep my credit card bill under $800 each month. I typically spend $200 on gas, $200 on groceries, $45 cell phone bill, and the rest is spent on eating out, concerts, clothes, sporting events, or anything else I feel like doing. If I wanted to cut this down I could very easily, but since I save such a large portion of my annual income I let myself have fun and splurge with my monthly income.
The commission portion of my income is strictly for saving. It gets automatically deposited into a savings account. There is a $250 payment deducted from my savings each month for another student loan payment. I also take an additional $5000 out each year and invest it in my Roth IRA. My savings fund also pays for my car insurance every six months; that comes out to be about $800 per year. Whatever is left over gets put into another savings account.
Closing Tips and Thoughts
I use a credit card for everything because it's quick, easy, convenient — plus I get great rewards. I use a Discover card which pays me 5% cash back on certain categories and 1% on everything else; I've earned several hundred dollars this way. However, you have to be careful. Swiping that credit card is MUCH easier than handing over cash — so if you don't have good self-control, credit cards may not be the best method for you.
I have lots of hobbies including, camping, hunting, fishing, snowmobiling, attending concerts, taking vacations, and I do a lot of partying. The only debt I have is about $20,000 in student loans which I've paid down to about $15,000 since graduating. I pay a little extra on them each month, and when my savings account is looking extra healthy I'll throw a couple hundred bucks down on one of them.
I'm very good about living within my means. I have many friends who make less than me but drive nicer newer cars, and live in big fancy houses with expensive mortgages. They appear to be very well off, but I've found it to be very helpful to no longer compare myself to those types of people. I know that I want to retire early one day and I will be able to do that because I live modestly now and save. Keeping that goal in front of me helps when I get the "new car envy" or "big-house jealousy" that creeps its way in from time to time.
Also, I never deprive myself of anything. If I really want to take a week-long vacation to Jamaica, I go do it! Letting yourself spend a portion of your hard-earned money on what you want makes saving the rest much easier.
***
If you're a household CEO who is successfully making ends meet on roughly $40,000 per year or less, I'd love to hear from you. Contact me at Len@LenPenzo.com and be sure to put "$40,000" in the subject line. If I publish your story, you'll get a $25 gift card!
Photo Credit: PhillipC