My name is Kacy and I'm currently employed full time as a leasing agent and resident manager for a community college property in Central Iowa.
I've always been financially responsible. My dad is very good with finances and he taught me to always be frugal, live below my means, save, invest, and not care about image.
My wife, Sophie, is a full-time student at our local community college, but she'll be transferring to Iowa State in the spring. She also works part-time, splitting 15 hours per week between a sandwich shop and her college.
We just got married six months ago. We don't have any kids yet, and we have a combined age of 42.
Our total household income is about $30,000 per year.
Our Household Expenses
We budget our spending very carefully. We rent a brand new 3-bedroom apartment for the equivalent of $750 per month; the utilities, including Internet and cable, run us about $150 per month.
For groceries, we try to stay under $200 per month. Sophie cooks for lunch and then we usually eat the leftovers for dinner. Both of our parents live within 30 minutes from us, so we'll often eat a meal per week at one of their houses. Usually, that's our "eating out." Actually, Sophie and I do eat out occasionally — but when we do we don't go anywhere fancy.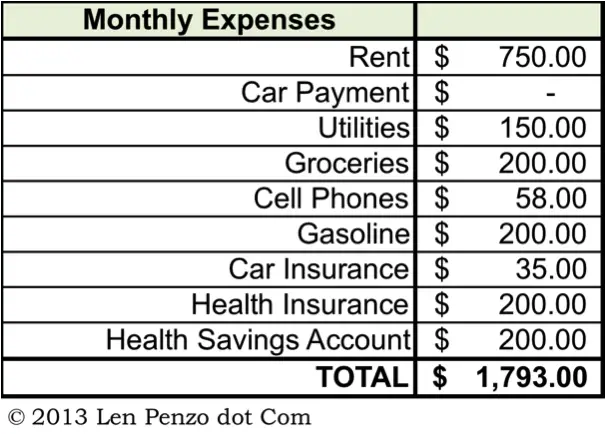 We own two midsize compact cars. My car is a 1996 Chrysler Sebring and Sophie drives a 2001 Dodge Stratus. Even though we live near our jobs and school, we still spend $200 a month on gas visiting our families and friends nearby. I pay $208 every 6 months for car insurance. We're usually able to avoid maintenance and car repair expenses because my father-in-law is a skilled mechanic.
Sophie and I both have cell phones (not smart phones) through family accounts. I pay my wife's dad $25 per month for hers and I pay my parents $33 per month for mine.
Health insurance for me and Sophie is covered through my employer. It's a high-deductible plan ($8,000!) with a Health Savings Account (HSA) option. We pay $200 per month for it and we put $200 into the HSA as well. My employer also puts $200 per month into our HSA.
My wife's community college expenses are currently being covered by a federal Pell Grant; but when she begins attending Iowa State in the spring, it will cost roughly $1000 per semester.
We try to be generous and for each of the last three months we've donated $100 to charity. We also tithe $230 per month to our church.
For entertainment, Sophie and I typically go for walks, hang out at our parents' homes, go to the movies, watch television, or read together.
My Investing and Savings Accounts
I'm REALLY into investing. My wife and I set a goal to save $500 every month. We have yet to actually put that much away in a month, but we plan on getting there one day. At the moment, we're usually able to put away between $300 and $400 per month, depending on our expenses.
I had been investing in my TDAmeritrade account, but now I'm building up a separate online savings account because I'm planning on starting some online grad classes in the spring. I have $14,000 saved in my personal portfolio, as well as $9000 in my Roth IRA.
I also have a 529 with $6000 in it that was left to me when my grandma passed away. I plan to use that, along with some of my personal cash to pay for both my grad school expenses and the rest of my wife's schooling.
Our emergency savings fund currently has $900 in it. We keep an additional $600 in our checking account.
Closing Tips and Thoughts
I manage my household finances by being very aware of all our spending. We also use Mint.com.
We try to make all of our purchases with our Chase Freedom card in order to take advantage of the cash-back rewards. Of course, we pay off the credit card every month so we don't get stuck paying interest charges!
If I had to give any advice with respect to managing finances, I'd say the most important thing is communication. My wife and I talk about everything and, as a result, we're on track to achieve the goals we've set.
My hope is to buy a rental property soon that we can live in and rent out the other units while going to school.
My goal is to become a Certified Financial Planner and start my own business.
Sophie wants to be school teacher, but I think she'll eventually decide to stay home when we start having kids — as long as I can make us enough money!
***
If you're a household CEO who is successfully making ends meet on roughly $40,000 per year or less, I'd love to hear from you. Contact me at Len@LenPenzo.com and be sure to put "$40,000" in the subject line. If I publish your story, you'll get a $25 gift card!
Photo Credit: Kacy