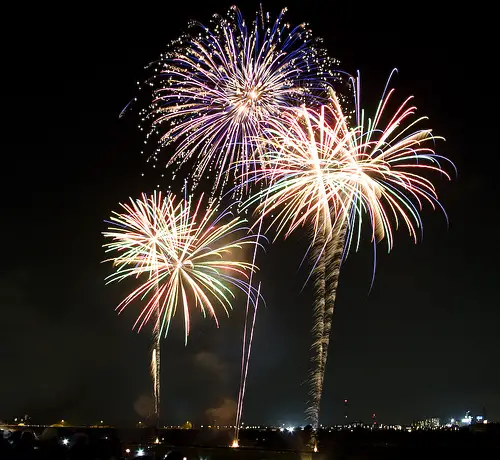 This month we celebrated the Fourth of July in the United States, a day in which we celebrate our independence from Great Britain and the signing of the Declaration of Independence. It's a day on which we enjoy time off from work with barbecues, good music, good food, and good friends; and it's all topped off with various fireworks, celebrated with symphony orchestras, marching bands, big bands, and parades.
The day after – July 5th – we found out how well our economy did in the past month and predictions weren't good. While our unemployment has dropped to around 7% instead of 8%, the job rate may not have risen as much as economists and experts had hoped; but we now know the exact numbers. I've discussed my views and tips on what you should do during an economic collapse, and while reports may say that we haven't been in a recession for several years, we certainly haven't been growing the way we were before the downturn.
We've certainly seen the divide that continues as the wealthy get wealthier and the middle class continues to slide into the poor house.
Is there anything you can do to get back on your feet? Anything that can be done to get back to the financial security that you may have once experienced?
There are a few ways that you can look to get the ball in your court and one way is to find out about Discover Banks current cd rates. Why Discover Bank? Because they are one of the few banking institutions that offer high interest CDs, where the longer you put it in for, the more you make on your money.
Before we start, what exactly is a CD and what does "current CD rates" mean? It stands for certificate of deposit and in general, it's a low risk investment account that you can use to save up for major purchases or goals, such as a house or retirement. Current CD rates is a time dependent rate that describes how much money you will be making off your CD. In terms of getting back on your feet, you could also use a CD to start paying off some of your debts. But to do this, you need to know what you have to do.
First and foremost, it's important that you have enough to actually open a CD account. At Discover, the minimum is $2500, which might seem like a lot, but when you consider the overall investment, it's actually a great start to recovering your financial independence. While the amount of the CD is important, it's not as essentially as how long you let the money sit; the minimum is three months, but you can go upwards of ten years and for some people, that hits right about the time a child will be entering college or when they'll be retiring.
So why is Discover Bank so great with their CDs? As I mentioned, they have some of the best rates. For three months, the starting rate is 0.35%, where the national average is only 0.10%. So what does that mean? It means that you are making that much interest on the money that you've put into your CD. If you're only going to put in the minimum and maybe let it sit for a few months, you're only making a few dollars back, but it's more than you had, right?
Sure, but you know the optimal idea is to keep putting in money and then let it stand for several years. Let's say you started a CD by putting in $5,000 for a goal and after about ten years, you've made over $1,000 on top of the five you put in. That may not seem like a lot, but if you put in that amount before the market collapsed and you're looking at something like $2,000 or more in debt, that extra hundred can be a godsend.
Another good thing about getting a CD is having an untouchable savings account. Many Americans ended going through their savings in order to stop the hemorrhaging that was happening with their jobs, their bills, and their homes. CDs are good investments, as you get penalized for taking out your money before it matures; in some cases, some financial institutions will ding with a penalty fee or may even take some of the interest you may have accrued after a few months or years.
It goes without saving that you should put your money in the CD and then forget it. The less you're tempted by the thought of dipping into this account, the more it will be able to grow and mature. That's a good feature, as the bank will tell you when your CD has matured, around a few weeks before it's set to hit. However, should you decide not to take any of the money out, it'll basically renew itself or you can contact Discover about changing the amount and the time that you want to keep it in.
So how to do go about getting back on your feet using a CD? Well, let's going with the assumption that you started a CD back when things were great — you had a successful career or a good job, a nice house, etc. Let's say you started a CD with about $10,000 and you set it for about three years; then the recession hits and your CD is about to or has matured to around $10,350.
Now let's say you have around $6,500 dollars in debts, regardless of what they may be from. Your first thought might be to just spend the CD on all of your debts and that's a good idea, but stop and think for a moment. When the recession 'eased', did you still have money in your savings account? Have any money saved up in the case of another emergency? I hope the answer is yes, but in the case that it's not, make sure that you are putting the leftover money into a savings account or back into the CD that you took it from.
There are ways to get out of debt. You are not alone when it comes to figuring out ways to get out of the debt you may have unwittingly gotten in to.
Photo Credit: bayasaa