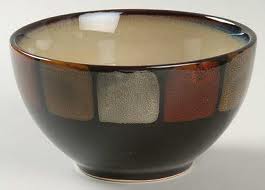 I remember the day we had our kitchen remodeled like it was yesterday.
Part of the makeover included changing the kitchen's blue and white color scheme to an earth-tone motif anchored around brick red as the primary color. (Goodness, listen to me … I'm actually beginning to sound like Vern Yip.)
The reason I bring this up is because we never bothered replacing our old cobalt blue and bright white dinnerware — even though the kitchen is now bathed in a soft sea of brick red, muted golds and soothing siennas. (I know what you're thinking — and you're right: Mom and Dad always made sure I had the giant 64-pack of Crayola crayons in my desk drawer.)
Anyway, the contrasting colors have always been rather embarrassing.
Then again, dinnerware ain't cheap folks — which is probably why we've continued to tolerate the blue plates with the brick red walls up to now.
It's no secret that fine china costs a small fortune. Awhile back, Macy's offered a 5-piece set from Lenox consisting of a dinner plate, a salad plate, a bread plate, a tea cup and a saucer for $111.99. True, that was 40% off the regular price of $186. The trouble is, anyone interested in having a service for eight people has to shell out $895.92 plus tax to make it so. Even worse, that price doesn't include soup bowls — which is a real problem for a soup lover like myself. (Although, I guess you could try serving your hearty beef barley or chicken & rice soup in the tea cups.) Besides, my family prefers beans & franks and macaroni & cheese to foie gras and ratatouille, so we really have no need for fine china.
With unsophisticated tastes like ours, one might think paper plates would be a reasonable alternative. In fact, our local Costco sells packages of 150 heavy duty cardboard dinner plates for $14.89. But at that price, a family of four eating breakfast and dinner six times per week would shell out $247.77 annually — before sales tax. That's hardly a bargain — and, again, paper plates are no help for people who like to eat soup.
Up until recently, I had resigned myself to eating off our old dishes forevermore.
Then a miracle happened.
Finally, after years of trying to find a reasonably priced dinnerware set that matched our kitchen color palette, the Honeybee finally stumbled upon a very nice 16-piece dinnerware set on sale at Kohl's that included four dinner plates, four salad plates, four coffee mugs and, yes, four soup bowls, for $64.99; that was almost half off the regular price of $119.99 — and it matched our earthy kitchen color scheme almost perfectly.
Hallelujah!
Needless to say, we are now the proud owners of a perfectly color-coordinated complete dinner service for eight — plus four additional dinner plates, four large pasta dinner bowls, a large pasta serving bowl, and a fruit bowl.
Best of all, after getting an additional 20% promotional discount for using our credit card, we ended up paying only $299.01 for everything. I know.
Wanna guess who's having soup for dinner later this week?
Photo Credit: Pfaltzgraff