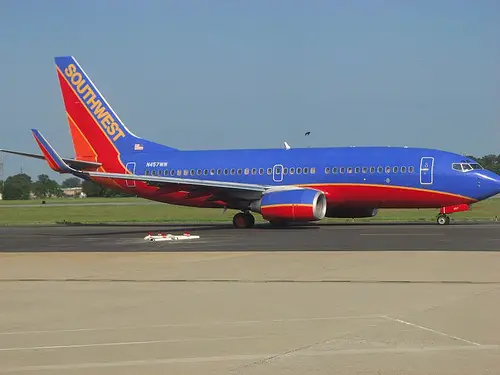 Before I kick off my little pity party that's doubling today as a do-it-yourself therapy session, let me state for the record that I think Southwest Airlines is still the best-run US domestic airline in the business.
Although I have no loyalty to any airline, I love flying Southwest. A big reason is they are generally tough to beat when it comes to low fares, but what really takes Southwest to the next level are their employees — I think they're the friendliest in the industry, bar none. And I mean all of them; from the pilots, gate agents and stewardesses flight attendants, to the baggage handlers and cleaning crews.
Okay, I can't vouch for their mechanics, but I'll bet you dollars to donuts that they're just as happy-go-lucky as the rest of Southwest's employees.
Now that I've got that out of the way, it's time to beef. And unless you're the type that's got more money than time I'd advise you to pay close to attention, because what happened to me can easily happen to you too.
As many of you know, I'm speaking at next month's Financial Bloggers Conference in Denver. Although I briefly considered trying to save a few bucks by driving from my Southern California home, in the end I decided it made a lot more sense if the Honeybee and I traveled by air.
Of course, that required me to purchase a couple of plane tickets. So after a little online research, I found the best deal, by far, was being offered by Southwest Airlines.
How good? Well, after entering the pertinent data into their website, Southwest came back with an almost unbelievable deal: two tickets from Southern California to Denver for $104 each, and two tickets for the return leg for $114 apiece. Add it all up and Southwest was offering me two tickets to Denver and back for a grand total of $436!
Are you kidding me?
I thought I had died and gone to heaven, even though all I really did was stumble upon one of Southwest's web-only "Wanna Get Away" specials.
In any case, I was so happy with my good fortune that I did a quick Irish jig (it wasn't much more than 10 seconds) before I hit the "continue" button.
Anyway, the next step was to pay, so I dutifully filled out the requisite info and hit the "purchase" button.   And that's when the trouble started, folks.
Instead of seeing a confirmation screen on my monitor that verified I had just scored what was probably the best airfare deal west of the Rockies, I got a message in red letters that started with this word: "Oops!"
The rest of the message essentially noted that Southwest could not complete my purchase for the return leg of our trip. Fine; I understand websites have occasional hiccups. But after being steered back to the flight selection screen for the second time, Southwest had changed the deal they originally offered. While the cost of the tickets for the outbound flight remained the same, the return leg ticket price had magically increased an additional $199. Each.
As a result, the new total fare was $833.20.
What the … ?
In the blink of an eye, my airfare just increased $398!
I couldn't believe it. This was outrageous!
To paraphrase Weekly World News columnist Ed Anger, now I was madder than a flight attendant stewardess with an armful of overflowing barf bags. I felt like I had just taken four $100 bills and tossed them into the whirring jet engine blades of a Boeing 737.
On the summary page, Southwest did their best to make me feel better by noting that the higher "Anytime" fare they had just foisted upon me had the advantage of "great flexibility." It didn't work.
I didn't want "great flexibility" — I wanted the "excellent value" they originally offered me with their "Wanna Get Away" fare!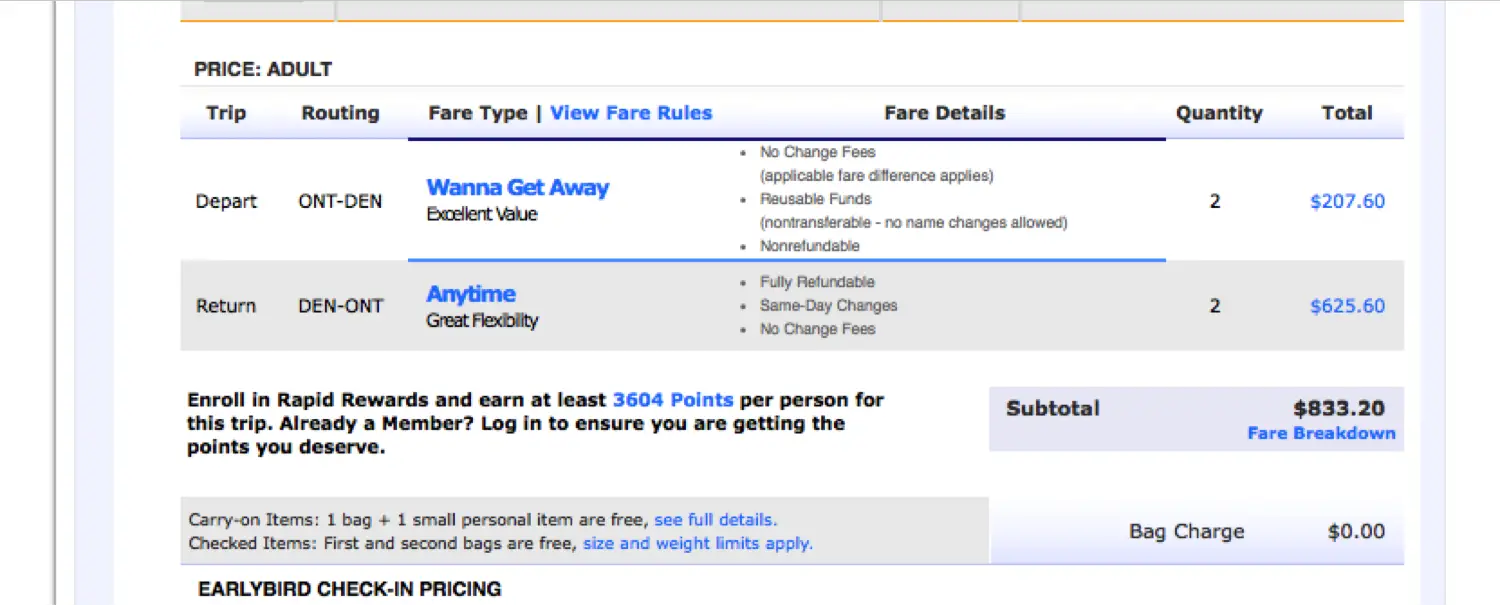 As far as I was concerned, Southwest just pulled a classic bait and switch maneuver, and so I called one of their online customer service representatives to voice my displeasure.
Jordan, bless her heart, tried her level best to explain how there are only a limited number of those special fares available. She suggested there might have been only one "Wanna Get Away" fare available for the return leg, but since there were two tickets requested, it rejected the original offer.
"Then why did Southwest offer me the fare in the first place?" I asked.
"I can't answer that, Mr. Penzo."
Jordan then tried to make me a happy customer by offering me their "Wanna Get Away" fare on the return leg, but only if I was willing to stay another day in Denver. Unfortunately, that was not a viable option for me.
So, after I finished wearing myself out ranting about the terrible financial injustice that had just befallen me, and with the two of us locked in an obvious stalemate, Jordan offered up her condolences.
"I'm really sorry we can't help you, Mr. Penzo."
Jordan's patience was admirable, and her voice was so, well … disarmingly pleasant. I swear I could almost see her sympathetic smile on the other side of the line.
"I am too, Jordan."
We then wished each other well and said goodbye.
What a nice young lady! I thought to myself as I hung up the phone.
And as I sat there, resigned to my inglorious fate, I suddenly realized that, for some strange reason, I wasn't really mad anymore.
Mildly irritated; yes.   But angry? Nah.
Photo Credit: Kevin Coles