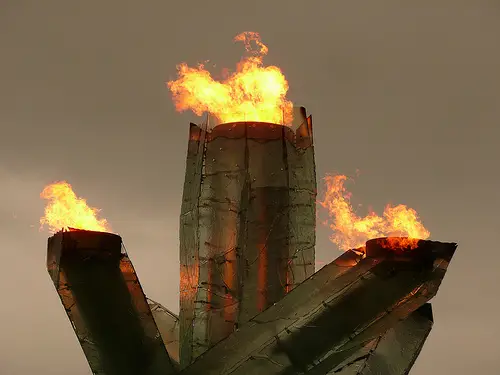 Am I the only person in America with a working television that hasn't watched a single minute of the Olympics on the boob tube?
It's not that I'm not interested in them; I am. It's just that I've been really busy doing research and getting ready for a speaking engagement I have at next month's Financial Blogger Conference.
That's right; I'm taking this speaking gig seriously folks. After all, you didn't really expect me to get dressed up, travel all the way to Denver, and then make a complete ass of myself in front of millions thousands hundreds scores of people, did you? Especially when it's much easier to do that here on a daily basis from the comfort of my own home. But I digress.
Strange Games
Personally, I don't think the Summer Olympics are as interesting as the winter ones. As long as the Winter Olympics have ski jumping, curling and the biathlon — an odd combination of cross-country skiing and rifle shooting — the Summer Games will always pale in comparison.
It wasn't always that way. Believe it or not, the Summer Olympics used to have some really odd competitions too, including tug-of-war, poodle clipping, delivery van driving, firefighting, and club swinging. I'm not kidding.
Here's something else that appears a bit odd on its face: row after row of empty seats at numerous events being held as part of the 2012 London Olympics. Even I know about this because the media has been absolutely relentless in its coverage of this story.
There's no doubt all those empty seats are a tremendous embarrassment to the organizers of the 2012 London Olympics — especially since most of the seats are in the choicest locations. Even worse, the majority of those empty seats are in areas reserved for "Olympic family" groups that include officials, national sports federations, sponsors, athletes, and journalists.
And from what I can tell, the great majority of those tickets are given away as the group members see fit.
Value Is in the Eye of the Beholder
A couple months ago I wrote how I paid $2462.35 for two tickets to Game 4 of the 2012 Stanley Cup Finals. Needless to say, that was, by far, the biggest impulse purchase of my entire life — so there was nothing that was going to keep me from being at that game.
In fact, I was so determined not to miss the game I made sure the Honeybee and I were at the Staples Center almost four hours before they dropped the puck — just in case we had car trouble along the way.
As for medical emergencies, the only thing that could have kept me from going to that game was an acute myocardial infarction.
Okay, or maybe a severe stroke. Anything else, however, would have been considered just a minor inconvenience.
You can bet the reason why there have been so many empty seats up to now at the 2012 London Olympics is because most of those absent ticket holders weren't personally invested like I was with my Stanley Cup tickets; they simply didn't have any skin in the game.
I see the same indifference in my kids when they walk out of their bedrooms without turning the lights off; they aren't paying for the electricity, so why should they care?
I also see it at fast food restaurants where I often catch myself grabbing many more napkins and/or ketchup packets than I really need.
The bottom line is that it's hard to truly appreciate products, services, and commodities when they're given to you for free; that's human nature.
That's also why I can guarantee you that those half-barren Olympic stadiums would be boasting standing room only crowds if every ticket holder had, at the very least, paid face value for their seats.
Photo Credit: 8th Day