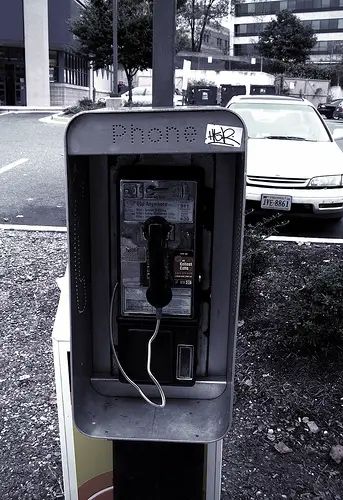 Maroon 5 has a song entitled "Payphone" and, every time I hear it, I can't help but wonder how many of their fans have ever used one.
Long before anybody ever heard of a cell phone, pay phones were everywhere. In addition to the iconic phone booths found at busy intersections, it was common knowledge that you could almost always find a pay phone at a gas station or the supermarket. In fact, there used to be so many of them that, as late as the turn of this century, there were still two million pay phones in the United States.
Not anymore.
According to the American Public Communications Council (APCC) there are fewer than 500,000 working pay phones in the United States. In California, there were 100,000 pay phones in 2007; ten years later there were fewer than 27,000.
Even so, there are still 1.7 billion phone calls made from them.
That may seem surprising, but pay phones are invaluable in remote areas that don't have cell phone coverage. And the APCC notes they're also relied upon by 140 million Americans who don't have cell phones.
Not everyone is a fan of pay phones; in the past, some communities have considered banning them because they tend to be a magnet for illicit activities.
When I was a kid I always kept a quarter on me in case I needed to use a payphone to call home.
Okay, you got me — it was dime.
Of course, dialing the operator is free, and most kids with empty pockets back then knew how to make a "collect" call from a pay phone without it costing Mom and Dad ten bucks. For example, in my case, it would go something like this:
"Um, yes, Operator, I'd like to make a collect call. It's very important!"
"What number please?"
"714-555-3630"
"And who should I say is calling?"
"Um, Len."
"Please hold, young man, while I dial the party."
After somebody at home picked up the phone, the operator would then inform the receiving party of who was making the collect call. Luckily, that left a painfully short gap to get a quick message out. "Dad! Veteran's Park! Bike broke!"
Naturally, Dad would decline the call — and then he'd be at the park ten minutes later.
When I was a kid, I used to love checking pay phone coin returns for abandoned change.
Then again, pay phones only returned your money if they couldn't complete your call.
Well, if you were lucky they did.
By the way, people who have never used a pay phone may be surprised to learn that they don't make change. So if you need to make a call that costs, say, 60 cents, and all you have in your pocket are three quarters, you can still make the call — you'll just overpay for it by 15 cents.
Perhaps that's why pay phones have been unfairly saddled with a reputation for being extremely expensive.
For their part, the APCC notes that using a pay phone can actually be less expensive than wireless alternatives. They also claim that putting coins in a pay phone can be cheaper than using a calling card.
Maybe that's true. Of course, first you have to find one.
Photo Credit: Kate Mereand-Sinha